Cross posted from The Stars Hollow Gazette
The National Oceanic and Atmospheric Administration (NOAA) has reported that 2012 was the warmest year on record since it started keeping records in 1895, eclipsing 1998 by 1ºF.
The 1°F difference from 1998 is an unusually large margin, considering that annual temperature records are typically broken by just tenths of a degree Fahrenheit. In fact, the entire range between the coldest year on record, which occurred in 1917, and the previous record warm year of 1998 was just 4.2°F.

The year consisted of the fourth-warmest winter, the warmest spring, second-warmest summer, and a warmer-than-average fall. With an average temperature that was 3.6°F above average, July became the hottest month ever recorded in the contiguous U.S. The average springtime temperature in the lower 48 was so far above the 1901-2000 average – 5.2°F, to be exact – that the country set a record for the largest temperature departure for any season on record. [..]

With 34,008 daily high temperature records set or tied the year compared to just 6,664 daily record lows – a ratio of about five high temperature records for every one low temperature record – 2012 was no ordinary weather year in the U.S. It wasn't just the high temperatures that set records, though. Overnight low temperatures were also extremely warm, and in a few cases the overnight low was so warm that it set a high temperature record, a rare feat. [..]
Not alarmed yet? Australia is not only experiencing its hottest Summer but its also on fire.
Australia Climate Change? New Colors Added To Forecast Maps To Track Potential Record Heat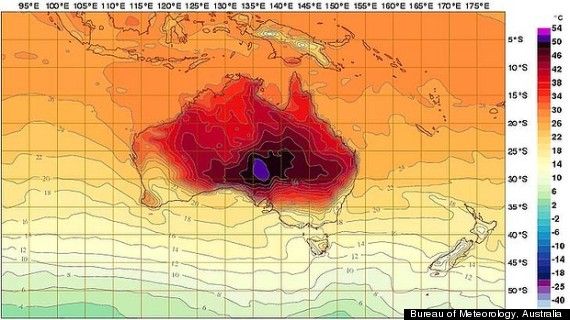 Click on image to enlarge
Right now, things are pretty hot in Australia. So hot, in fact, that meteorologists Down Under have added new, never-before-used colors to temperature maps in anticipation of record-breaking heat.

The Australian Bureau of Meteorology amended its interactive weather chart Tuesday, adding the colors deep purple and pink to indicate a temperature range of up to 54 degrees Celsius, or 129.2 degrees Fahrenheit. The previous range had capped at 50 Celsius, or 122 degrees Fahrenheit.

The change was based on one weather prediction model that forecasts temperatures to climb above 50 Celsius early next week.

The all-time hottest temperature recorded in Australia was 50.7 Celsius on Jan. 2, 1960 at Oodnadatta Airport in South Australia, the Sydney Morning Herald reports.

According to the current model, the forecast for next Monday will bring a "Tasmania-sized" area of heat in excess of 50 degrees to South Australia.
50ºC is 122ºF. That's hot. Too hot.
Australian heatwave puts south-east on alert as wildfires burn out of control

by Alison Rourke, The Gusardian
Fire service issues 'catastrophic' warnings in New South Wales with temperatures expected to breach 45C in coming days

A record-breaking heatwave and high winds across south-eastern Australia have produced some of the worst fire conditions seen in the country, with blazes destroying thousands of hectares of land (video) and threatening properties, but – so far – sparing lives.

Emergency teams fought more than 130 fires across New South Wales, the country's most populous state, on Tuesday, with at least 40 burning out of control. Fires also continued to burn in Tasmania, after blazes at the weekend destroyed more than 20,000 hectares of land and dozens of properties. [..]

The NSW rural fire service issued "catastrophic" fire warnings for four areas in the state – the most severe fire warning level.

"The word catastrophic is being used for good reason," the Australian prime minister, Julia Gillard, said on morning television. "So it is very important that people keep themselves safe, that they listen to local authorities and local warnings. This is a very dangerous day."
Alarmed after the NOAA report, Sen. Bernie Sanders (I-VT) introduced a new climate bill.
Sanders announced the bill a day after federal officials reported that 2012 was the hottest year on record in the lower 48 states, smashing the record set in 1998 by a full degree Fahrenheit.

The bill from Sanders would create a "transparent fee on greenhouse gas emissions from the biggest polluters," his office said in a brief summary.

"After the hottest year on record and extreme weather disturbances such as Hurricane Sandy, we must take strong action to transform our energy system away from fossil fuels and move toward energy efficiency and sustainable energy," said Sanders, a member of the Energy and Natural Resources Committee. "I intend to introduce legislation in the Senate to do just that." [..]

Environmentalists are pressing President Obama to take tougher steps using his administrative powers, including establishment of first-time carbon emissions standards for existing power plants.

Sanders' plan also aims to boost green energy development and nix tax incentives for oil companies.
Not just the US but countries around the world need to take action to curb carbon emissions. The Unites States should be taking the lead and setting the example.