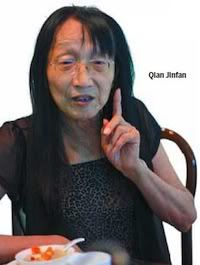 Qian Jinfan felt she should be a girl at the age of 3. But she never had a chance to be one until she reached the age of 80.
In June Qian became the oldest Chinese citizen to come out to the media about being transgender…at the age of 84. Despite the efforts of her wife and son to "ground" her, she snuck out of their home to speak to China Daily.
People may ask why I come out as a transgender person when I'm so old, but I ask, why can't I? Chinese stereotype the elderly as people who can't do anything but wait for death. But I've just entered the best time of my life. I can finally be myself.

–Qian
While some Chinese admire her courage, others have called her "a nasty old man" and "attention-seeker". Children playing near her house have called her a "monster." Her family members object to her transition, claiming that she has made the a "laughing stock".
I won't reach out to media but won't hide from them either if they approach me.

I haven't done anything wrong. My life as a transgender person doesn't harm anyone. Why should I hide?

–Qian Jingfan