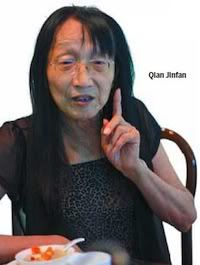 Qian Jinfan felt she should be a girl at the age of 3. But she never had a chance to be one until she reached the age of 80.
In June Qian became the oldest Chinese citizen to come out to the media about being transgender…at the age of 84. Despite the efforts of her wife and son to "ground" her, she snuck out of their home to speak to China Daily.
People may ask why I come out as a transgender person when I'm so old, but I ask, why can't I? Chinese stereotype the elderly as people who can't do anything but wait for death. But I've just entered the best time of my life. I can finally be myself.

–Qian
While some Chinese admire her courage, others have called her "a nasty old man" and "attention-seeker". Children playing near her house have called her a "monster." Her family members object to her transition, claiming that she has made the a "laughing stock".
I won't reach out to media but won't hide from them either if they approach me.

I haven't done anything wrong. My life as a transgender person doesn't harm anyone. Why should I hide?

–Qian Jingfan
When she was younger, Qian was a famous calligrapher and painter. She retired as a civil servant of the bureau of culture, radio, television, press, and publication in Foshan, a city in Guangdong famous historically for its porcelain.
She hopes to change the culture's opinion of who transpeople are.
Transgender individuals aren't marginal and shouldn't be marginalized.

–Qian
Qian tells the story of a doctor in Sichuan who underwent sex reassignment surgery and then was forced to be a stripper in order to support herself.
Ke Qianting, director of Sun YAt Sen University's Sex/Gender Education Forum, describes Qian as a person with a "strong sense of justice", who becomes indignant when she spots discrimination and seeks to help those in need.
The only way transgender people can strive for better lives, free of discrimination, is to increase their visibility. How can a group of people ask for equal rights when society doesn't know they exist, let alone the difficulties they face?

–Ke
As a child, Qian used to nag his grandmother into taking him to women's clothing shops and shoe stores, and used to imitate his aunt's facial expressions and ways of walking.
In the 1950s Qian wore lingerie under her clothes. In the 1960s she began taking fertility medication in order to grow breasts…but eventually stopped because at the time, reassignment surgery wasn't an option. She was happy during the 80s when fashions allowed her to grow her hair long and wear unisex clothing. It wasn't until 2005 that she learned the term transgender. She waited until her wife finished menopause before beginning hormone therapy.
Recently Qian met Chinese transgender activist Acid Chen, who China Daily interviewed separately about a Chinese shift in attitude towards tolerance of LGBT people.
Life has not been easy for LGBT people in China, especially in the rural parts.
Xu Hui's parents locked him in a mill, hired an exorcist and psychologists, and forced him to undergo acupuncture that accidentally pierced his lung, in order to "cure" his feminine behavior. The boy enjoyed playing with his sister's Barbie dolls and wore bras stuffed withtissue. "I increasingly felt like a girl but didn't think too much about it," says the 22-year-old, who now considers herself a woman.

"My mom thought I was a freak and made me do farm work to build my muscles."

Xu has been bedridden since 2009, as the acupuncture hole in her lung means it doesn't fully expand when she inhales. Her mother cares for her in their village in Hebei province.

Xu says locals aren't open-minded and don't understand transgender people. Many parents of other transgender children in the village kick their kids out.
Xu's own mother calls her a disgrace. So Xu says she lives a live of isolation.
Pan Suiming, Director of the Institute of Sexuality and Gender at Renmin University, says there is a shift in the attitudes towards LGBT people, claiming that 90% of university students accept LGBT people. The Chinese Academy of Social Sciences point to a 2008 study which showed that 6-10% of Chinese are LGBT, while only 20% of society accepts them.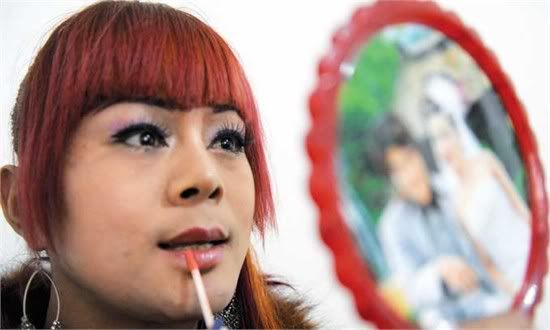 Acid Chen, 23, who lives in Beijing, says the key to discovering social acceptance comes from transpeople's attitudes about themselves.
You must be confident to get respect.

–Acid Chen
Acid is an electrical engineer and says that her family and friends felt ashamed when they saw her acting feminine.
But I gained new confidence when I came out as a woman. And my employer and colleagues accepted me, although my family still hopes I'll change.

Having a job and being independent is extremely important for a transgender person to maintain confidence. I've realized we can live happy lives just like anyone else.

–Acid Chen
Chen's high school classmates were speechless when she showed up at their reunion as a woman. Many had bullied her when she was in primary and middle school.
"They called me 'crybaby' and punched me.

"But their fists didn't hurt as much as my parents' words, when the teacher called them to pick me up. They stood with their hands on their hips and told me boys should fight back."

Chen calls these words "gender violence".

"Why must boys hold back tears, while girls can cry and ask for comfort, and the bullies are punished? There shouldn't be dos and don'ts people have to observe to fit gender stereotypes."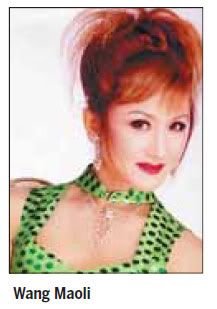 China Daily also sought out Wang Maoli, who 21 years ago became only the second Chinese to undergo sex reassignment in China. She was the first Chinese citizen to get her gender changed on her ID card.
Wang is a former Sichuan Opera performer. She voluntarily left the troupe after 40 years in 1989 when the number of performers had to be cut to meet expenses. She now dances independently, but has not performed for the past two years while she cares for her mother, who was paralyzed by cerebral thrombosis.
She decided to seek gender reassignment in 1958 and took every opportunity to contact hospitals to see if they could perform the surgery. One Kuomingtang medical officer refused to help her, claiming that it would be illegal for him to make her "disabled". Other hospitals told her she would need a permit from her local police, her family, and the local mental health facility.
In response to a request, police officers told her she was insane. During the cultural revolution, she was jailed for a year after officials intercepted a letter she wrote to a hospital in Taiwan province.
Finally in 1991 a hospital in Chongqing accepted her request. SHe says that life has become easier for transpeople in the past 21 years as society has become more accustomed to the concept of transgender.
But she has given up on her search for love.
It's understandable nobody wants to be my partner.

There are so many pretty girls and even pop stars who are single. Why would anyone choose a transgender person like me? You can't imagine how hard it is for a transgender person to find true love, let alone marriage.
She is often contacted by young transpeople for advice. She says she tells them to be "very cautious."
You must be ready to be single afterward. If you're gay, you can still find love. But after the surgery, chances are that nobody will love you.