Al Gore is about to step forward, back into the news again. The Washington Post reports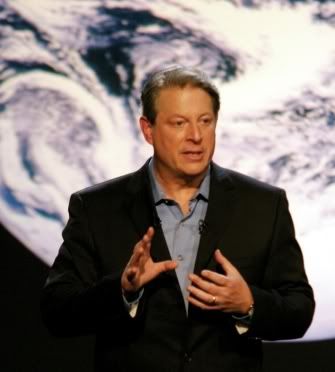 Former vice president Al Gore will launch a three-year, $300 million campaign Wednesday aimed at mobilizing Americans to push for aggressive reductions in greenhouse gas emissions, a move that ranks as one of the most ambitious and costly public advocacy campaigns in U.S. history.
Gore sees a need to educate the public about what is needed to address the climate crisis. I am quite impressed at the plans for various ways of getting the information out to the public. The key need is to have real policy changes be enacted.
The Alliance for Climate Protection's "we" campaign will employ online organizing and television advertisements on shows ranging from "American Idol" to "The Daily Show with Jon Stewart." It highlights the extent to which Americans' growing awareness of global warming has yet to translate into national policy changes, Gore said in an hour-long phone interview last week. He said the campaign, which Gore is helping to fund, was undertaken in large part because of his fear that U.S. lawmakers are unwilling to curb the human-generated emissions linked to climate change.