Al Gore is about to step forward, back into the news again. The Washington Post reports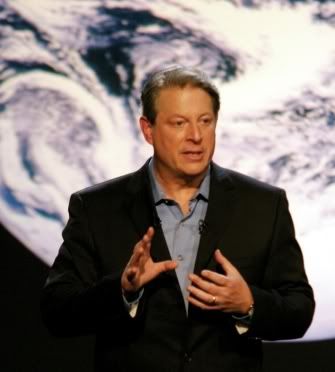 Former vice president Al Gore will launch a three-year, $300 million campaign Wednesday aimed at mobilizing Americans to push for aggressive reductions in greenhouse gas emissions, a move that ranks as one of the most ambitious and costly public advocacy campaigns in U.S. history.
Gore sees a need to educate the public about what is needed to address the climate crisis. I am quite impressed at the plans for various ways of getting the information out to the public. The key need is to have real policy changes be enacted.
The Alliance for Climate Protection's "we" campaign will employ online organizing and television advertisements on shows ranging from "American Idol" to "The Daily Show with Jon Stewart." It highlights the extent to which Americans' growing awareness of global warming has yet to translate into national policy changes, Gore said in an hour-long phone interview last week. He said the campaign, which Gore is helping to fund, was undertaken in large part because of his fear that U.S. lawmakers are unwilling to curb the human-generated emissions linked to climate change.
Gore obviously feels that nothing of note will happen unless the public gets behind this issue.
"This climate crisis is so interwoven with habits and patterns that are so entrenched, the elected officials in both parties are going to be timid about enacting the bold changes that are needed until there is a change in the public's sense of urgency in addressing this crisis," Gore said. "I've tried everything else I know to try. The way to solve this crisis is to change the way the public thinks about it."
This is one of his most bold statements of what is needed:
"The simple algorithm is this: It's important to change the light bulbs, but it's much more important to change the laws," he said. "The options available to civilization worldwide to avert this terribly destructive pattern are beginning to slip away from us. The path for recovery runs right through Washington, D.C."
The presidential candidates are all paying attention:
All three have discussed global warming with Gore in phone calls over the course of the past few months. While McCain backs a more modest plan than that favored by the Democrats — he supports a 60 percent reduction in greenhouse gases from 1990 levels by 2050, compared with Obama and Clinton's vow of an 80 percent cut during that period –
Gore is clear that nothing significant will happen unless the public is behind it.
Gore, who backs a 90 percent reduction in greenhouse gases by mid-century, said that while he's "encouraged" that the remaining candidates back mandatory limits on greenhouse gases, they still need to be pushed: "What happens after the election will depend on whether or not we win enough hearts and minds in the country as a whole."
The plan has a bold goal of involving many activists.
In an effort to penetrate Americans' consciousness and change lawmakers' political calculus, the group aims to enlist 10 million volunteers through a combination of network and cable commercials, display ads in magazines ranging from People to Real Simple, and online social networks…… While some ads will target inside-the-Beltway policymakers, the bulk of their efforts will focus on the general public.
There are some unusual partnerships that are emerging.
In an effort to broaden the campaign's appeal, the alliance has already forged working partnerships with groups including the Girl Scouts and the United Steelworkers of America. One of its early ads will feature the unlikely alliance of clergymen Pat Robertson and Al Sharpton sitting on a couch on Virginia Beach, talking about their commitment to address climate change.
However the conservatives and the corporatists are getting ready to challenge Gore's efforts:
The climate alliance's initiative, however, will not go unchallenged by climate change skeptics. Americans for Balanced Energy Choices, a nonprofit funded by the coal industry and its allies, is spending about $35 million this election to bolster support for coal-generated electricity. The Competitive Enterprise Institute, a Washington-based think tank that receives part of its funding from oil and gas companies, recently spent close to $35,000 to run a television ad both in the District and in scattered cities throughout the country attacking Gore, and plans a follow-up campaign. The ad argues that Gore and his allies in Hollywood use plenty of energy but that "Al Gore wants to cut our energy use, putting our jobs and our future in jeopardy."
John Podesta, president of the progressive think tank Center for American Progress, concludes
"This will be played out on the candidate level, but also among an array of parties who have a stake in the outcome," Podesta said. "Without presidential leadership, you're left with a regional division and a partisan division [in Congress] that's likely to produce movement, but not the bold kind of change that's needed. You need a president for that."
We will have more details on Wednesday.
A final note: We wish Al Gore a very Happy 60th Birthday today!!!!
Cross-posted from EENRblog
Loading ...