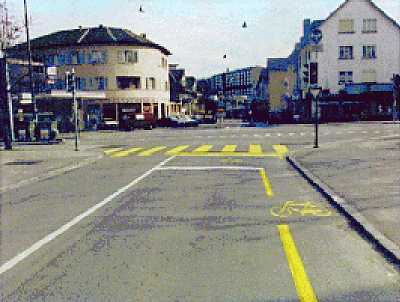 In the store, or at the airport, a "bike box" is a box that is supposed to have a bike inside of it.
However, at an intersection, a "bike box" is when you make a space at an intersection ahead of the "traffic stop here" line. They are often combined, as in the picture, with a "protected by paint and optimism" bike lane. In some cases for traffic lights that are tripped by stopped vehicle detectors, as in the YouTube clip below, they include a more sensitive stopped bike detectors in the bike box, so that the sensitivity of the regular vehicle detector does not have to be adjusted.
Looking at the overall concept, as John Allen does in A LOOK INTO THE "BIKE BOX", this is yet another case of, probably subconscious "if only we could kill off these cyclists we wouldn't have to worry about them" thinking by traffic planners.
One thing the bike box does is amplify the encouragement of the regular "protected by paint", aka "kill the cyclist", bike lane to pass stopped motor vehicles on their right side. This is a practice that you can get away with day after day, but sooner or later you are going to end up trying to go straight when a car is trying to turn. And given the fact that the car is risking its paint job and you are risking an extended stay in the hospital, that is a monumentally stupid habit to pick up. Its bad enough that "protected by paint" bike lanes encourage this habit – the "protected by paint with a prize at the end" is even worse.