OK, so I just back from a trip to the store.
Well, let me set the scene, courtesy of the online weather report for this part of NorthEast Ohio …
NOW … AREAS OF HEAVY SNOW … AND A MIX OF SNOW … SLEET AND FREEZING RAIN WILL CONTINUE THROUGH 8PM. THE MIX PRECIPITATION WILL BE ALONG AND SOUTH OF A MARION TO CANTON LINE. A INCH AN HOUR SNOWFALL WILL BE FROM AROUND MANSFIELD TO CANTON. UNTREATED SURFACES AND ROADWAYS CAN BE ICY AND SNOW COVERED AND SLIPPERY.
… indeed, my mum was trying to talk me out of my little trip, first downtown to the bank (like, eight blocks) and then down main street to the bargain supermarket, then back. Not far at all, and in the fall simply a pleasant little excursion.
But … oh my, oh no, there was sleety snow falling down! Oh my!
Oh … did I say joy? The joy, after the fold.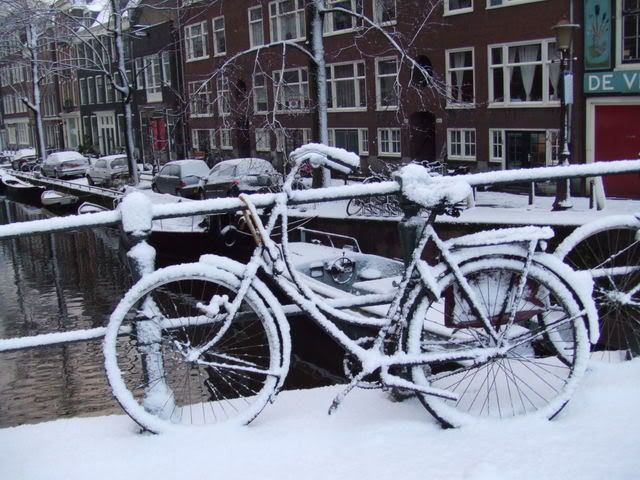 NB. Picture gleaned from the Intertubes … not taken by your humble scribe. Indeed, since it comes from Peninsular Far West Asia … Amsterdam, to be precise … and I've only been on the southeastern edge of that massive continent, it could not possibly be taken by your humble scribe.
In my last winter biking SNBB, I talked about successes and failures in layering for my two hour-ish ride to work. But this is a much shorter run, with two out of the weather breaks in the middle … a short one in the bank ATM foyer, and a longer one in the supermarket.
So I just threw on my winter coat, put on my gloves, plopped on my helmet, which has a raincover, and set off. On my Schwinn mountain bike.
Mind you, I would not recommend this thing for racing down the side of the mountain, whether in mud or snow or gravel or whatever … but by the same token, I'm not going to be doing any such thing soon.
However, for riding on snowy streets, its great. Indeed, its better than driving.
In a car, I am pushing a lever to make the drive train go, and guessing whether its gripping or not. On my bike, I am part of the drive train, and I have direct feedback that I have good grip on the snow.
In a car, I am sitting, shivering, waiting for the heater to warm up … and then probably fiddling with the level of the heater. On my bike, the further along I go, the warmer I get.
In a car, in weather like today, I am clearing off the windows at least twice, once to set out and once in the supermarket parking lot … on the bike, I just jump on and go. Mind you, my bike at home is sheltered from the snow, and at the grocery store, where I normally lock it up, is also sheltered … so it never looked like the bike in the picture.
… As an aside, once, Monday two weeks back, it did look a bit like that, since there is no shelter where it stands waiting for me to finish working … but then I realized that my rain cape would keep the snow off my bike as well as myself, and so I only faced that particular scenario that one time …
Hell, if I ever am back in a situation where I am forced to drive, I am going to consider having a bike with nice wide tires an essential emergency back-up, just in case the conditions are too treacherous to go out driving.
But even more than that, going out in a car to get groceries in conditions like today's would just be a chore, with at least a slight risk of mishap attached. Going out and "braving the elements" for the errand was actually fun.
And is that any surprise? I removed the element that makes that trip a chore.
After all, there are people that go out skiing, whether downhill or cross-country, skating on ponds, sledding … getting out and doing something on a snowy day is not a terrible thing. And there is a special focus on going out and doing something with something designed to take you through the snow, like skis, or ice skates, or a sled … or, for the kind of snow on the road today, a mountain bike.
And of course, as always, this is also an open biking thread … even if the only biking you do in the winter is in your imagination …
Loading ...