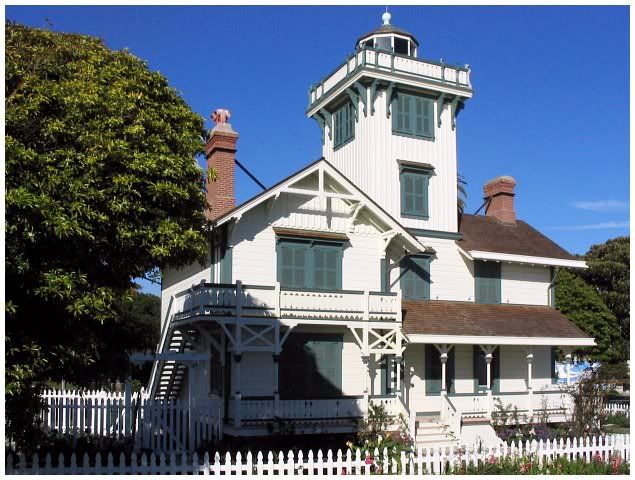 Point Fermin Light
On July 6, the day before we were scheduled to travel to Vegas, we decided it would be a good day to indulge in our interest in lighthouses, so we planned a trip to San Pedro and Point Fermin Lighthouse.
Look quickly because this image, downloaded from the Internet, is as close as we got. That's really too bad, because it really is historic. Built in 1874, its 2100-candelpower light had a Fresnel lens that was brought around Cape Horn on sailing ships. The first keeper was Mary L. Smith, who lived with her sister. They gave up the occupation because of loneliness: the closest neighbors were in Wilmington, CA, 5 or 6 miles to the north.
Unfortunately, Google map directions let us down and instructed us to turn right at the wrong time, which resulted in us arriving at Point Vicente Lighthouse in Rancho Palos Verdes, past what is called Portuguese Bend, instead of finding Point Fermin. Part of this was bad: Point Vicente was not open on that day. Then again, it was hardly what one could call vertical, so climbing it might not have been all that good of an idea anyway.