Cross posted from The Stars Hollow Gazette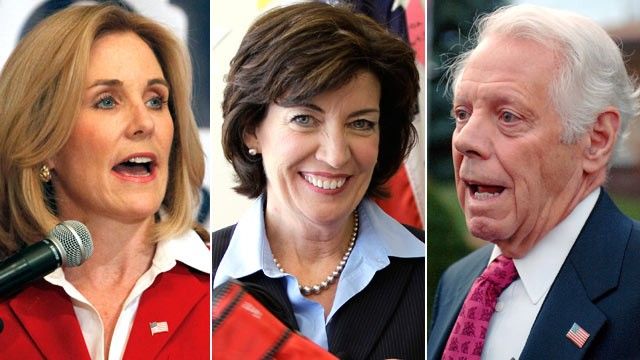 Oh those family values Tea Partying Republicans. Last February newly elected US House Rep. Christopher Lee (R NY-26) posted bare chested photos of himself on Craig's List and claimed to be a 39 year old divorced lobbyist. A couple of problems emerged for him since he is in his 40's and married with a child, so he tendered his immediate resignation from the House on Feb.9, leaving the seat open for a special election. Historically, the district in Western New York has been solidly Republican but, as fortune would have it, that may just that, history.
Since the vote in this House on straight party lines for the Ryan budget plan that would scrap Medicare and decimate Medicaid, the district may now flip to blue. There is a three way race that has pretty much become a two way with the Tea Party candidate, Jack Davis, siphoning votes from the Republican, Jane Corwin, which has given the edge to the Democrat, Kathy Hochul. Despite the Republican Congressional Campaign Committee flooding the district with money, advertising and big name supporters, Corwin can't shake the spectrum of the "grandma off the bridge" image of killing Medicare. Hochul has been on the offensive hitting all the hot buttons, like foreign aid which many voters think is much higher than it is while Corwin is back pedaling making blatantly false claims about Hochul in her latest campaign ad.
And where, you ask, is Tea Party candidate, Jack Davis? "Spoiler" Davis, who is running on the Tea Party line, has caused a split in among the regional and national Tea Party groups with the national group backing Corwin. He wasn't at last night's final debate but has been lurking on the sidelines since gaining national attention last week after a video of a scuffle with Corwin's youthful chief-of-staff, Mike Mallia. The confrontation between Davis, 78, and the much younger man started out as a verbal confrontation that ended when Davis shoved backed. A short clip of the video was released by the Republicans but Davis claimed that he only pushed the camera out of his face and charged he was being harassed. It has gotten even more amusing when Corwin was confronted and disclaimed any knowledge of her aide's activities. The aid has since resigned, making claims on the internet that he is being "hunted by militiamen" and fears for his life since the incident with Davis who is a veteran. Needless to say this backfired badly for Corwin and pushed Hochul ahead in the polls.
David Weigel of Slate has been following this race closely reported today that independent spending on this campaign has past seven figures with $1.5 million being poured into TV ads from unions and PAC's. The election is May 24, so expect things to get hot and heavy as the Republicans struggle to hold the district.