The empire is really sucking bilge water when they start firing key propagandists!
Job cuts at ABC leave workers stunned and downcast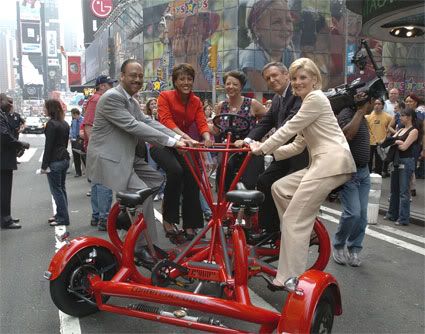 Photo: Good Morning America hosts demonstrating happy-happy-joy-joy to Disney-berg villagers.
If "Good Morning America" or "World News" look any different in the coming weeks, it might be because ABC News is employing nearly 400 fewer people.

Earlier this week, ABC News, a unit of the Walt Disney Company, largely completed one of the most drastic rounds of budget cutbacks at a television news operation in decades, affecting roughly a quarter of the staff. The cutbacks promise to change ABC both on- and off-camera.

The business of news is a particularly ugly one these days, and news outlets across the country have trimmed their staffs. But it is exceedingly rare for a newspaper or a network to shed a quarter of its employees all at once, as ABC has done.

For viewers, the effects will be felt on the individual broadcasts, like "World News with Diane Sawyer," which lost two of its six senior staff members to buyouts. They will not be replaced.

In the future, more segments will be reported, filmed and edited by jacks-of-all-trades, called digital journalists, internally. They may lack the polish that a traditional four-person crew can provide, but they are much less expensive. Sometimes two of the digital journalists will team up for reports.
Hell, just sign up for an account at Docudharma!