"The Bigger the Lie, the More the People will Believe it"
– Adolf Hitler
Just a few days after the latest fake Osama bin Laden tape release, scantly a month after the ridiculously trumped up false flag underwear bomber 'attack' on Jesus's fake birthday and on the heels of a relentless propaganda campaign of fear obviously designed to roll away the stone and resurrect the big lie of 9/11 there is this: Report: Al-Qaeda aims to hit U.S. with WMDs. Bravo to the neocons, they are right back in the game, not that they ever left, you just can't completely get rid all of the cockroaches after an infestation no matter how good the Orkin men happen to be. The Mighty Wurlitzer's story on the report in question leads with this nightmare blurb which smacks of the apocalyptic conjecture of smoking guns in the form of mushroom clouds that years before had been used to sell the wars that are still bankrupting America: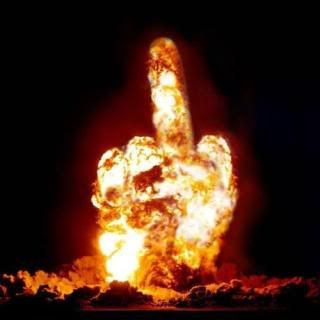 When al-Qaeda's No. 2 leader, Ayman al-Zawahiri, called off a planned chemical attack on New York's subway system in 2003, he offered a chilling explanation: The plot to unleash poison gas on New Yorkers was being dropped for "something better," Zawahiri said in a message intercepted by U.S. eavesdroppers.

The meaning of Zawahiri's cryptic threat remains unclear more than six years later, but a new report warns that al-Qaeda has not abandoned its goal of attacking the United States with a chemical, biological or even nuclear weapon.

The report, by a former senior CIA official who led the agency's hunt for weapons of mass destruction, portrays al-Qaeda's leaders as determined and patient, willing to wait for years to acquire the kind of weapons that could inflict widespread casualties.
Of course I immediately begin to be skeptical whenever a study invokes "experts", consider that the Bush-Cheney junta once hired neocon crackpot consipracy theorist Laurie Mylroie as an "expert" on al-Qaeda and that insipid little bearded troll Michael Scheuer has been making a nice living for years now spreading his gossip on television, radio and in newspapers as the former head of the CIA's Alex Station bin Laden unit to gullible dupes. Be mindful that this is just the latest piece of an ongoing multi-faceted public relations campaign to shore up support here in Der Heimat for an Israeli strike on Iran, something that I discussed in a previous post. Again this jibes very nicely with a few stories that smack of another joint Pentagon CIA Mossad campaign to sow the seeds of destabilization, political unrest and animosity that lead to regime change, specifically in 2012. Some of the other tidbits of terror floating around out there are: Sarkozy Warns Israel May Strike Iran, Petraeus: Missile-Shooting Ships on Station in the Gulf, Israel Hopes NIE Will Pressure Iran and Israeli Information Minister Slams All Reports on Gaza War as Anti-Semitic. Same as it ever was, get ready to strap it on because WWIII is coming and nothing that the Pope of Hope can do will stop it this time.
Oh and Chemical Ali was strung up for gassing all of them Kurds back in 88, lost on the average American moron was that he used the chemical weapons that were procured by Saddam during the Reagan administration back when he was still our kind of dictator before Maggie Thatcher challenged Poppy Bush's manhood and Gulf War One was launched on a passel of lies like that horseshit about Saddam's soldiers ripping Kuwaiti babies out of incubators and the rest of that crap that had us all glued to CNN watching Baghdad get the shit bombed out of it the first time before Shock and Awe.
Fear is it in America where the junk food eating surrender monkeys will ALWAYS give away their freedoms for the illusion of security, has been since 9/11 and arguably since the very concept of America was just a dream in the heads of the founding fathers. As if there is nothing to fear from an oligarchy and financial elite run amok and now getting ready for some serious fucking after last week's landmark Supreme Court decision by the Roberts Court (thanks Harry Reid!) to allow corporations to openly influence elections. I can hear the commercials already from arms manufacturers, the blood barters, dealers of destruction and the icy cold technocrats of death who profiteer off of the state of constant war that Oceania exists in today. But Americans, brains jellified by years of too much television, cowed by a corporatist culture and rendered useless by the rapacious ghouls of high finance who have packed their jobs off to third world shitholes or authoritarian high tech police states like China, foreclosed on their overpriced McMansions and cardboard walled crackerboxes and conditioned to be subservient little squeaking mice while being subjected to Soviet style checkpoints and goons in the nation's airports. Hell, they are afraid of EVERYTHING but what is fucking real! And now with the Obama gang of thieves reeling after their dream of corporate cash for life has gone up like a flaming bag of dogshit (way to go Rahm!) the fear in the air will soon be suffocating, choking just like in the aftermath of the American Reichstag Fire.
Why are Americans so afraid of dying? It is inevitable yet this colony of cowards, this mass of asses, this confederacy of dunces fears all of the wrong things. They are more likely to die in a car accident on any given day than in a 'terrorist' attack, they are more statistically likely to die from a fall in the bathtub than in a 'terrorist' attack, you get the picture. Shit, the only thing in America that they are LESS likely to do than be killed in a 'terrorist' attack is get rich yet the schmucks are duped into buying into that little fantasy from the day that they are shat out of the birth canal. You see nothing much has really changed since primitive times, religion, get rich quick schemes and the constant fear of the other have been used since the earliest of civilizations, by kings, pharaohs, popes, presidents and dictators to exercise social control. America though has at least until now surpassed them all in manipulating the inhabitants without too much overt torture, mass executions or pogroms to send the message that the ruling class intents to continue to rule no matter how many children that have to be raped, limbs hacked off or skulls crushed. This is largely the result of the most successful mind control device in the history of planet Earth – television. The incessant brainwashing that one can be rich someday is what keeps the capitalist corpse still upright in these days of economic doom when by all rights it should be buried on the shitpile of history right next to its failed counterpart that is communism.
During the NFL playoffs over the weekend the advertisements kept rolling out to prop up the false dream that underwrites the entire fucking failed system. There are still, believe it or not commercials for those shitty E-trading scams, for the parasitical frauds that are the financial services ghouls and high gloss depictions of consumerism that few can afford (excluding Burger King of course but there have to be a few crumbs scattered for those elbowed away from the table) and the usual silliness. The dream of one day being rich just like The Donald is still bought into by millions even while they are living in tent cities and homeless shelters and foraging through dumpsters for scraps to eat.
Be AFRAID suckers…..be very AFRAID because you ain't seen nothin" yet!