Tag:
Race Baiting
Crossposted at Daily Kos and The Stars Hollow Gazette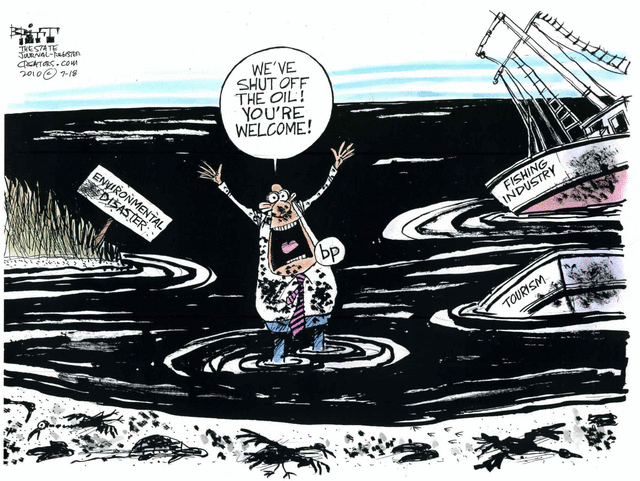 The Oil Crisis is Solved by Chris Britt, Comics.com, see reader comments in the State Journal-Register (Springfield, IL)
12
1948 Presidential Election, Andrew Breitbart, British Petroleum, climate change, Democratic Party, discrimination, eKos, Elena Kagan, environmental damage, Finance reform, Fox News, Harry Truman, michael steele, Race Baiting, racism, Republican Party, Sarah Palin, Shirley Sherrod, Supreme Court of the United States, Teabaggers, The Week in Editorial Cartoons, unemployment benefits
"The preparations for Hate Week were in full swing, and the staffs of all the Ministries were working overtime. Processions, meetings, military parades, lectures, waxworks, displays, film shows, telescreen programmes all had to be organized; stands had to be erected, effigies built, slogans coined, songs written, rumours circulated, photographs faked..".
– George Orwell
The angry, shrieking hordes came forth this weekend in the nation's capitol, waving their racist placards, their bagged birth certificates, their Gadsden flags and their Nancy Pelosi Nazi signs. The were legion and they got media coverage, unlike the massive antiwar demonstrations during the darkest days of the Bushreich when these phony patriots, aggrieved citizens and authority worshipping swine were content the 'Bomb Em All and Let God Sort Em Out' foreign policy of their Jesus kissed emperor. It was a gathering of blistering hatred, many smaller 'tea parties' were being staged across the fruited plain on that marvelous day, the day after the hallowed 8th anniversary festivities that marked the coming of the glory of the lord on that historic Tuesday morning when the American Reichstag Fire dragged us kicking, screaming and swaddled in the almighty stars-n-stripes into the New American Century.
Breaking news of the latest right-winger incited to commit acts of violence in support of the most virulent political party since the Nazis. A
Kansas abortion doctor was gunned down
in cold blood today in a Wichita, Kansas church, just another example of how these religious fanatics that dare to call themselves Christians would make Jesus puke were he return to earth tomorrow – then the same bastards would crucify his liberal ass. Here we have yet another example of the sort of mayhem that unstable, armed-to-the teeth freaks are capable of when their buttons are pushed by the malignant filth the likes of Rush Limbaugh, Glenn Beck, Sean Hannity and the rest of the house propagandists for the American fascist state. Nothing is sacred to these miscreants, murdering their whole families and then committing suicide is commonplace, the same houses of worship that they claim to be places of sanctity are now legitimate shooting galleries, shit some lunatic right-winger not long ago dressed up as Santa Claus and massacred a houseful of former relatives including children. A terminally diseased political philosophy breeds this type of scum and they should all be subject to euthanasia for the good of society. If you consider that to be overly harsh just imagine how many of these human time bombs that you in your normal daily doings encounter, they hate liberals, gays, minorities and even going to the grocery store becomes a dangerous endeavor when surrounded by them.