Tag:
environmental damage
Crossposted at Daily Kos and The Stars Hollow Gazette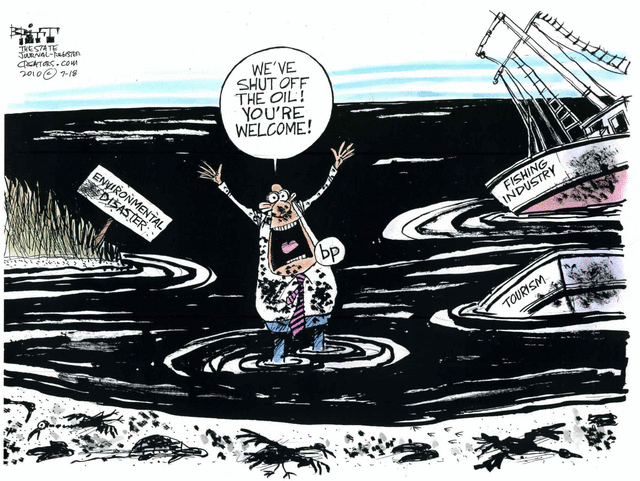 The Oil Crisis is Solved by Chris Britt, Comics.com, see reader comments in the State Journal-Register (Springfield, IL)
12
1948 Presidential Election, Andrew Breitbart, British Petroleum, climate change, Democratic Party, discrimination, eKos, Elena Kagan, environmental damage, Finance reform, Fox News, Harry Truman, michael steele, Race Baiting, racism, Republican Party, Sarah Palin, Shirley Sherrod, Supreme Court of the United States, Teabaggers, The Week in Editorial Cartoons, unemployment benefits
Crossposted at Daily Kos
THE WEEK IN EDITORIAL CARTOONS

This weekly diary takes a look at the past week's important news stories from the perspective of our leading editorial cartoonists (including a few foreign ones) with analysis and commentary added in by me.

When evaluating a cartoon, ask yourself these questions:

1. Does a cartoon add to my existing knowledge base and help crystallize my thinking about the issue depicted?

2. Does the cartoonist have any obvious biases that distort reality?

3. Is the cartoonist reflecting prevailing public opinion or trying to shape it?

The answers will help determine the effectiveness of the cartoonist's message.
:: ::


Clean Up Crew by Cam Cardow, Ottawa Citizen, Buy this cartoon
alternative energy fuels, Arizona, British Petroleum, charlie crist, Cleanup, consumption, David Cameron, Democratic Party, Drill Baby Drill, eKos, elections, Elena Kagan, Energy Independence, environmental damage, Ernie Harwell, Financial crisis, fossil fuels, Fox News, Glenn Beck, Goldman Sachs, Gordon Brown, government regulation, Greece, Gulf Coast Oil Spill, immigration, Lena Horne, Lyn Redgrave, Mother's Day 2010, movies, Neanderthals, Nick Clegg, offshore drilling, Pakistan, political moderates, professional sports, Republican Party, rumors, Rush Limbaugh, Supreme Court of the United States, Taliban, Teabaggers, terrorism, The Week in Editorial Cartoons, Times Square Bomber, United Kingdom, Wall Street, World Economy