C'est moi, encore. ek is still resting from two weeks of boycotting NBC, so I am attempting to take his place. My version of the Afternoon Edition may not be as colorful but, hopefully, at least as informative.
The search for news about Haiti in the media is getting scarcer except for the rare analysis and comparison to the earthquake that occurred in Chile. Some of the analysis is thoughtful and well done, some of it is, well, tripe. The rains have arrived early and it has been raining everyday filling the streets with contaminated water and flooding the make shift camps that are home to over a million displaced people. The rain also adds to the difficulty of distributing food, clean water, shelter material and medical aid. If we thought it was bad in January, the early rains have compounded the misery.
Children's Messages of Hope for Haiti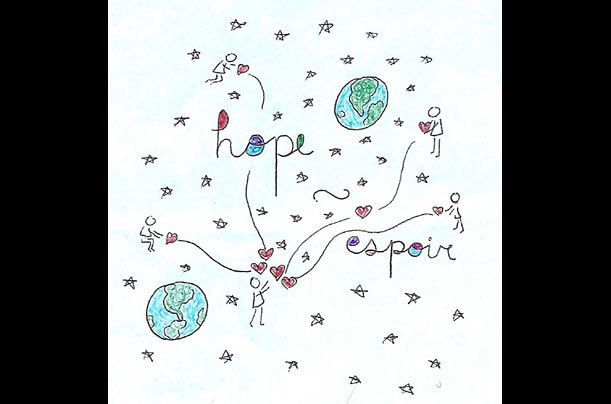 Haiti's Futile Race Against the Rain
There were floods on Saturday in Les Cayes, in southwestern Haiti. It rained in Port-au-Prince on Thursday, and again on Saturday and Sunday night, long enough to slick the streets and make a slurry of the dirt and concrete dust. Long enough, too, to give a sense of what will happen across the country in a few weeks, when the real storms start.

Mud will wash down the mountains, and rain will overflow gutters choked with rubble and waste, turning streets into filthy rivers. Life will get even more difficult for more than a million people.

New misery and sickness will drench the displaced survivors of the Jan. 12 earthquake – like the 16,000 or so whose tents and flimsy shacks fill every available inch of the Champ de Mars, the plaza in Port-au-Prince by the cracked and crumbled National Palace, or the 70,000 who have made a city of the Petionville Club, a nine-hole golf course on a mountainside above the capital.

The rainy season is the hard deadline against which Haiti's government and relief agencies in Port-au-Prince are racing as they try to solve a paralyzing riddle: how to shelter more than a million displaced people in a densely crowded country that has no good place to put them.
This is an Open Thread.