( – promoted by buhdydharma )
Yah.
… for Teachers.
War Criminal Torture Champions roam free, teach Law, and show up as guest/experts on the Sunday Talk Shows, but failing to teach all those brown kids to pass those tests is just … wrong!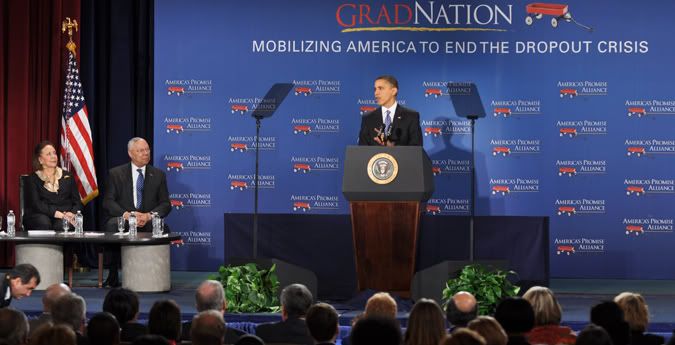 PROVIDENCE, R.I. – President Barack Obama says a Rhode Island school that recently fired all its educators is an example of how there needs to be accountability.

He made the comments Monday in Washington at the U.S. Chamber of Commerce. He called for "accountability" if a school continually fails its students without improvement.

He said that is what happened at Central Falls High School, where the school district's board of trustees voted last week to fire 93 teachers, administrators and other staff. No more than half could be hired back under federal law.

Obama pointed out that just 7 percent of students at the high school have tested proficient in math.
Right. That'll fix it. Fire them. Just fire them all.
Don't question the method, or the curriculum design, or the numerous extra-curricular factors that impact the students and their families. That might help us understand WHY or maybe HOW this happens. Just toss out the teachers. It must be their fault. Don't doubt the frikkin NCLB Teach to the Test way of …. teaching… that is imposed on the teachers by Administrators etc.
"There's got to be a sense of accountability," Obama said in announcing his latest get-tough school proposal at the U.S. Chamber of Commerce.

The president's plan would seek to help 5,000 of the nation's lowest-performing schools over the next five years.

"In this kind of knowledge economy, giving up on your education and dropping out of school means not only giving up on your future, but it's also giving up on your family's future," Obama said. "It's giving up on your country."

more

This is so stupid I can't stand it. Okay, I'll calm down and actually go read the rest of it now. I promise I'll let you know if it gets any better. It's possible ya know. I'm so impatient.

:-/
To get a share of the new money, states and school districts must adopt one of four approaches to fix their struggling schools:

* Turnaround Model: The school district must replace the principal and at least half of the school staff, adopt a new governance structure for the school, and implement a new or revised instructional program.

* Restart Model: The school district must close and reopen the school under the management of a charter school operator, a charter management organization or an educational management organization. A restarted school would be required to enroll, within the grades it serves, former students who wish to attend.

* School Closure: The school district must close the failing school and enroll the students in other, higher-achieving schools in the district.

* Transformational Model: The school must address four areas, including teacher effectiveness, instruction, learning and teacher planning time, and operational flexibility.
Oy.
Guess I better go check out the America's Promise Alliance site.
sigh. Remind me again… Didn't we elect a Democrat POTUS?
Tuesday morning UPDATE: h/t to commondreams.org again: NYT article has a little more & the response from the AFT:
The president's comments incensed the leadership of the American Federation of Teachers, which criticized Mr. Obama for "condoning the mass firing" of teachers at the Rhode Island school.

"We know it is tempting for people in Washington to score political points by scapegoating teachers, but it does nothing to give our students and teachers the tools they need to succeed," the president of the union, Randi Weingarten, said in a statement.

In their efforts to overhaul failing public schools, Mr. Obama and his education secretary, Arne Duncan, have frequently drawn the ire of teachers' unions.
and… this tasty little morsel:
Mr. Obama is seeking to use federal money as an incentive for local schools to improve their standards. The initiatives his administration is pursuing are similar to those of the Bush administration. At the event on Monday, Mr. Obama recognized Margaret Spellings, a secretary of education under President George W. Bush, who was seated in the front row.
Niiiice.
More to read in this short NYT Editorial, dated Jan 16, 2010, entitled: Walking the Walk on School Reform.
Ms. Weingarten called for a new collaboration between schools and unions that would replace this "perfunctory waste of time." She called on the states to adopt basic professional teaching standards that would spell out what teachers should know and be able to do.

She rightly warned against using test scores in crude, statistically invalid ways, and proposed a sophisticated analysis to determine if students were showing real growth under a given teacher. Just as important, Ms. Weingarten said districts that so often take a sink-or-swim approach to teaching should develop support and mentoring programs that both improve teachers' abilities and keep them from leaving the profession.
Crap. I honestly don't have time for this, but let me just mention that, of COURSE, there's a lot more to all this. The NYT editorial linked above has a few more links to follow which gives more of the lead up and back story…. I need to catch up on that but it will simply have to wait.
This whole thing really pushed my buttons, on so many levels. Among other things, I have worked in a (county) bureaucracy and I know first hand how intensely flawed that culture can be. I also worked in a small non-profit drop-out prevention outfit that was a different kind of mess. Sigh.