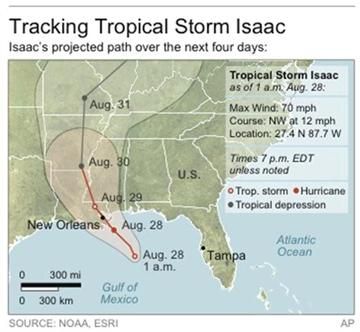 Over the last two days slow moving Hurricane Isaac has pounded the Gulf Coast states with high winds, torrential rain and coastal storm surge at high tides. Seven years after the disaster of Katrina Gulf Coast residents were more wary and many headed away from the coast to higher ground and shelters. Now downgraded to a tropical storm, New Orleans' new levees, built with federal funding, have held, but to the west of the city, in Plaquemines Parish, there has been serious flooding and emergency evacuation and rescues are underway. There are plans to open a hole in the levee there to relieve the pressure behind the wall that if breached would cause even more damage.
On Wednesday, President Obama declared major disaster areas in Mississippi and Louisiana and has ordered the release of federal aid to supplement state and local recovery.
One friend of Stars Hollow who lives in the direct line of the storm managed to send a message before they lost power, that this was the slowest storm that she had ever experienced. It's just not moving:
The worst-hit part of the coast was Plaquemines Parish, La., the finger of land that follows the Mississippi River from Orleans Parish out into the Gulf of Mexico, and the place where both Isaac and Katrina first made landfall.

Fears that a locally built gulf-side levee would be overtopped by Isaac's massive surge were well founded. Many of those on Plaquemines Parish's east bank who ignored Monday's order to leave were forced into their attics when the gulf poured in, filling up the bowl between the levees with up to 14 feet of water.

Dozens of people had to be pulled to safety by rescue workers and neighbors. As of Wednesday evening, water was beginning to creep up the west bank of the parish as well, prompting officials to go door to door to evacuate what is effectively the bottom two-thirds of the parish.

"We've never seen anything like this, not even Katrina," said a visibly rattled Billy Nungesser, the parish president, in a briefing to reporters. [..]

And still Isaac trudged on, drenching the towns of the north bank of Lake Pontchartrain on Wednesday night and heading at an agonizing 6 miles per hour in the direction of Baton Rouge. Officials warned that the risks were far from over, as flooding was a threat not only along the coast but in mid-Louisiana, upstate Mississippi and the drought-starved regions north. On Wednesday afternoon, Isaac was flooding towns farther inland with its unceasing rain, and was far from finished with southern Louisiana and the Gulf Coast.

"There is another half of the storm to go for most people who have already begun to experience it," W. Craig Fugate, the administrator of the Federal Emergency Management Agency, said on a conference call with reporters. "For some folks in the path, the event and the weather haven't even begun. We are still way early before this is all over."
While nowhere near the intensity and strength of Katrina, because Isaac is only moving at 10 miles an hour, the damages could match those of 2008's Gustav, a Cat 2 storm, that topped $2 billion in insurance claims:
While comparatively modest as hurricanes go, Hurricane Isaac is already wreaking havoc. More than 644,000 were without power in Louisiana, Mississippi, Alabama and Arkansas, power companies told CNN. And some 100 residents had been or were in the process of being rescued from flooded homes and rooftops in coastal Plaquemines Parish, according to CNN affiliate WWL.

Eqecat, a catastrophe modeling firm, suggested onshore insured damage — which includes residential property, commercial property, energy production and the interruption of business but excludes most flooding damage — would run between $500 million and $1.5 billion. The firm excludes flooding because the federal government insures against flood damage for most properties.

The storm could also cause more than $500 million in damages to off-shore energy production.
The up side is that so far there has been only one death related to the storm, a young man fell 18 feet from a tree attempting to help his friends move a car. Another person has been reported missing after going jet skiing. A curfew has been declared in New Orleans and surrounding parishes to prevent looting areas without power and make it easier for utility crews to restore electricity.
Donations for victims of Isaac can be made to:
Salvation Army

Call 800-725-2769 (Sal-Army), text RED CROSS to 80888 for a $10 donation or visit www.salvationarmyusa.org.

Red Cross

Call 800-733-2767 (Red-Cross), text REDCROSS to 90999 for a $10 donation or visit www.redcross.org.