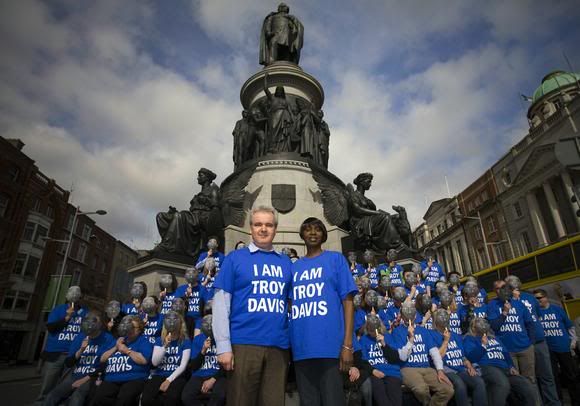 On September 21, 2011, the State of Georgia plans to kill Troy Davis by lethal injection. Again. This is the fourth time the State of Georgia has scheduled Davis for death. In 2007 he was spared with less than 24 hours notice. In September 2008, the hearse was waiting at the door and he was less than two hours away from the gurney. A month later the execution was halted three days before execution. And now, the rollercoaster from hope to despair has come to September 21, 2011.
Troy Davis's conviction stems from the 1989 death of a Savannah police officer, Mark Allen McPhail. The rollercoaster, for Troy Davis and his family and for the family of the officer, has been lurching back and forth for 22 years. And with each year, doubt about the conviction has grown as witnesses have recanted and as jurors speak their unresolved doubts. Lurking in the background is alarming possibility that the wrong man is waiting for the needle and that the real murderer has escaped.
The Atlanta Journal Constitution reports:
With only days before his scheduled execution, an effort to spare convicted killer Troy Davis is gathering thousands in rallies, vigils and other last-minute events from Atlanta to Peru to Berlin.

Citing doubts about his guilt, national leaders of the NAACP and Amnesty International led hundreds in a protest Friday against executing the man a Georgia jury said killed a Savannah police officer in 1989. Amnesty International declared a Global Day of Solidarity for Troy Davis, with 300 events across the United States and the globe, including in New York, Washington D.C., San Diego, Paris and Oslo.

Former President Jimmy Carter, Pope Benedict XVI and Nobel laureate Desmond Tutu are among those calling for his execution to be halted. And this week, Davis supporters presented 663,000 petitions to the Georgia Board of Pardons and Paroles asking for his life to be spared.
Troy Davis has one last chance to ask for leniency. The Georgia Board of Pardons and Paroles, which has the sole authority in Georgia to commute death sentences, will meet Monday to consider Davis's case.
That means that this weekend is the last opportunity to sign a petition and to stand with more than 600,000 others for sparing Troy Davis.
The petition is here.
Details about the case are here from 2006 and here from 2008.
An excellent first person view is here (h/t OPOL).
——

cross-posted from The Dream Antilles