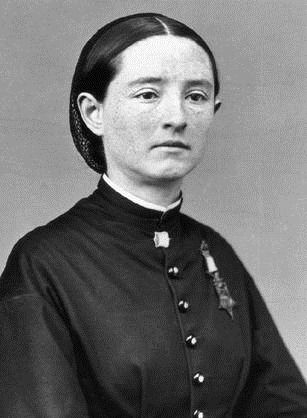 The only woman to be awarded the Medal of Honor, America's highest military honor, was a civilian and a surgeon. Dr. Mary Edwards Walker served the US military as a volunteer surgeon during the American Civil War and for a short time, she was held in a Confederate prison after crossing enemy lines to assist with civilian casualties.
At the beginning of the American Civil War, she volunteered for the Union Army as a civilian. At first, she was only allowed to practice as a nurse, as the U.S. Army had no female surgeons. During this period, she served at the First Battle of Bull Run (Manassas), July 21, 1861 and at the Patent Office Hospital in Washington, D.C. She worked as an unpaid field surgeon near the Union front lines, including the Battle of Fredericksburg and in Chattanooga after the Battle of Chickamauga. As a suffragette, she was happy to see women serving as soldiers and alerted the press to the case of Frances Hook in Ward 2 of the Chattanooga hospital.

In September 1862, Walker wrote to the War Department requesting employment on Secret Service to spy on the enemy, but the offer was declined. Finally, she was employed as a "Contract Acting Assistant Surgeon (civilian)" by the Army of the Cumberland in September 1863, becoming the first-ever female surgeon employed by the U.S. Army Surgeon. Walker was later appointed assistant surgeon of the 52nd Ohio Infantry. During her service, she frequently crossed battle lines, treating civilians.

On April 10, 1864, she was captured by Confederate troops and arrested as a spy, just after she finished helping a Confederate doctor perform an amputation. She was sent to Castle Thunder in Richmond, Virginia and remained there until August 12, 1864, when she was released as part of a prisoner exchange. While she was imprisoned, she refused to wear the clothes provided because they were more "becoming of her sex." Walker was exchanged for a Confederate surgeon from Tennessee on August 12, 1864.

She went on to serve during the Battle of Atlanta and later as supervisor of a female prison in Louisville, Kentucky, and head of an orphanage in Tennessee.[
After the war, Dr. Walker was awarded the Medal of Honor on November 11, 1865 by President Andrew Johnson on the recommendations of Generals William Tecumseh Sherman and George Henry Thomas. The citation reads:
Whereas it appears from official reports that Dr. Mary E. Walker, a graduate of medicine, "has rendered valuable service to the Government, and her efforts have been earnest and untiring in a variety of ways," and that she was assigned to duty and served as an assistant surgeon in charge of female prisoners at Louisville, Ky., upon the recommendation of Major-Generals Sherman and Thomas, and faithfully served as contract surgeon in the service of the United States, and has devoted herself with much patriotic zeal to the sick and wounded soldiers, both in the field and hospitals, to the detriment of her own health, and has also endured hardships as a prisoner of war four months in a Southern prison while acting as contract surgeon; and Whereas by reason of her not being a commissioned officer in the military service, a brevet or honorary rank cannot, under existing laws, be conferred upon her; and Whereas in the opinion of the President an honorable recognition of her services and sufferings should be made. It is ordered, That a testimonial thereof shall be hereby made and given to the said Dr. Mary E. Walker, and that the usual medal of honor for meritorious services be given her.
She was 32 years old when she received the award. Her story did not end there.
She became a writer and lecturer, supporting such issues as health care, temperance, women's rights and dress reform for women. She was frequently arrested for wearing masculine styled clothing and insisted on her right to wear clothing that she thought appropriate. She wrote two books that discussed women's rights and dress.

Mary Edwards Walker was a supporter of the women's suffrage movement. She was a member of the central woman's suffrage Bureau in Washington. During her time as a member, she solicited funds to endow a chair in the medical school at Howard University to be filled by a woman professor. Walker attempted to register to vote in 1871, but was turned away. The initial stance of the movement, taking Dr. Walker's lead, was to claim that women already had the right to vote, and Congress need only enact enabling legislation. After a number of fruitless years taking this stance, the movement took the new tack of working for a constitutional amendment. This was diametrically opposed to Mary Walker's position, and she fell out of favor with the movement. She continued to attend conventions of the suffrage movement and distribute her own brand of literature, but was virtually ignored by the rest of the movement. Her penchant for wearing male-style clothing, including a top hat, only exacerbated the situation. She received a more positive reception in England than in the United States. In 1907, Walker published a work on "Crowning Constitutional Argument" to state her views. Walker argued that some states, as well as the Constitution, had already granted women the right to vote. She testified on women's suffrage in 1912 and 1914 before the U.S. House of Representatives.

Walker died on February 21, 1919, from natural causes at the age of 86 and is buried in Rural Cemetery Oswego, New York. She had a plain funeral, but an American flag was draped over her casket and she was buried in her black suit instead of a dress. Her death in 1919 came one year before the passage of the Nineteenth Amendment to the United States Constitution, which guaranteed women the right to vote.
The host of MSNBC's "The Last Word," Lawrence O'Donnell tells her story.