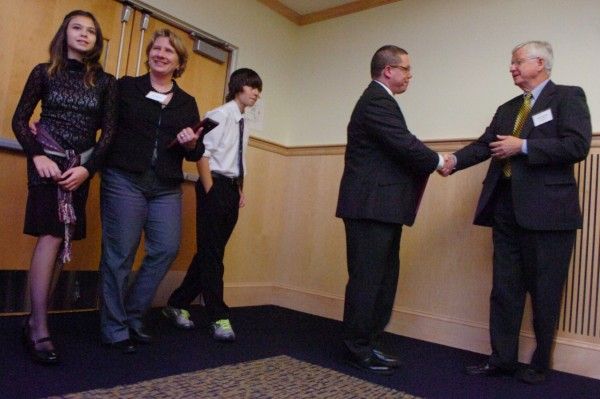 Several social welfare groups have joined an amicus brief in the Case of Doe v. RSU 26 (formerly the Orono School District), which has been appealed to the Maine Supreme Court. The Maine Chapter of the American Academy of Pediatrics, the Maine Chapter of National Association of Social Workers and the Maine Psychological Association have joined with the Trans Youth Equality Foundation, the Maine Women's Lobby, and the Downeast and Southern Maine chapters of the Gay, Lesbian & Straight Education Network (GLSEN) to file a brief in the case, which involves a transgender girl (now publicly identified as Nicole Maines) who was forced to stop using the girl's restroom at her Orono elementary school in 2007.
When she was in the fifth grade, Susan Doe (as she is identified in the suit), was forced to use a separate, staff-only restroom after the grandfather of another (male) student complained that she was a boy and shouldn't be allowed to use the girls' restroom.
Nicole Maines has identified as a girl from a very young age and dressed, acted, and looked like a girl. She is now 16.
The thought of me being a boy just kind of makes me cringe. I couldn't do it. So I would always wear the turtleneck shirt as long hair. I was always into the girl characters of everything. That's how I rolled. I was like, yeah, I'm a girl. I don't think I could be a boy.

–Nicole Maines, 2011
The groups say that for normal psychological development and educational growth, transgender students must be allowed to integrate how they feel into their life experiences…and that must include the ability to use the restroom consistent with their gender identity.
[F]rom a medical and health perspective, sexual identity…is the most important determinant of a person's sex.

–the brief
It's very well established that there is something called Gender Identity Disorder, or Gender Dysphoria, and there's a very specific plan of treatment for that, some of which can be medical but much of which is supportive and nurturing.

–Dr. Steven Feder, president of the Maine chapter of the American Academy of Pediatrics
Dr. Feder says his group wants the court to recognize the fact that anything that separates a child out because of a medical condition can be psychologically damaging.
The Maine Human Rights acts protects students on the basis of gender identity "in any aspect of school life," which is what spurred Nicole and her family, along with the Maine Human Rights Commission, to file a lawsuit in 2009, alleging discrimination in education and public accommodations. But last year the Penobscot County Spuperior Court Justice William Anderson ruled that the school district "acted within the law" with regards the discrimination in public accommodations.
The law specifically allows for what the school did and therefore it can't be discriminatory. And there are certainly arguments on both sides of the issue, and that's an issue that the Legislature, not the courts, needs to grapple with.

–Melissa Hewey, attorney for the school
Hewey claims that Maine law allows the schools to separate bathroom usage on the basis of sex rather than gender identity.
In June of 2011 the Maine Legislature killed an attempt to force transgender people to use bathrooms, showers, and similar public accommodations consistent with their birth-assigned sex.
In a telephone interview Feder said that the Maine Supreme Judicial Court should recognize that gender identity is internalized and not simply a matter of physical characteristics, especially for transgender children.
We would like [the justices] to recognize that from a medical and mental health perspective gender identity is internalized. It involves more than hormones and external genitalia. Gender identity is a mixture of those things and that is well recognized in the literature.

–Dr. Feder
Over 90% of Maine pediatricians belong to Feder's group. Feder says the membership had a vigorous, active dialogue before its board made the unanimous decision to sign onto the brief.
This case is a good example of how that is playing out in Maine. We support this young woman being recognized as a young woman. A transgender girl needs to be treated like any other girl.

–Dr. Feder
The standard estimate is that 1 in 10,000 biological males and 1 in 30,000 biological females in Western society are transgender. That undoubtedly is a severe undercount.
Justice Anderson's ruling has been appealed by both the family and the Human Rights Commission.
The 24-page brief, written by attorney Richard O'Meara of Portland, focuses on adolescent psycho-social development, as related to gender identity.
One of the core aspects of adolescent development is learning how to develop and consolidate one's gender identity and gender role, including by building friendships with same-sex peers. For girls, no small part of that experience takes place in girls' bathrooms. Adolescent girls commonly go to the restroom together in groups or pairs and use restrooms as sites for a multitude of social activities. The socializations and bonding that take place in these settings are critical components of building confidence, self-esteem, and healthy relationships with same-sex peers.

Excluding an adolescent girl from these social spaces is profoundly isolating and makes it much more difficult for her to develop peer relationships. Rather than having multiple opportunities to socialize, interact with other girls, and develop a healthy gendered self, she is singled out, isolated and marginalized. As Susan, the plaintiff in this case, explained after she was required to use a separate bathroom: 'There's no one to socialize with in there except yourself in a mirror.'

–the brief
Oral arguments have not yet been scheduled.