It was a celebration of being GLBT in American and a review of our recent history in this country.
It had its flaws, I think, but I wouldn't hesitate to recommend that people view it…many times, if possible. I love it that we live in the New York City environs (just west of Newark, NJ) and we get two New York PBS stations, so I got a chance to watch it Wednesday night on Thirteen and will have another chance Sunday on WLIW (Long Island). And it will probably eventually come to our own New Jersey PBS station, NJN.
It is, after all, time for another pledge drive. It's always time for another pledge drive.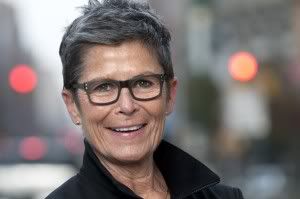 What is it? It's the new documentary by Andrew Goldberg, Out in America. The version we get here is actually called Out in America/Out in New York, which consists of the original documentary wrapped in some local material, hosted by Kate Clinton (who also participated in the documentary) and Andrew Goldberg, who wrote and produced the documentary in conjunction with Oregon Public Broadcasting.
Mr. Goldberg said that he felt that if people could just see how much GLBT people were like themselves, that the world would get better. There was a bit of a flaw in his procedure for doing that.
He didn't find average, everyday people to interview.