…cause the vandals stole the handle.
A group of graffiti artists (BlakCollectiv), led by Kalkidan Assefa, created an impressive, and legal, mural during Ottawa's Pride Week honoring transgender women of color who had been murdered during the past year.
On Wednesday night an unknown person or group who were offended by the memorial spray painted over much of the mural and added these sentiments:
RACIST BULLS–T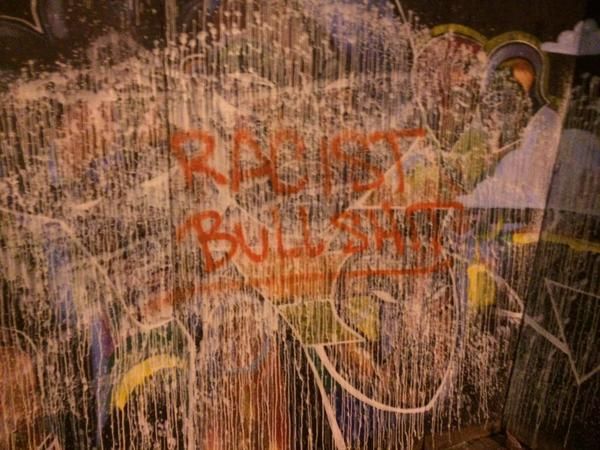 ALL COLORS MATTER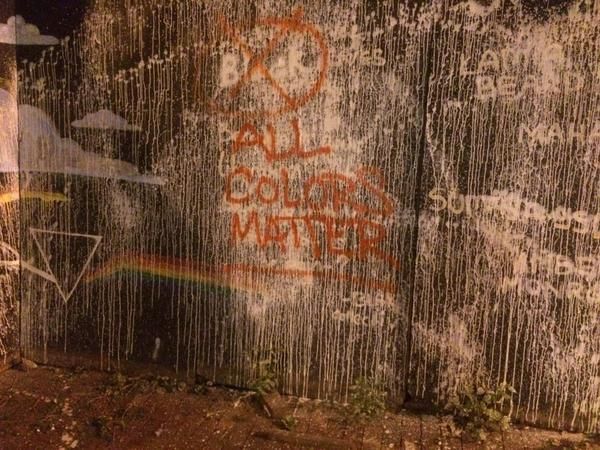 ALL LIVES/NO DOUBLE STANDARD/YOU'VE BEEN WARNED.
Thomas McVeigh is president of the Centreton Citizens Community Association and owns a nearby restaurant. McVeigh tweeted the above photos yesterday, adding his own comments:
I am sickened. This mural was defaced. It spoke of trans people of color. I am angry and saddened. #blacklivesmatter
Angrier the more I think about it. You've been warned?
Makes me sick to my stomach. #notmyottawa indeed!!! Was hoping to see this mural find a permanent place. Too late!

–Amy Beausoleil
The main artist commented:
I think there's a certain racist element within Ottawa that doesn't like the form of expression that we're using and they don't like us publicly saying what we're saying, which is that black lives matter.

When we're saying 'black lives matter' in an era where we talk specifically about black lives because they're under attack, to erase that and write 'all lives matter' over it that's completely erasing what we're trying to do.

You can't say you're not racist while you're actively going and crossing out the word 'black' as if black people themselves can't even exist in your sphere of vision.

–Assefa
Black lives matter, trans lives matter, we have to keep saying it over and over.

If it brings out this kind of reaction we need to take that as an opportunity to come together as a community to say 'We disagree, there are many many more of us that disagree.' We have to keep the work up.

–Somerset councillor Catherine McKenney
By yesterday afternoon, part of the mural was redone: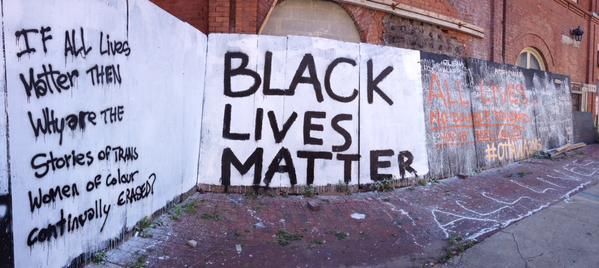 If all lives matter then why are the stories of trans women of colour continually erased?
Makes me sick to my stomach. #notmyottawa indeed!!! Was hoping to see this mural find a permanent place. Too late!

–Amy Beausoleil
Assefa posted on Instagram Wednesday morning that someone had crossed out the "Black" in "Black Lives Matter" on the Bank and Somerset mural and replaced it with "All", but someone had already fixed it by the time he made it back.
#Respect to whoever fixed the vandalism on this one! Came out with my paint and bucket to repair and it was already done. Ain't no thing!..we deal with this #racism in one form or another everyday…community got our back. #blacklivesmatter #blacktranslivesmatter
We actually had one of our other murals at (the same) wall, a native mural done by an indigenous person was just vandalized yesterday.

–a member of BlakCollectiv who asked her name not be used
A similar incident happened at the end of July.