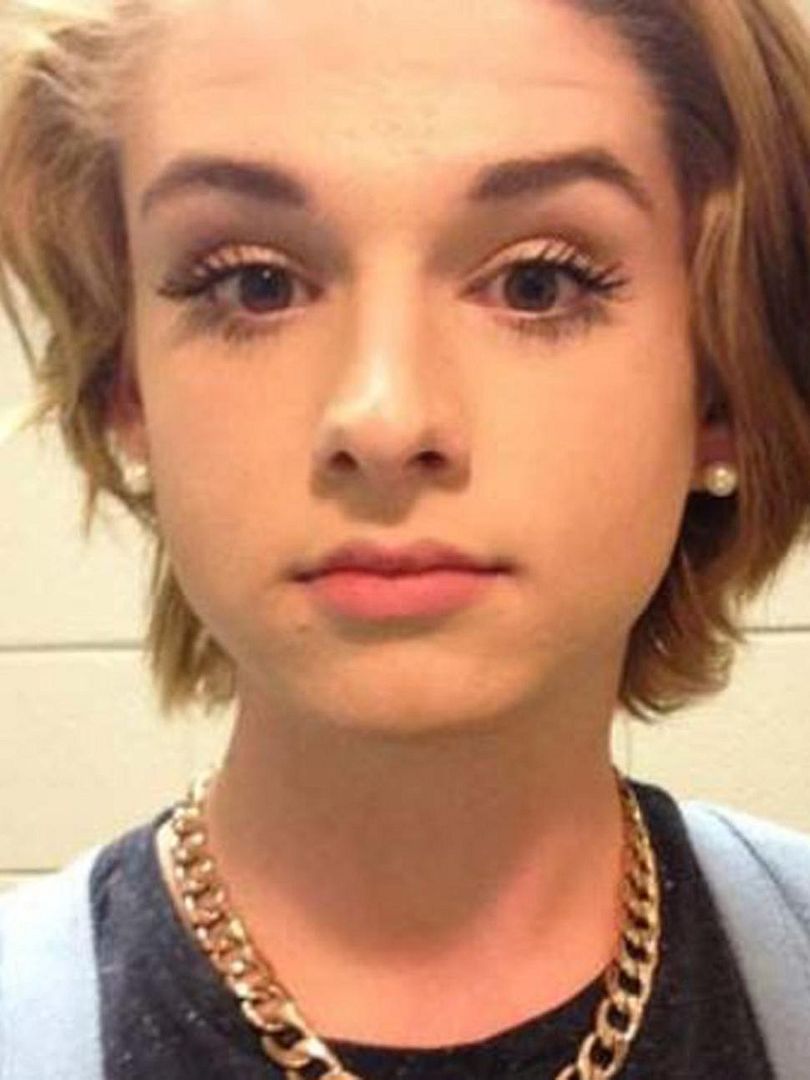 Last March Chase Culpepper, 16, applied for a South Carolina driver's license. Chase is gender non-conforming but still uses male pronouns. At the DMV Chase was told that he could not have his license photo taken unless he removed the make-up he uses on a daily basis.
I covered the story at the time: Disguise and Deception, complete with the basic concept:
No amount of makeup remover can erase how he feels.
The government should not be in the business of telling men and women how we are supposed to look as men and women.

–Michael Silverman, executive director of the Transgender Legal Defense and Education Fund (TLDEF)
On Tuesday TLDEF filed a federal lawsuit against the South Carolina Department of Motor Vehicles brought by Theresa Culpepper on behalf of her minor child, asking the court to rule that denying Chase the freedom to wear his everyday makeup in his license photo constitutes sex discrimination and violates his right to free speech and expression under the United States Constitution. The suit also seeks a ruling that the DMV's policy (roughly, that it cannot take the photo of anyone who is "in disguise") is unconstitutionally vague, too broad, and allows DMV employees to "police gender" (i.e. to arbitrarily decide how a driver's license applicant should look without regard to the rights of the people they are supposed to serve).
Chase wears makeup and androgynous or girl's clothing on a regular basis. Before a DMV employee would take his photo Chase was told he could not "wear a disguise" and that he needed to "look male" in his license photo. Chase complied because he wanted his license but left the office feeling humiliated by the experience.
My clothing and makeup reflect who I am. The Department of Motor Vehicles should not have forced me to remove my makeup simply because my appearance does not match what they think a boy should look like. I just want the freedom to be who I am without the DMV telling me that I'm somehow not good enough.

–Chase Culpepper
TLDEF sent a letter to the DMV in June asking that Chase be given the opportunity to retake his license photo with his normal appearance. The department never responded to that letter.
Chase is entitled to be himself and to express his gender non-conformity without interference from the South Carolina DMV. It is not the role of the DMV or any government agency or employee to decide how men and women should look. Chase should be able to get a driver's license without being subjected to sex discrimination.

–Silverman
As a mother, it broke my heart to see Chase being forced to be someone that he isn't. Every time he pulls out his license, he is reminded of that, and that makes it even worse. I love my son just the way he is. The DMV should not have treated him this way.

–Theresa Culpepper
I want to take my license photo again, with makeup, so I can be myself and express to the world who I truly am.

I want to make sure this doesn't happen to other people who are just trying to be themselves.

–Chase
DMV officials have said that the photo policy helps ensure that law enforcement officers know whether they are dealing with a male or female. Apparently they feel that the gender marker is not sufficient assurance of that.
I understand that he does wear makeup all the time, and for women, regular everyday makeup is acceptable, but it is unusual to see it on a young man.

–Beth Parks, SCDMV spokeswoman
The suit is Theresa Culpepper v. Kevin A Schwedo, et al. It is pending in the United States District Court for the District of South Carolina, Columbia Division. TLDEF is being assisted by Fulbright & Jaworski LLP and Wyche, P.A., who are working pro bono.
The point is that Chase's identity is absolutely a valid transgender narrative, and almost as if the SCDMV needed to give proof of what genderqueer people go through, here's an example of a government agency being shitty to Chase over his gender expression.