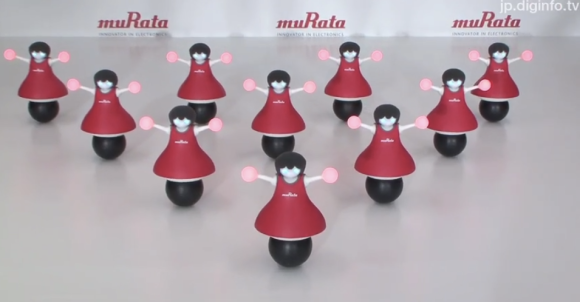 Japanese company creates ball-balancing cheerleader robots

Michelle Lynn Dinh

Japan has an infatuation with robots; after all, you don't see beautiful cyborg women hanging out in restaurants in the US or 24-fingered hair washing bots in the UK. That's why we weren't surprised at all to find that Japan has just produced a gang of cheerleading robots that dance in sync while balancing on a ball.

Officially called the "Murata Cheerleaders," these balancing robots are the fourth generation of robots to be produced by the company. The bicycle-riding Murata Boy was first to come in 1991, followed by the second version of the Murata Boy in 2005, and the Murata Girl who learned to ride a unicycle in 2008.

STATS

31 Rank of Japan, out of 34 countries surveyed, in terms of women with college degrees who have jobs, according to the OECD

¥100 million Bonus given to Kei Nishikori by sponsor Fast Retailing Corp for reaching the finals of the U.S. Open tennis tournament

¥15 billion Amount of money the central government will pay to two towns in Fukushima Prefecture to store radioactive waste from the Daiichi nuclear power plant for the next 30 years
WE'LL BELIEVE IT WHEN WE SEE IT

It was reported that hip Japanese 20-somethings have rediscovered the pleasures of sento public baths.

Scientists on a government advisory panel have called for more debate on the risks that volcanic eruptions pose to nuclear power plants.

Officials at the health ministry say that more than 5 million Japanese people are addicted to gambling. That's nearly 5 percent of the adult population, folks.

Meanwhile, addiction specialists say the recent increase in alcoholism among Japanese women is likely due to "job stress" and "marketing."
Aren't For Your Own Edification Or Your Future As An AV Director
Scofflaw
Censored By Indonesia
Kanebo called victims of its defective skin-whitening products 'minefields'



Kyodo

Kanebo Cosmetics Inc. referred to customers who developed blotches on their skin after using its skin-whitening cosmetics as "minefields" during a meeting last year on how to deal with possible damages suits against the company, sources said Friday.

The expression insulting victims of the company's defective products drew an immediate backlash and may affect damages suits filed in district courts in Tokyo and Shizuoka and Hiroshima prefectures.

The term was used in written material distributed at an executive meeting of Kanebo branch offices in central Japan on Aug. 2, 2013, a month after the company announced it was recalling products containing Rhododenol, a chemical brightening ingredient.