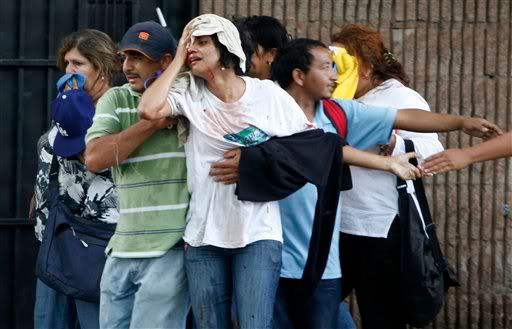 A Woman Injured Monday In An Anti-Coup Demonstration
The Thursday confrontation between deposed Honduran president Manual Zelaya and the Roberto Micheletti and his Honduran military coup has been delayed until Saturday.
CNN reports:
Ousted Honduran President Jose Manuel Zelaya said Wednesday he will not return to his home country until at least Saturday, after a three-day international deadline to reinstate him.

Zelaya had said earlier he would return to Honduras on Thursday. Provisional Honduran President Roberto Micheletti said Tuesday that Zelaya would be arrested on multiple charges if he returns.

The Organization of American States passed a resolution early Wednesday saying that Zelaya should be returned to power within 72 hours. The United Nations unanimously passed a similar resolution Tuesday afternoon.
The refusal to reinstate Zelaya, according to the OAS, will cause it to suspend Honduras's OAS membership. Many OAS members have already withdrawn their ambassadors and cut off relations with the Micheletti coup government. The US has had nice words to support democracy, but has taken little if any action to restore Zelaya.
Unfortunately, and despite virtually universal condemnation, Micheletti continues to talk tough. In an interview with AP he continued his bravado and his defiance:
A defiant Roberto Micheletti said in an interview with The Associated Press late Tuesday that "no one can make me resign," defying the United Nations, the OAS, the Obama administration and other leaders that have condemned the military coup that overthrew President Manuel Zelaya….snip

[The OAS's three day] period for negotiation prompted Zelaya to announce he was putting off his plans to return home on Thursday until the weekend.

Micheletti vowed Zelaya would be arrested if he returns, even though the presidents of Argentina and Ecuador have signed on to accompany him along with the heads of the Organization of American States and the U.N. General Assembly.

Zelaya "has already committed crimes against the constitution and the law," said Micheletti, a member of Zelaya's Liberal Party who was named interim leader by Congress following the coup. "He can no longer return to the presidency of the republic unless a president from another Latin American country comes and imposes him using guns."