July 1, 2009

archive
Can't seem to get my mind off of you

Back here at home there's nothin' to do

Now that I'm away

I wish I'd stayed

Tomorrow's a day of mine that you won't be in

When you looked at me I should've run

But I thought it was just for fun

I see I was wrong

And I'm not so strong

I should've known all along that time would tell

A week without you

Thought I'd forget

Two weeks without you and I

Still haven't gotten over you yet

Vacation

All I ever wanted

Vacation

Had to get away

Vacation

Meant to be spent alone

Vacation

All I ever wanted

Vacation

Had to get away

Vacation

Meant to be spent alone

A week without you

Thought I'd forget

Two weeks without you and I

Still haven't gotten over you yet

Vacation

All I ever wanted

Vacation

Had to get away

Vacation

Meant to be spent alone

Vacation

All I ever wanted

Vacation

Had to get away

Vacation

Meant to be spent alone

Vacation

All I ever wanted

Vacation

Had to get away

Vacation

Meant to be spent alone
What about I'm busy do people have a hard time understanding?
Follow the bouncing ball.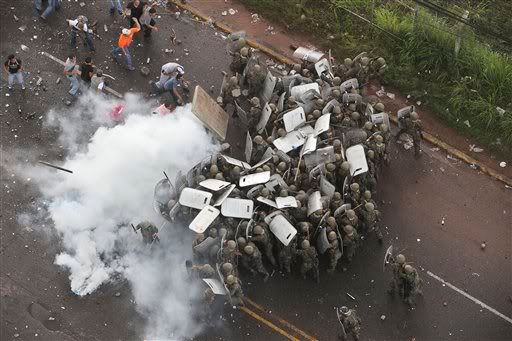 Honduran police clash with pro-democracy demonstrators
The military coup that deposed Honduran President Manual Zelaya has been denounced by almost everyone except the Honduran military. President Obama said about it, "We stand on the side of democracy, sovereignty and self-determination." The OAS has condemned the coup. ALBA has condemned the coup. The UN General Assembly has condemned the coup. Central American nations have sealed their borders with Honduras. Most (except El Salvador) have also withdrawn their ambassadors. Roads are blocked in the country.
Police and soldiers clashed with pro-Zelaya protesters in the capital on Monday, and about 5,000 anti-Zelaya demonstrators gathered at a main plaza in Tegucigalpa on Tuesday to celebrate his ouster.
What is to happen next appears to be a confrontation, a face-off between the deposed President and the military coup that arrested and deported him.
Earlier today it was reported that President Zelaya will return to Honduras on Thursday:
Ousted Honduran President Manual Zelaya has announced that he will return to Honduras on Thursday. "I'm going to finish my four-year term, whether or not you coup leaders are in agreement," he stated.

Zelaya will return to Honduras accompanied by the Secretary General of the Organization of American States (OAS), José Miguel Insulza, and a commission of Latin American presidents. The Argentine government has announced that its President Cristina Fernandez will accompany Zelaya to Honduras as part of the presidential commission. In a press conference following his speech to the United Nations General Assembly, Zelaya stated that Ecuadoran President Rafael Correa will also accompany him.

Colinas, Santa Barbara, Mayor Amable de Jesus Hernandez told TeleSUR that citizen caravans were being organized to travel from his region to the capital of Tegucigalpa on Thursday to receive President Zelaya.
Initially, earlier today, the return of the deposed president and other officials wasn't supposed to be a direct confrontation with the military forces that arrested and forcibly deported him to Costa Rica:
Reports in Honduran and international press that interim President Roberto Micheletti says that "if Zelaya sets foot on Honduran soil he will be arrested" are overblown, thanks in large part to a provocative headline in that regard published by Colombia's Radio Caracol. Yes, Micheletti has stated that Honduran courts have issued arrest warrants against Zelaya, but thus far he has not definitively stated that his forces will attempt to arrest Zelaya…

The [Radio Caracol] interviewer asked Micheletti how he planned to respond in the event that Zelaya … returned on Thursday. Micheletti responded: "My country's courts have arrest warrants against him for breaking the law." He then went on to explain his case for why Zelaya had broken the law when he attempted to carry out a public opinion poll on forming a new constitutional convention to draft a new constitution. Micheletti never told Radio Caracol that his government planned to act on the aforementioned arrest warrants.