Crossposted at Daily Kos
Dear Mr. President:

We have served as Directors of Central Intelligence or Directors of the CIA for Presidents reaching back over 35 years. We respectfully urge you to exercise your authority to reverse Attorney General Holder's August 24 decision to re-open the criminal investigation of CIA interrogations that took place following the attacks of September 11.

~snip~

Attorney General Holder's decision to re-open the criminal investigation creates an atmosphere of continuous jeopardy for those whose cases the Department of Justice had previously declined to prosecute. Moreover, there is no reason to expect that the re-opened criminal investigation will remain narrowly focused.

bold and italic added by diarist

The last line is especially important in my opinion, as it proves Special Prosecutor John Durham and Attorney General Eric Holder may be taking this investigation all the way to the top, as they are required to do under the Constitution and International Law.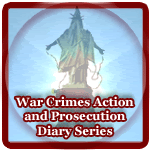 Thankfully, long gone are the days when the CIA could lie with impunity and the DoJ was not independant, but a political tool of the Executive branch. I guess the CIA misses the good ole days of Bush/Cheney.
Good thing those days are not coming back any time soon.
The letter was signed by former CIA directors Michael Hayden and Porter Goss, who worked for President George W. Bush; John Deutch and James Woolsey, who served during the Clinton administration; George Tenet, who worked for both President George W. Bush and President Clinton; William Webster, who served under President George H.W. Bush; and James Schlesinger, who headed the agency during the Nixon administration.
The only names of living CIA heads who have not signed are Ex President George H.W. Bush and current Secretary of Defense Robert Gates.
I'd say that it's safe to say that when Clinton and George W. Bush appointees oppose this investigation it can't be considered a witch hunt. I'd also say that it is safe to say that when the head of the CIA under Nixon opposes something, you are doing the right thing.
The full letter to the President plus analysis below the fold.