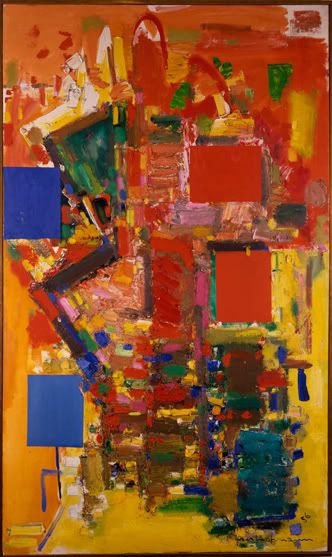 (Towering Spaciousness, Hans Hofman. h/t The Blind Swimmer)
An excerpt from Digital Tibetan Buddhist Altar's Tibetan Astrology
… I am suggesting that the time has come to absorb the longevity of a troublesome embodiment of malevolence and anger, purify it, and liberate it into basic space.
There are many ways to view this suggestion. One can view it in its plain meaning or in the context of Tibetan Buddhist (and in this instance, Bon) teachings and traditions. In particular, the phrase "liberate it into basic space" has a very specific meaning in both the Bon and Tibetan Buddhist practice.
So much for any hint of rationality. The back alleys have a different ambiance.
Luxury Persian carpets and velvet curtains, leather chairs in book lined studies with gleams of brass and crystal are all very nice.
Back alleys have the silver gleam of trashcan covers in the dim white light of a quarter moon, infinitely textured shadows culminating in narrow corners turned with great panache, well la la la.
The rest is on the flip.