If you missed Dylan Ratigan's interview today with Senator Maria Cantwell (D-WA) — well you missed a lot!
They spell out in stark relief the very REAL need for serious Wall Street Regulation — NOW! (and still!)
Or we risk a repeat of the same Bubble-driven collapse of Trillion Dollar Derivative Bets, that occur in the dark, beyond the reach — or even the Watch — of any Govt Regulator, or even the Public scrutinity.
Nothing has changed, they can STILL Gamble Trillions in Derivatives, and let US the Taxpayers pick up the Tab, whenever their Bets GO Bad!
Link to MSNBC Clip to the Ratigan Cantwell Interview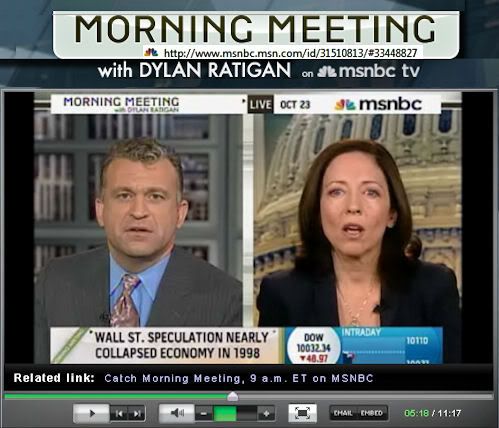 Definitely a "Must See", in my opinion.
So much so, I transcribed much of it, to help peak your interest …