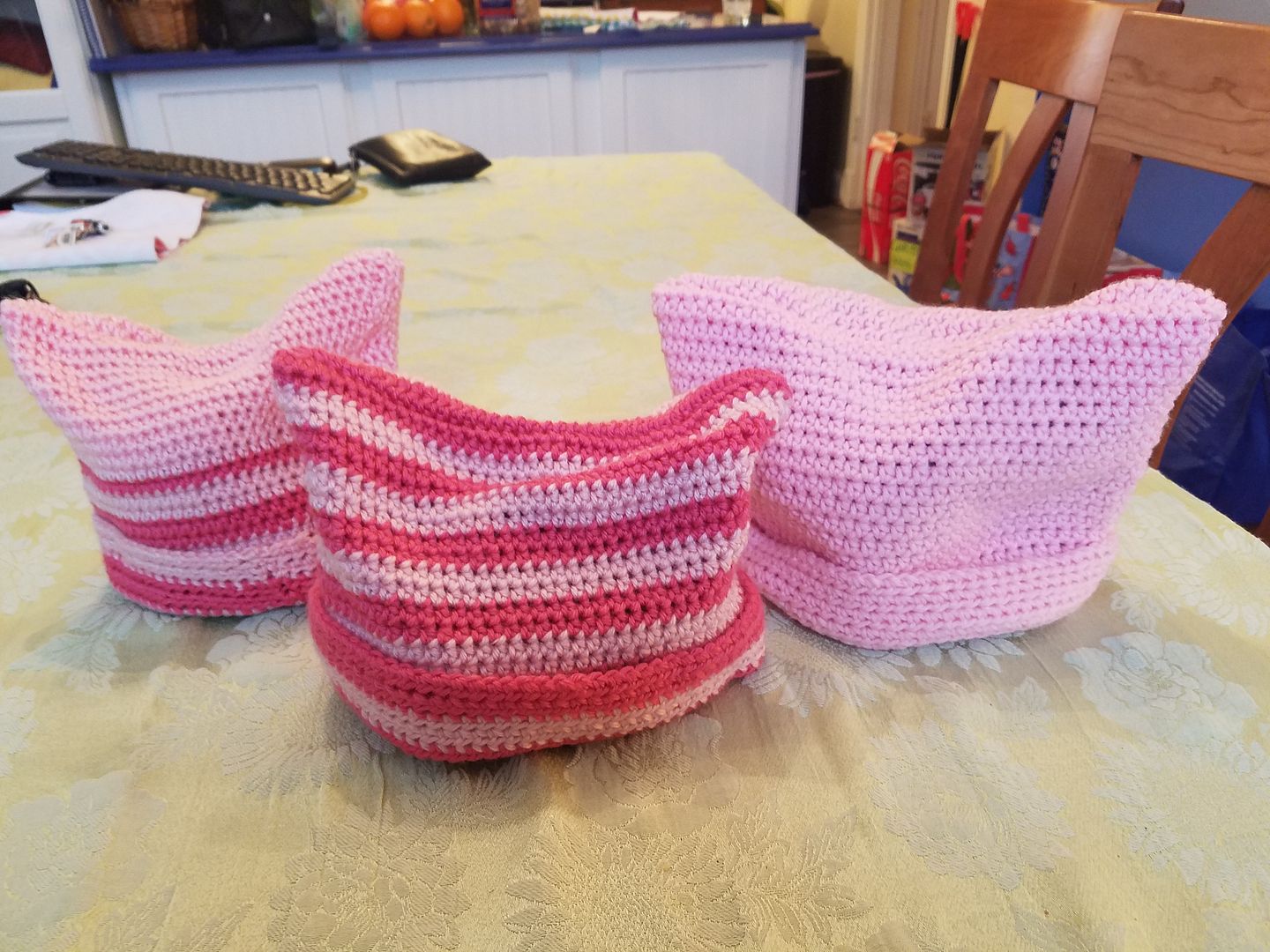 Sigh. This is really TMC's idea, we were having a story meeting (yeah, I may look like a complete flake but I'm actually classically trained, that's why I never do obituaries anymore) and I brought up the Women's March on Washington. She's like- oh yeah, I'm going to be there; how about you?
I never try to hide my chromosome damage.
It's ok, guys are invited too. Shows solidarity.
Frankly I score about a B- on the Asperger's scale and the only reason it's that low is sometimes I can grit my teeth and bluff my way through it the same way I can fight my acrophobia to a draw long enough so I don't totally embarrass myself. When I can I avoid the issue. So the idea of being in Times Square on New Year's Eve is about as attractive as eating glass and likewise being at a protest which has the added benefit of painting a large target on your ass and carrying a sign that says "Kick Me!"
So I'm kind of lukewarm on it without saying no and shortly enough I'm at my Democratic Town Committee Meeting where they're talking it up and taking reservations for the Buses- "We'll be leaving about 2 am so we can get there in plenty of time, we'll probably be back about the same time next day so you don't have to pay for a Hotel and the Buses are Free!"
Eh, I've slept on a bus before.
But I also realize that once I get there it will be next to impossible to find TMC in the crowd so at the next story meeting I say that I think it makes sense for me to meet her at DocuDharma/Stars Hollow Gazette World Headquarters and take the New York bus.
ek, you're an idiot.
I separate that because I've no doubt it's what most of you think about me all the time and I want you to know your opinion is validated and shared.
You'll call up your Cousin and we'll stay with her.
Hey! I know people and stuff, and actually we had crashed at my Cousin's place before during a project that has not yet appeared on this page. A kind of funny and brief story. She has 2 kids who hate to go to bed and are really annoying when it comes to begging and pleading. "Ooh, can't we play a game?" "How about Clue," says TMC who has eyes like an eagle. The supplicants agree readily, because when they play it takes hours.
Two rounds. "Professor Plum in the Kitchen with a Lead Pipe. Sweet Dreams!" TMC loves kids, she just can't eat a whole one.
Anyway my cousin was delighted to hear from me (goodness knows why, I'm a burden on everyone) and travel arrangements were soon complete and now I am committed. How committed? Well, over the Holidays I had my Sister knit up some Pussy Hats.
So right now I'm sitting in Washington D.C. at my Cousin's table making a shopping list for the March (rules say that you can have a gallon plastic bag for food which will be pretty important since it will be a 7 hour event plus transit time. I have a sandwich idea I can share with you-
Hummus Sandwich
1 Demi-Ciabatta loaf (about 12″ long and 4″ wide)
Butter
Hummus
Refrigerated Kosher Dills (sliced if you have no knife skills, whole otherwise)
A Few Romaine leaves.
Sliced Sweet Onion or Scallions
Extra Virgin Olive Oil
Vinegar
Oregano or another herb
Sliced tomato (optional, I find it makes your sandwiches soggy after even a short time in storage)
Preparation:
Slice bread lengthways separating Top from Bottom. Coat each half with Butter and thick layer of Hummus (brings out the Tahini flavor of the Hummus). Layer Pickles on Bottom half (I have good knife skills and my Cousin really likes the way I get them real thin). Layer Romaine and Onion. Sprinkle with Olive Oil, Vinegar, and herbs. Close with Top half of bread.
Cut it to fit your gallon bag.
This is all vegetarian (though you can substitute or add any ingredient to your taste). The beauty part is when you whip it out in front of all the other Hippies they'll think you're cool. Tell them you grew the wheat yourself organically and ground the flour by hand, they'll never know.
Or you could just buy a Subway.
We will have bags of mixed nuts (TMC gets a chuckle out of that) and dried Apricots for vitamins, minerals, and dessert in with the Sandwiches. Also Water.
But you had better plan on something even if you don't like my recipes. There are very few places that sell food in the area and they will swamped.
These are a few facts I've gleaned. Most of this are from people who would know, call them anonymous sources if you like.
It will be held on January 21, 2017. It will start at the intersection of Independence Avenue and SW Third Street, Washington DC, near the U.S. Capitol, and is scheduled to proceed to The Ellipse, a distance of about a mile. Pre-gathering will start as early as 8 am, the Official Program kicks off at 10 am.
The Current Speakers at the Rally look like this-
Ai-jen Poo
Director of the National Domestic Workers Alliance

Aida Hurtado
Professor and Luis Leal Endowed Chair, Department of Chicana and Chicano Studies, University of California, Santa Barbara

Amanda Nguyen
President and Founder, Rise

America Ferrera
Chair, Artists Table of Women's March on Washington

Angela Davis
Distinguished Professor Emerita, UC Santa Cruz

Ashley Judd
Humanitarian, PhD student, Actor

Bob Bland
Co-Chair, Women's March on Washington

Carmen Perez
Co-Chair, Women's March on Washington, Executive Director, the Gathering for Justice

Cecile Richards
President of Planned Parenthood Federation of America

Donna Hylton
Formally Incarcerated, Criminal Justice Reform Activist

Dr. Cynthia Hale
Founding and Senior Pastor of the Ray of Hope Christian Church

Erika Andiola
Political Outreach Manager, Our Revolution

George Gresham
President of 1199 SEIU

Gloria Steinem
Feminist Writer, Activist and Organizer

Hina Naveed
Co-Director of DRM Action Coalition

J. Bob Alotta
Executive Director, Astraea, Lesbian Foundation for Justice

Janet Mock
Author of the New York Times bestseller Redefining Realness & the upcoming memoir, Surpassing Certainty

Judith LeBlanc
Director of Native Organizers Alliance

Kristin Rowe-Finkbeiner
Executive Director and Co-Founder, MomsRising

LaDonna Harris
President of Americans for Indian Opportunity & Original Co-Convener of the Women's Political Caucus

Linda Sarsour
Co-Chair, Women's March on Washington, Co-Founder of MPowerChange

Maryum Ali, Muhammad Ali's Daughter
Social Worker, Juvenile Delinquency Prevention

Melanie Campbell
President and CEO, National Coalition on Black Civic Participation

Melissa Harris-Perry
Director, Anna Julia Cooper Center, Editor-at-Large, Elle Magazine

Melissa Mayes
Environmental Justice Activist, Flint

Michael Moore
Filmmaker

Rabbi Sharon Brous
Founder/Senior Rabbi, IKAR

Raquel Willis
Communications Associate for Transgender Law Center

Rhea Suh
President of Natural Resources Defense Council

Scarlett Johansson
Actress, Activist

Sister Ieasha Prime
Executive Director, Barakah, Inc.

Sister Simone Campbell
Executive Director, NETWORK Lobby

Sophie Cruz
Immigrant Rights Activist

Sybrina Fulton
Mother of Trayvon Martin

Maria Hamilton
Mother of Dontre Hamilton

Gwen Carr
Mother of Eric Garner

Lucia McBath
Mother of Jordan Davis

Tamika Mallory
Co-Chair of Women's March on Washington, Social Justice Activist

Van Jones
President of Dream Corps, CNN Commentator

Wendy Carrillo
Human Rights Journalist

Zahra Billoo
Spokeswoman, Council on American-Islamic Relations

Randi Weingarten
President, AFT

Ilyasah Shabazz, Malcolm X's Daughter
Trustee, Malcolm X & Dr. Betty Shabazz Memorial and Educational Center

Roslyn Brock
Chairman, NAACP National Board of Directors
Also some music.
If I get an autograph from Scarlett Johansson I'll have her do my arm in Sharpie and then get it permanently inked (I know people who do that too).
The Rally is scheduled to end at 1:15 pm and the March will start. I dunno, these kinds of things rarely run on time. I don't necessarily expect I'll be very close or hear the speakers much, there are going to be a lot of people there. The entire event is expected to finish by 5 pm.
How many?
Well the original permit was for 50,000 current estimates from the DC Police are 550,000 and counting. There will be over 2,000 Buses. Could be bigger than that because there is a lot of local support and people like TMC and I who have made their own arrangements
A crowd that size doesn't move very fast, especially if constricted (think Disneyland). I'm reliably informed that the National Park Service, which controls the Mall, is expecting there will be some "technical" violations of the planned route (Trump and his Inaugural Team control the Park space which includes the Mall for their events and have so far been unwilling to release it), but is very unlikely to take any action about the.
On the DC Police's part they are highly trained to deal with Marches and Demonstrations and that training specifically discourages them from escalating confrontations, using excessive force, or performing mass arrests. They are not expecting any problems.
Also, while TMC and I are going to scrupulously observe the restrictions on food containers, clear backpacks, and purse size, I'm told it's frankly unenforceable with a crowd this size unless you make a big deal about it and force them to notice.
What the DC Police will do is remove you from the area if you harm or threaten to harm anyone, or if you deliberately vandalize property. Even in those instances most people are released after they have been removed.
Transportation
Independence Avenue and SW Third Street is quite close to a Metro stop so Public Transportation there is not problem. Parking however will be impossible so either you know a local with a spot or you don't park.
It's also a good thing they're ending at The Ellipse instead of the Lincoln Memorial. The Ellipse is near a Metro stop and the Memorial near pretty much nothing.
Now the Metro was originally going to run a standard Saturday schedule which means a train every 20 minutes. With a crowd this size that's obviously not going to work. People would still be waiting at Cherry Blossom time.
Instead they have been persuaded to run a full Rush Hour schedule which means it will merely means long waits and crowded trains.
Hey, nobody said Marching was easy.
Meta
You can pretty much expect very little content until Tuesday. Tomorrow we will be at the March all day long. Sunday we will be recovering and spending "quality family time". Monday is travel day and it's six hours whenever you leave.
I'm sure TMC or myself will be writing about our experiences so you can look forward to that.
Chill.
I saw her today at the reception
A glass of wine in her hand
I knew she would meet her connection
At her feet was a footloose man
No, you can't always get what you want
You can't always get what you want
You can't always get what you want
But if you try sometime you find
You get what you need
And I went down to the demonstration
To get my fair share of abuse
Singing, "We're gonna vent our frustration
If we don't we're gonna blow a 50-amp fuse"
You can't always get what you want
You can't always get what you want
You can't always get what you want
But if you try sometimes well you just might find
You get what you need
I went down to the Chelsea drugstore
To get your prescription filled
I was standing in line with Mr. Jimmy
And man, did he look pretty ill
We decided that we would have a soda
My favorite flavor, cherry red
I sung my song to Mr. Jimmy
Yeah, and he said one word to me, and that was "dead"
I said to him
You can't always get what you want
You can't always get what you want
You can't always get what you want
But if you try sometimes you just might find
You get what you need
You get what you need–yeah, oh baby
I saw her today at the reception
In her glass was a bleeding man
She was practiced at the art of deception
Well I could tell by her blood-stained hands
You can't always get what you want
You can't always get what you want
You can't always get what you want
But if you try sometimes you just might find
You just might find
You get what you need
You can't always get what you want
You can't always get what you want
You can't always get what you want
But if you try sometimes you just might find
You just might find
You get what you need