February 14, 2015

archive

This is your morning Open Thread. Pour your favorite beverage and review the past and comment on the future.

Find the past "On This Day in History" here.
February 14 is the 45th day of the year in the Gregorian calendar. There are 320 days remaining until the end of the year (321 in leap years).
On this day in 1884, future President Theodore Roosevelt's wife and mother die, only hours apart.

Roosevelt was at work in the New York state legislature attempting to get a government reform bill passed when he was summoned home by his family. He returned home to find his mother, Mittie, had succumbed to typhoid fever. On the same day, his wife of four years, Alice Lee, died of Bright's disease, a severe kidney ailment. Only two days before her death, Alice Lee had given birth to the couple's daughter, Alice.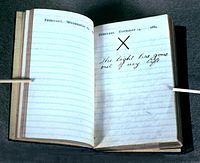 Roosevelt left his daughter in the care of his sister, Anna "Bamie/Bye" in New York City. In his diary he wrote a large X on the page and wrote "the light has gone out of my life."

A short time later, Roosevelt wrote a tribute to his wife published privately indicating that:

She was beautiful in face and form, and lovelier still in spirit; As a flower she grew, and as a fair young flower she died. Her life had been always in the sunshine; there had never come to her a single sorrow; and none ever knew her who did not love and revere her for the bright, sunny temper and her saintly unselfishness. Fair, pure, and joyous as a maiden; loving , tender, and happy. As a young wife; when she had just become a mother, when her life seemed to be just begun, and when the years seemed so bright before her-then, by a strange and terrible fate, death came to her. And when my heart's dearest died, the light went from my life forever

To the immense disappointment of his wife's namesake and daughter, Alice, he would not speak of his wife publicly or privately for the rest of his life and made no mention of her in his autobiography.