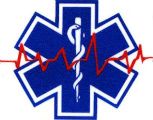 Welcome to the Health and Fitness News, a weekly diary which is cross-posted from The Stars Hollow Gazette. It is open for discussion about health related issues including diet, exercise, health and health care issues, as well as, tips on what you can do when there is a medical emergency. Also an opportunity to share and exchange your favorite healthy recipes.
Questions are encouraged and I will answer to the best of my ability. If I can't, I will try to steer you in the right direction. Naturally, I cannot give individual medical advice for personal health issues. I can give you information about medical conditions and the current treatments available.
You can now find past Health and Fitness News diaries here and on the right hand side of the Front Page.
Apples From Thanksgiving Start to Finish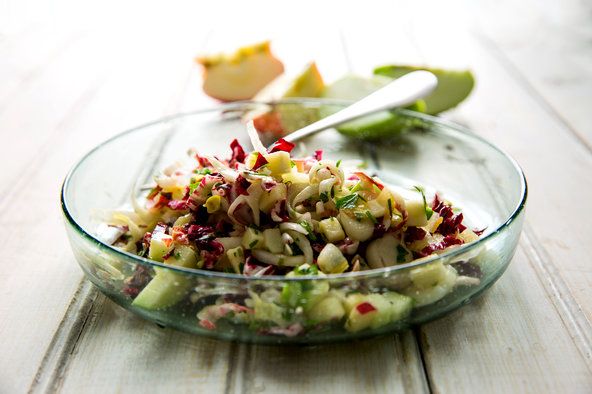 Apples will see their way from the beginning to the end of my Thanksgiving meal, starting with a chopped salad that pairs apples with walnuts and bitter lettuces (endive and chicory or radicchio). I made whole wheat apple-pecan scones that you can serve with the meal or eat for breakfast, and sautéed apple rings that make a very nice side dish with turkey (or serve them for dessert with ice cream). Apples and cranberries also add a new sweet dimension to my whole wheat bread stuffing. All this is not to discourage you from making apple pie; but if you want to make a dessert that is a little less demanding, try my now-favorite gluten-free apple-cranberry crumble.

~Martha Rose Shulman~
Chopped Salad With Apples, Walnuts and Bitter Lettuces
A salad with a great mix of bitter and sweet flavors that is juicy, crunchy and comforting.
Having grown up with Pepperidge Farm stuffing, I will always have a weakness for bread stuffing seasoned with sage and thyme, with plenty of chopped onion and celery.
An apple dish that can work on the breakfast table, as a side dish or even dessert.
Juicy apples work well in these not-too-sweet scones.
Cooking the apples first makes a huge difference in the sweetness of an apple crumble.
Warnings/Alerts/Guidelines
Baby Strollers Recalled; Finger Amputation Risk

WebMD News from HealthDay
Nov. 20, 2014 — Nearly 5 million Graco- and Century-brand baby strollers are being recalled in the United States, Canada and Mexico due to a problem that can result in severe cuts or finger amputation, the U.S. Consumer Product Safety Commission says.

The folding hinge on the sides of the recalled strollers can pinch a child's finger. Eleven reports of finger injuries, including six fingertip amputations, four partial-fingertip amputations, and finger laceration have been received by the manufacturer, Graco Children's Products.
Peanut Protein in Dust May Raise Allergy Risk

By Marcia Frellick, Medscape Medical News
Nov. 21, 2014 — Babies exposed to traces of peanut protein in house dust may have a higher risk of peanut allergy, researchers say.

In a new study, published online Nov. 18 in the Journal of Allergy and Clinical Immunology, being exposed to peanut protein in house dust doubled the chance of having a peanut allergy. In children who have eczema, the risk of having peanut allergy was even higher.

Researcher Helen Brough, from the department of pediatric allergy at King's College London, U.K., and colleagues note that eczema "is often cited as the first step in the allergic march."
Hookahs Deliver Toxic Benzene in Every Puff: Study

WebMD News from HealthDay
Even nonsmoking bystanders had raised blood levels of the chemical, which is tied to leukemia risk

Nov. 21, 2014 (HealthDay News) — Many young people consider hookahs a hip and safer way to smoke, but a new study finds fumes from the water pipes contain the toxin benzene.

Benzene has been linked to an increased risk for leukemia in prior research, according to a scientific team reporting Nov. 21 in the journal Cancer Epidemiology, Biomarkers & Prevention.
Young Children, Energy Drinks a Dangerous Mix

By Kathleen Doheny, HealthDay
Study finds more than 40 percent of emergency calls to U.S. poison control centers involve children under

Nov. 16, 2014 (HealthDay News) — The potential dangers of energy drinks, those highly caffeinated beverages that promise to stave off sleepiness, are well known, but a new study suggests that even young children are at risk.

Although the target markets for energy drinks are typically teens and young adults, more than 40 percent of reports to U.S. poison control centers in a three-year period involved children under the age of 6, said study author Dr. Steven Lipshultz, pediatrician-in-chief at Children's Hospital of Michigan, in Detroit.
General Medicine/Family Medical
Restroom Hand Dryers May Spread More Germs

By Robert Preidt, HealthDay
Bacteria counts in the air around the machines far exceeded those around paper dispensers

Nov. 21, 2014 (HealthDay News) — Those air-blown hand dryers in public restrooms may spread far more germs than conventional paper towels, a new study suggests.

British researchers placed a harmless type of bacteria on the hands of volunteers in order to simulate poorly washed hands. They then had them use warm-air dryers, high-powered "jet-air" dryers or paper towels to dry their hands.

The investigators measured airborne bacteria levels and found higher amounts of germs around both types of dryers than around towel dispensers.
FDA Approves 'Abuse-Resistant' Narcotic Painkiller

By Robert Preidt, HealthDay
Agency says it's latest step in curbing epidemic of addiction to drugs such as Oxycontin, Vicodin

Nov. 20, 2014 (HealthDay News) — Seeking to make it tougher for people to misuse prescription painkillers, the U.S. Food and Drug Administration on Thursday approved a new hydrocodone tablet that's designed to help thwart abuse.

Hydrocodone — best known by the brand name Vicodin — is a powerful opioid painkiller that has been tied to a surge in dangerous addictions across the United States.
Gel Implant Might Help Fight Heart Failure

By Dennis Thompson, HealthDay
New treatment strengthens heart walls, researchers say, but skeptics remain

Nov. 20, 2014 (HealthDay News) — Injecting beads of gel into the wall of a still-beating heart has the potential to improve the health of patients with severe heart failure, according to a new study.

Heart patients who received the gel implant had improved blood oxygen levels and were able to walk hundreds of feet farther during a six-minute walk test, said senior researcher Dr. Douglas Mann. He is chief of the cardiovascular division at Washington University School of Medicine and a cardiologist-in-chief at Barnes Jewish Hospital in St. Louis.

The study shows that treatment with the gel could be "a potential new therapy for patients with advanced heart failure," Mann said.
Many People Who Drink a Lot Aren't Alcoholics: CDC

By Steven Reinberg, HealthDay
But raising price of alcohol and limiting sales could help curb excessive drinking, researchers say

Nov. 20, 2014 (HealthDay News) — Most people who drink to excess or binge drink are not alcoholics, a new U.S. government report says.

In fact, 90 percent of those who drink too much aren't dependent on alcohol. But one in three adults drinks to excess, according to the U.S. Centers for Disease Control and Prevention.

"A lot of people mistakenly assume that people who drink too much are alcoholics," said study co-author Dr. Robert Brewer, the leader of CDC's alcohol program.

"The surprising finding was that nine out of 10 people who drink too much do not meet the diagnostic criteria for alcoholism," he said.
Sleep Off Addiction to Cigarettes?

By Megan Brooks, Medscape Medical News
Nov. 20, 2014 — Bad smells during sleep may teach smokers to dislike cigarettes and help them cut back, a new study hints.

Smokers who were exposed to the smell of cigarettes along with an unpleasant odor during a single night of sleep smoked less for days afterward, the researchers found.

This study shows that "sleep learning can influence later wake behavior," says Anat Arzi. She's a PhD student at the Weizmann Institute of Science in Rehovot, Israel.
Blue-Eyed People May Face Higher Melanoma Risk

By Steven Reinberg, HealthDay
Study found genes for the eye color and for red hair were tied to moles, often a precursor for the skin cancer

Nov. 19, 2014 (HealthDay News) — New research suggests that genes tied to blue eyes and red hair could put people at higher risk for moles or freckling in childhood, which are often precursors to the deadly skin cancer melanoma later in life.

However, the finding in no way suggests that the risk can't be reduced by prudent avoidance of cancer-causing UV sunlight, especially in childhood, the researchers said.
3-D Model of Heart May Help Surgeons Fix Defects

By Robert Preidt, HealthDay
New technology might make for better-prepared doctors, 'fewer surprises' in the OR, experts say

Nov. 19, 2014 (HealthDay News) — Being able to examine a 3-D model of the heart may boost surgeons' ability to treat patients born with complex cardiac defects, a new study suggests.

Heart surgeons typically rely on 2-D images taken by X-ray, ultrasound or MRI to plan their surgery on a patient. But these images may not reveal complex structural defects in the heart present at birth, the researchers explained.

But now, advances in technology are enabling surgeons to build and print detailed 3-D models of patients' hearts from plaster, ceramic or other materials in order to gain a full understanding of what they'll face during surgery.
Type 1 Diabetes Lowered Survival in Study

By Serena Gordon, HealthDay
Better blood sugar management helped, but risk during 14-year period was still doubled

Nov. 19, 2014 (HealthDay News) — People with type 1 diabetes faced a much higher risk of dying over the course of a 14-year study than people without the disease, Swedish researchers report.

The good news was that the closer someone with type 1 diabetes got to their blood sugar goals (glycemic control), the lower the risk of dying. The bad news was that even those with the best blood sugar management still had roughly double the risk of dying from any cause or a heart disease-related cause.
'Wireless' Pacemaker Working Well, Researchers Say

By Amy Norton, HealthDay
Small, manufacturer-funded study of tiny device reports no complications

Nov. 19, 2014 (HealthDay News) — For a handful of patients who've received the first wire-free pacemaker, the results are still good after 18 months, researchers reported Wednesday.

Unlike traditional pacemakers, the new device — marketed as Nanostim — is completely self-contained and requires no wires to connect it to the heart muscle. It's also implanted through a catheter, which bypasses the need for a chest incision.
Low Vitamin D Levels May Raise Early Death Risk

By Mary Elizabeth Dallas, HealthDay
But having gene variants linked to levels of the vitamin didn't affect rate of deaths from heart causes

Nov. 19, 2014 (HealthDay News) — Having low levels of vitamin D because of your genetics may raise the risk of early death, a new study suggests.

But the risk is not linked with early death due to heart-related causes, the researchers added.

The study, by Borge Nordestgaard of Herlev Hospital, Copenhagen University Hospital in Herlev, Denmark, and colleagues involved more than 95,000 white people of Danish descent in Copenhagen. The participants, who were from three different groups, had genetic variants known to affect levels of vitamin D.
New Cholesterol-Lowering Drugs Show Promise

By Matt Sloane, WebMD Health News
Nov. 19, 2014 — Lowering cholesterol in new ways — potentially to unheard-of levels — was a big topic of discussion at this week's American Heart Association Scientific Sessions conference in Chicago.

Experts say they're most excited about two drug trials. One looked at adding Zetia, a non-statin medication, to a statin. The other looked at new, injectable cholesterol-lowering drugs.
Even With Weight Gain, Quitting Smoking Healthier

By Robert Preidt, HealthDay
Japanese study found that stopping the habit boosted survival, even if a few pounds were added on

, Nov. 18, 2014 (HealthDay News) — Fear of unhealthy weight gain can be a factor holding smokers back from quitting the habit. But a new study finds that even if you do add a few pounds once you quit, your post-cigarette health is still much better than if you'd kept on smoking.

"This study is important for smokers to understand," said Patricia Folan, director of the Center for Tobacco Control at North Shore-LIJ Health System in Great Neck, N.Y.
Working Night Shift May Slow Your Metabolism

By Amy Norton, HealthDay
Finding means fewer calories burned, and may explain why shift workers tend to gain weight, researcher says

Nov. 18, 2014 (HealthDay News) — Working by night and sleeping by day may slow down the body's metabolism, a small study suggests.

Researchers found that when they put 14 volunteers on a schedule that simulated night-shift work, it quickly curbed the number of calories their bodies burned every day.

On average, they expended 52 to 59 fewer calories on "night shift" days, the researchers reported in the current online edition of the Proceedings of the National Academy of Sciences.
Nearly 3 in 10 With Diabetes Don't Know It: Study

By Serena Gordon, HealthDay
Many had even seen a doctor in the past year, researchers report

Nov. 18, 2014 (HealthDay News) — Almost 8 million Americans have diabetes but don't know it, a new study shows.

That's despite the fact that about two-thirds of those with undiagnosed diabetes have seen a doctor two or more times in the past year, according to the researchers.

The study also found that among those who were diagnosed with diabetes, only about one-quarter met three important goals for people with diabetes: managing blood sugar, blood pressure and cholesterol levels.
Scans: Alcoholism Damages Brain's White Matter

By Robert Preidt, HealthDay
Areas tied to decision-making, such as how much to drink, seem most affected, researchers say

Nov. 18, 2014 (HealthDay News) — Alcoholism damages white matter throughout the brain and this damage can be detected with brain scans, researchers report.

Heavy drinking may be especially damaging to white matter in the frontal areas of the brain, which can interfere with the impulse control needed to stop drinking, according to the study.

The findings were published in the December online issue of Alcoholism: Clinical & Experimental Research.
Cocaine Can Cause Heart Problems: Study

By Robert Preidt, HealthDay
Subtle blood flow changes may not show on standard heart test, raising risk of disease or death, researchers find

Nov. 18, 2014 (HealthDay News) — Cocaine users can have abnormal blood flow in the heart that is hard to detect, which can put them at increased risk for heart disease or death, a new study warns.

Researchers in Chicago compared heart imaging test results from 202 cocaine users and 210 people who didn't use the illegal drug.

Those using cocaine showed subtle abnormalities in blood flow through the heart's smallest blood vessels, which were considered significant when compared to non-cocaine users with diabetes, high blood pressure and a family history of heart disease.
Long-Term Aspirin Plus Blood Thinner Safe for Some

By Dennis Thompson, HealthDay
Benefits of combination outweigh potential risks, experts say

Nov. 17, 2014 (HealthDay News) — Heart attack and stroke patients can safely take aspirin combined with a blood-thinning medication, new research confirms.

The blood-thinning combination won't increase a patient's risk of early death, according to a new study presented Sunday at the annual meeting of the American Heart Association in Chicago. The report was also published online Nov. 16 in The Lancet.
Feeling 'Worn Out'? Your Heart May Pay the Price

By Dennis Thompson, HealthDay
Unmanaged stress and fatigue take a toll on your cardiovascular health, researchers report

Nov. 17, 2014 (HealthDay News) — Otherwise healthy people on the verge of burning out are more likely to develop heart disease, according to new research.

Those suffering from so-called vital exhaustion — a toxic combination of fatigue, irritability and demoralization — have a 36 percent increased risk of developing heart disease, researchers report.

"In our increasingly busy lives, we're just under a lot of stress. And I think, when that stress is left unchecked for a period of time, it can start to eat away at our psychological and physical well-being," said study co-author Dr. Randy Cohen, a cardiologist at Mount Sinai St. Luke's and Mount Sinai Roosevelt hospitals in New York City.
Experimental Cholesterol Drug Effective: Study

By Dennis Thompson, HealthDay
New medicine might help those who can't tolerate commonly used statins

Nov. 17, 2014 (HealthDay News) — An experimental antibody drug could prove effective at lowering LDL ("bad") cholesterol levels for patients who have side effects with cholesterol-lowering statin medications.

That's the conclusion of a clinical trial presented Monday at the American Heart Association annual meeting in Chicago.

The drug, alirocumab, outperformed the on-the-market medication that is currently the most widely used alternative to statins, Zetia, said lead researcher Dr. Patrick Moriarty, director of clinical pharmacology at the University of Kansas Medical Center. Researchers from the drug's developers — Sanofi and Regeneron Pharmaceuticals — were also involved in the current study.
Every Kiss Begins With 80 Million Germs

By Randy Dotinga, HealthDay
Couples share millions of microbes every second they smooch, researchers report

Nov. 17, 2014 (HealthDay News) — A kiss isn't just a kiss: It's also an opportunity to transfer millions of germs.

That's the word from new Dutch research that suggests 10 seconds of lip lock can translate into 80 million germs moving from one person to the other. And two people who smooch a bunch of times each day will end up sharing similar germs.
AFib: Some Painkillers Tied to Bleeding Risk

By Steven Reinberg, HealthDay
People with atrial fibrillation should consider alternatives to commonly used NSAIDs, experts say

Nov. 17, 2014 (HealthDay News) — People with the abnormal heartbeat known as atrial fibrillation who take common painkillers might significantly increase their risk for bleeding and blood clots, according to a new study.

That risk was even higher among patients who took a blood thinner along with one of these nonsteroidal anti-inflammatory painkiller drugs (NSAIDs), which include aspirin, ibuprofen (Motrin), naproxen (Aleve) and celecoxib (Celebrex).
Deaths from High BP, Irregular Heartbeat Up

By Steven Reinberg, HealthDay
Obesity and aging population may be contributing factors, researcher says

Nov. 16, 2014 (HealthDay News) — Deaths from heart disease are dropping, but deaths related to high blood pressure and irregular heartbeats are on the rise, a new government study finds.

From 2000 to 2010, the overall death rate from heart disease dropped almost 4 percent each year, the U.S. Centers for Disease Control and Prevention, researchers found. At the same time, death rates linked to high blood pressure-related heart disease increased 1.3 percent a year, according to the study. The researchers also found that deaths tied to irregular heartbeats rose 1 percent a year.
Could Flu Raise Risk of Fatal Artery Tear?

By Dennis Thompson, HealthDay
Preliminary research suggests a connection between the two

Nov. 16, 2014 (HealthDay News) — Influenza is a nasty virus in its own right. But, it might also increase a person's risk of suffering a life-threatening tear in the body's most important artery, a new study suggests.

During flu season, an increased number of people land in the hospital with a potentially fatal leak in their aorta, the major artery that carries blood from the heart to the body, report researchers from the University of Texas Health Science Center at Houston.
Asthma Raises Heart Attack Risk, Research Suggests

By Steven Reinberg, HealthDay
Those who had trouble controlling condition particularly vulnerable, researchers report

Nov. 16, 2014 (HealthDay News) — People suffering from asthma who have to take medication every day to control it may face an increased risk of heart attack, new research suggests.

And a second study confirms that having active asthma also increases your heart risk.

"People with asthma should make an effort to optimally control their asthma symptoms, because proper asthma control not only improves asthma symptoms and quality of life but also reduces the risk of heart attack," said Dr. Young Juhn, a pediatrics professor at the Mayo Clinic who was lead researcher on one of the studies.
Tattoo Removal Laser May Help Reduce Acne Scars

By Tara Haelle, HealthDay
Small study found it improved skin with shorter recovery time than seen with another type of laser

Nov. 20, 2014 (HealthDay News) — The same kind of laser that is used to remove tattoos may reduce scarring from acne, a small pilot study shows.

Acne is the most common skin disease in the United States, according to the U.S. National Institutes of Health, and another type of laser is already used to treat scarring from the condition.

However, the laser tested in this new study transmits lower energy doses and was used with a special add-on lens. The treatment reduced acne scarring by an average of 25 percent to 50 percent in 20 patients.
Seasonal Flu/Other Epidemics/Disasters
Flu Season Off to a Slow Start … for Now

By Steven Reinberg, HealthDay
Get vaccinated, health experts say, because it takes about two weeks for protection to kick in]

Nov. 21, 2014 (HealthDay News) — This year's flu season is off to a slow but detectable start. And it appears to be a typical one that's likely to peak in January or February, a leading U.S. health official says.

"We are starting to see a little more flu in the country, but we are still at pretty low levels," said Dr. Joseph Bresee, chief of the U.S. Centers for Disease Control and Prevention's Epidemiology and Prevention Branch in the Influenza Division.

"There is a little more each week, but still no widespread flu," he added
Worst-Case Ebola Scenario Won't Happen: CDC

WebMD News from HealthDay
Nov. 19, 2014 — The worst-case scenario for the Ebola outbreak in West Africa will not happen, the head of the U.S. Centers for Disease Control and Prevention said Wednesday.

So far, there have been more than 14,000 Ebola cases in Africa. But the CDC predicted in September that the number of Ebola cases could reach as many as 1.4 million by mid-January if adequate measures were not taken to control the epidemic, the Associated Press reported.
Doctor With Ebola Dies at Nebraska Hospital

By Dennis Thompson, HealthDay
He became infected in West Africa, epicenter of the outbreak

Nov. 17, 2014 (HealthDay News) — A doctor from Sierra Leone who became infected with Ebola in his native country died Monday morning at a specialized hospital in Nebraska.

Dr. Martin Salia had arrived Saturday at Nebraska Medical Center in Omaha. He was a general surgeon who had been working at a hospital in Sierra Leone's capital city of Freetown.
Potential New Source of Tropical Disease? Bedbugs

By Robert Preidt, HealthDay
Deadly Chagas disease is now affecting Americans, experts warn

Nov. 17, 2014 (HealthDay News) — Until recently, insect-transmitted Chagas disease was found mainly in Latin America and South America, but it has made its way to the United States over the past few years.

The potentially fatal illness is typically transmitted via the bite of the "kissing bug," which feeds on the faces of humans at night. And now a new study suggests that common bedbugs might be carriers as well.
Women's Health
Testosterone's Role in Older Women's Sex Lives

By Robert Preidt, HealthDay
Quality of relationships may have more impact on libido

Nov. 20, 2014 (HealthDay News) — While levels of testosterone and other reproductive hormones have some effect on menopausal women's sex lives, their emotional health and quality of their relationships have a stronger influence, according to a new study.

Testosterone is the main sex hormone in men. But, women's ovaries also naturally produce small amounts of the hormone, the researchers noted.
Mastectomy Up Among Women Eligible for Lumpectomy http://www.webmd.com/breast-ca…

By Robert Preidt, HealthDay
Better breast reconstruction outcomes may be one reason behind the trend, one expert said

Nov. 19, 2014 (HealthDay News) — When confronted with early stage breast cancer, surgical removal of the tumor alone (lumpectomy) — which conserves the breast — can be a less drastic option than total mastectomy.

However, a new study shows that a rising number of early stage breast cancer patients who are eligible for lumpectomy are nonetheless undergoing mastectomy.
More Pregnant Women on Painkillers, Heroin: Study

By Tara Haelle, HealthDay
U.S. national data shows steady rise, and abuse may pose dangers to mother and baby, experts say

Nov. 18, 2014 (HealthDay News) — The proportion of women dependent on drugs such as narcotic painkillers or heroin during pregnancy has more than doubled in the past decade and a half, a new study finds, though it still remains below a half-percent of all pregnancies.

The study covers a class of drugs known as opioids, which include prescription painkillers such as oxycodone (Oxycontin) and Vicodin; morphine and methadone; as well as illegal drugs such as heroin.
Study Links Teen Smoking, Severe Menstrual Cramps

By Robert Preidt, HealthDay
Tobacco use known to restrict blood flow, researchers say

Nov. 17, 2014 (HealthDay News) — Women who started smoking at a young age may be at increased risk for chronic, severe menstrual pain, a new study suggests.

About 29 percent of women experience severe menstrual pain. While smoking has been suspected as a risk factor for severe menstrual pain, the evidence has been inconclusive, the authors of the new study said.

The researchers analyzed data from 9,000 women taking part in a long-term study of women's health in Australia. About 14 percent of the women had chronic, severe menstrual pain.
Men's Health
Pediatric Health
Antibiotics and Kids' Risk for Juvenile Arthritis

By Pam Harrison, Medscape Medical News
Nov. 18, 2014 — Antibiotics, which treat bacterial infections, may raise a child's risk of getting juvenile idiopathic arthritis, a disease that causes inflamed, swollen joints. That's according to investigators reporting at the American College of Rheumatology 2014 Annual Meeting in Boston.

Bacteria are among the tiny organisms called microbes, and our bodies are filled with them. The new study suggests that changes in the body's unique collection of microbes, known as the microbiome, might be a culprit behind getting the juvenile arthritis.
Aging
U.S. Seniors' Health Poorest, Global Survey Shows

By Steven Reinberg, HealthDay
Commonwealth Fund report reveals stark comparison to 10 industrialized countries with universal health coverage

Nov. 19, 2014 (HealthDay News) — Seniors in America have more chronic health problems and take more medications than seniors in 10 other industrialized countries do, according to a new global survey.

The United States also stood out among the 11 nations surveyed by The Commonwealth Fund for having more seniors struggling to get and afford the health care they need.

Eighty-seven percent of U.S. adults who are 65 and older suffer from at least one chronic illness, and 68 percent have at least two illnesses, which were the highest rates found, the survey showed. Also, 53 percent of older Americans take at least four medications, another record high, and 21 percent spend at least $2,000 in yearly out-of-pocket health care costs, which was second only to Switzerland.
Senior Aggression Common in Nursing Homes

By Amy Norton, HealthDay
Up to one in five residents involved in unpleasant, sometimes inappropriate confrontations, N.Y. study suggests

Nov. 21, 2014 (HealthDay News) — Elderly adults who live in nursing homes may commonly deal with aggressive or inappropriate behavior from fellow residents, a new study suggests.

The study of 10 centers in New York state found that, in the space of just one month, nearly 20 percent of residents were involved in some type of incident with a fellow resident.

Most often, it was a verbal clash, with someone yelling or cursing at another resident. In other cases, the incidents involved hitting or kicking — or, in a small percentage, inappropriate touching.
A Bad Marriage Burdens an Aging Heart

By Robert Preidt, HealthDay
Older women in unhappy relationships seem especially vulnerable, researchers say

Nov. 20, 2014 (HealthDay News) — A bad marriage increases an older adult's risk of heart trouble, and that's particularly true for women, a new study contends.

Researchers examined five years of data from 1,200 married American men and women, aged 57 to 85. People with spouses who were overly critical or demanding were more likely to develop heart disease than those with supportive mates, the researchers from Michigan State University said.
Does Daily Aspirin Help Older Hearts?

By Dennis Thompson, HealthDay
But study's findings unlikely to change U.S. guidelines, expert notes

Nov. 17, 2014 (HealthDay News) — Daily low-dose aspirin therapy may not have significant heart-health benefits for older people, new research suggests.

The study, which involved more than 14,000 Japanese people aged 60 to 85, found no major difference in heart-related deaths or non-fatal heart attacks and strokes between people who took aspirin and those who didn't.

"It indicates that primary prevention with daily low-dose aspirin does not reduce the combined risk in this population," said study co-author Dr. Kazuyuki Shimada, of the University of Shin-Oyama City Hospital in Tochigi, Japan.
Too Much of This May Raise Dementia Risk

By Steven Reinberg, HealthDay
Study found patients who showed signs of overtreatment were twice as vulnerable

Nov. 16, 2014 (HealthDay News) — People with atrial fibrillation who are overtreated with anti-clotting drugs may be doubling their risk for dementia, a new study suggests.

Atrial fibrillation causes the upper chambers of the heart to contract quickly and irregularly. These abnormal contractions allow blood to pool in the heart, forming clots that can cause a stroke if they break off and are carried into the brain.

However, too much anti-clotting medication may raise the chances of tiny brain bleeds that, over time, might raise the risk of dementia, the researchers said.
Mental Health
1 in 5 Adults Dealt With Mental Illness in 2013

By Robert Preidt, HealthDay
Federal official urges people to seek treatment to 'restore their well-being'

Nov. 20, 2014 (HealthDay News) — Nearly one in five American adults — 43.8 million people — had a diagnosable mental illness in 2013, federal officials reported Thursday.

The report also found that 10 million adults had a serious mental illness, 15.7 million had major depressive episodes, 9.3 million had serious thoughts of suicide, 2.7 million made suicide plans and 1.3 million attempted suicide.

The findings were similar to those in 2012, the report from the U.S. Substance Abuse and Mental Health Services Administration said.
Could Your Job Help Preserve Your Aging Brain?

By Maureen Salamon, HealthDay
Mentally stimulating work may keep your mind sharp, research says

Nov. 20, 2014 (HealthDay News) — Jobs requiring intellectually challenging tasks may help preserve thinking skills and memory as workers age, a new study suggests.

The researchers compared IQ scores obtained around age 11 from more than 1,000 Scottish people with their memory and reasoning scores around age 70. The scientists found that those who had mentally stimulating jobs appeared to retain sharper thinking even years after retirement.
Nutrition/Diet/Fitness
Could Wine, Chocolate Protect the Heart From Smog?

By Dennis Thompson, HealthDay
Researchers say air pollution's effects lessened in older men who consumed flavonoids, but more research needed

Nov. 17, 2014 (HealthDay News) — A diet rich in chocolate, wine, fruits and vegetables may help protect people from heart disease caused by air pollution, new research suggests.

The researchers found that elderly men were less likely to experience changes in heart function during heavy smog days if they ate foods loaded with flavonoids, an antioxidant found in plants.

For example, eating about 100 grams of blueberries (about three-quarters of a cup) every day might protect older men from smog-related heart disease, said lead researcher Jia Zhong, a doctoral student at the Harvard School of Public Health.
Exercise May Not Help Type 2 Blood Sugar Control

By Robert Preidt, HealthDay
Study suggests that about 20 percent of patients carry 'exercise-resistant' genes

Nov. 20, 2014 (HealthDay News) — Certain genes might prevent regular exercise from improving blood sugar control in up to a fifth of people with type 2 diabetes, a new study suggests.

The issue has long been pondered by doctors working with diabetic patients, one expert said.

"For many years we have been under the impression that exercise helps decrease insulin resistance in muscles," boosting blood sugar control, said Dr. Maria Pena, director of the Center for Weight Management at North Shore-LIJ's Syosset Hospital in Syosset, N.Y.
Some Fats Might Harm Your Memory

By Matt Sloane, WebMD Health News
Nov. 18, 2014 — Men under 45 years old who eat lots of trans fats may be hurting their memory, according to a new study released Tuesday.

Researchers at UC San Francisco followed 1,000 healthy men who ate various amounts of trans fats, and they found that the men in that age range who ate the most did the worst on a word recall test.

"People were presented with a series of cards with words on them, and they had to decide if they were repeats, or newly-presented words," says Beatrice Golomb, MD, PhD, the lead researcher. "Each additional gram of trans fat consumed per day was associated with .76 fewer words recalled."
Study: Running Won't Raise Risk of Knee Arthritis

By Robert Preidt, HealthDay
In fact, it suggests running may even help prevent painful joint condition

Nov. 15, 2014 (HealthDay News) — Regular running doesn't seem to increase your chances of developing knee osteoarthritis, and it may even help prevent the disease, researchers report.

The researchers analyzed data from more than 2,600 people who provided information about the three most common types of physical activity they did at different times in their lives. The average age of the study volunteers was 64. The time periods asked about were 12-18, 19-34, 35-49, and 50 and older. Among the participants, 29 percent said they were runners at some point in their lives.

Runners, no matter what the age when they were active runners, had knee pain less often than people who didn't run, according to the study. They also had fewer symptoms and evidence of knee arthritis than non-runners did, the researchers found.