(8 pm. – promoted by ek hornbeck)
Amidst all the celebration of the repeal of Don't Ask, Don't Tell in the recent past, most people were completely unaware that the prohibition of transpeople serving in the ranks remains inviolate.
Well, it remains sacrosanct except for the fact we have served and do serve and probably shall continue to serve…and try to take care of our transitions in the future.
It is estimated that 1 in 5 transpeople have served, do serve or will serve in the military. That is twice the rate of cis-gendered people.
Such was the case for Kristin Beck. Beck served as an enlisted petty officer in the Navy Seals for 20 years, including a tour with the renowned Seal Team Six. That was not under the name Kristin, of course.
Beck retired as an E-8 Senior Chief Petty Officer, having deployed 13 times, during which she earned both a Purple Heart and a Bronze Star.
Beck's biggest battle came after she retired. It was the battle to become herself.
I can relate. I served as an E-5 Correctional Specialist at the United States Disciplinary Barracks at Ft. Leavenworth during the Vietnam Era.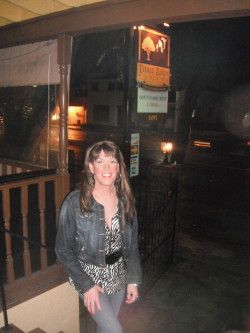 After retiring from the military in 2011, Kristin began transition, "working toward my own peace as a woman."
I am now taking off all my disguises and letting the world know my true identity as a woman.

–Kristin Beck
She says she has received an outpouring of support from other SEALS.
Brother, I am with you … being a SEAL is hard, this looks harder. Peace.
I can't say I understand the decision but I respect the courage. Peace and happiness be upon you.

–Jim
I just wanted to drop you a note and tell you that Kris has all the support and respect from me that Chris had … and quite possibly more. While I'm definitely surprised, I'm also in amazement at the strength you possess and the courage necessary to combat the strangers and 'friends' that I'm guessing have reared their ugly heads prior to and since your announcement.
Kristin is now telling her story in the new memoir, Warrior Princess: A US Navy SEAL's Journey Coming out Transgender, written with Dr. Anne Speckhard, who is an Associate Professor of Psychology at Georgetown University Medical School. The memoir has a Forward by astronaut and former SEAL Captain William Shepherd.
Kristin never identified as gay. If anything she lived her pre-transition life asexually.
While Chris was always a little different I had no idea what was lying under the surface, as I'm sure a lot of people will have the same experience.
On one hand, maybe Kristin's revelation is not all that remarkable. After all, plenty of hardened vets get out of the service and let their hair down, whether literally or figuratively. On the other hand, her experience could leave many Americans asking: Why doesn't the military permit transgender folks to serve openly?

—Adam Weinstein, ABC News
[M]any military members are afraid of what they don't understand.

—Colin Daileda, The Atlantic
I feel like we should be able to serve openly because we are physically able to serve openly. It's not a disorder.

–Autumn Sandeen
Beck is the founder of a Florida nonprofit that provides support for returning combat veterans, Healing Grounds.
The purpose of the "Healing Grounds" is to have a specialized "community service" focused nursery and gardens for returning Iraq and Afghanistan Veterans. This will be a place to receive landscaping information and training as well as plants, trees and simple kits to start a garden or fishpond in the veterans' own backyard. We will also offer to ship items and install as necessary in their houses. Depending on need and funding available there will be many free installations for the veteran who qualifies. Too many of my comrades are returning from the battle grounds of Iraq and Afghanistan and do not find peace and worse are committing suicide.