(2 pm. – promoted by ek hornbeck)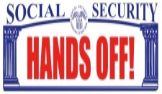 Back to the grind. President Barack Obama cut his Christmas holiday in Hawaii short, returning to Washington to try to cut a deal to avoid the mythical" fiscal cliff." While there was much cheering from the president's most avid supporters over the reports of his tough talk last week during negotiations with House Speaker John Boehner (R-OH), there is still a major concern that Social Security cuts are still on the table by tying cost of living increases it to the chained CPI. It is not just Republican and the president we can't trust on this, it's also Democrats. House Minority Leader Nancy Pelosi (D-CA) sees no problem with chained CPI. While there was no mention of Social Security in Speaker Boehner's failed "Plan-B," there is no indication from Pres. Obama that it won't be offered again as a carrot to entice the Republicans to accept a tax increase on the top two tax brackets.
Until we hear it from Pres. Obama's lips that it isn't, Social Security is still a bargaining chip in the manufactured debt/deficit crisis. So it is back to the phone. Flood the White House and the Congressional phone lines with calls demanding that they keep their hands off Social Security.
White House

202-456-1111

No cuts to Social Security.
Gaius Publius @ Americablog offers this helpful digest-
What are we protecting?

We're protecting three social insurance programs. These are:

■ Social Security

■ Medicare

■ Medicaid

What are we protecting them from? Anything that:

■ Reduces benefits

■ Turns the program from insurance to welfare (which only the "deserving" have access to)

How are these programs being threatened?

As near as I can tell, these are the threats. Note to foxes – this is the hands-off list. Each of these seven items is a benefit cut:

Social Security

1. Raising the retirement age

2. Chained CPI instead of current COLA

3. Means-testing benefits

Medicare

4. Raising the eligibility age

5. Increasing Part B premiums

6. Increasing "cost-sharing"

Medicaid

7. Shifting costs to the states by any means, such as "federal blended rate," etc.
Keep it up everyday, jam the lines until the President and Congress get the message:
No cuts to Social Security.