(2 pm. – promoted by ek hornbeck)
Cross posted from The Stars Hollow Gazette
Keeping our brother mishima, his family and the Japanese people in our hearts. May they all stay safe from harm.
Typhoon Roke Tracking Map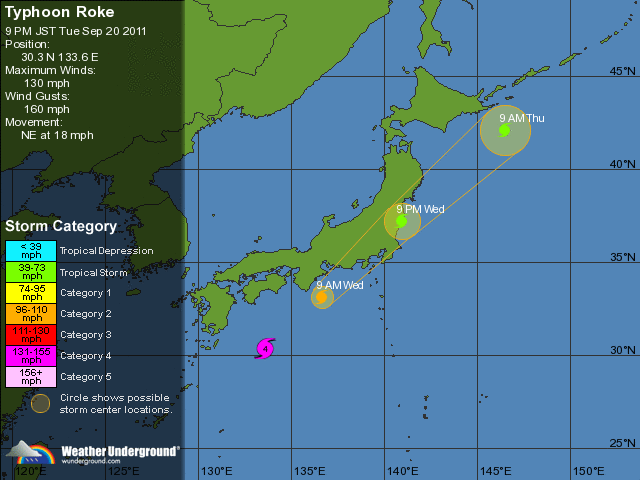 You can follow Roke's track at the Weather Underground
1 dead, 2 missing, over 1 million urged to evacuate as typhoon nears
More than a million people in Japan were warned to leave their homes on Tuesday as an approaching typhoon brought heavy rain and floods which left one person dead and two others missing.

Typhoon Roke, packing winds of up to 144 kilometers an hour near its center, could land in central Japan Wednesday and move northeast, possibly towards the crippled Fukushima nuclear plant, the Japanese weather agency said.

"While keeping its strength, the typhoon could make a land fall on Wednesday," an official with the Japan Meteorological Agency said in a televised news conference.

"We ask that the highest level of caution be used because of the heavy rain, strong wind, and high waves."

The city of Nagoya issued an evacuation advisory to some 1.09 million residents at one point because of worries that rivers might burst their banks.

The advisory was lifted from parts of the city, but landslide, flooding and tornado warnings affecting over a million people were still in place as night fell.
Typhoon Roke Hits Japan on Track for Leaking Nuclear Power Plant
Sept. 20 (Bloomberg) — Typhoon Roke brought evacuation orders, downpours and fears of floods to southern Japan today as it began to traverse the country on a course towards the crippled Fukushima Dai-Ichi nuclear plant.

More than 400,000 people have been advised to evacuate because of Roke, public broadcaster NHK said. That's in line with evacuation numbers for typhoon Talas earlier this month, which dumped record rainfall on southern Japan, causing mudslides and floods that killed 67 people and left 26 missing.

The eye of Roke, which is categorized as "strong" by the Japan Meteorological Agency, was about 1,016 kilometers (631 miles) southwest of Tokyo at 1 p.m. local time today and packing wind speeds of 40 meters per second. The typhoon is forecast to take three days to pass over Japan and its storm warning area is due to cover most of the country in that time, according to the meteorological agency's website.