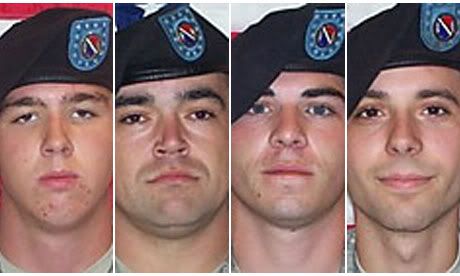 Ever since this story re-surfaced on Monday with the der speigel thing, Ive been reading and searching for the details that will give me more of a Big Picture view as well as more facts of the matter. It aint easy, lotta ugly.
But there's one surprise.
I'm not 100% certain that I have it right, but … well, okay I admit it. Maybe I'm just a sap, a sucker, a bleeding heart liberal, a naive hopeful vulnerable peaceloving DFH flower power peacenik heart on my sleeve bleeder. …
I want to tell you about this one "starfish" in this godawful mess.: Specialist Adam Winfield. And that I support him.
In war, truth is the first casualty.

Aeschylus, Greek tragic dramatist (525 BC – 456 BC)
A simple and essential truth appears to be that Spc. Adam Winfield has been wronged. He is accused of the May 2010 murder of an Afghani civilian. In fact, he tried, (and failed obviously), to blow the whistle in Feb 2010 on his squad-mates. Follow below for more.
If you need to refresh, here's Mondays' news re der spiegle pics etc, add links gos & fdl. LaFem posted about it at GOS, and David Dayen had this piece at FDL.
We were all horrified, of course, when this story first came out last year and again this time around. Ever on top of it with their damage control, the US Army offered a public apology for the photo's making their way to the public eye this week:
As the Army apologized, Secretary of State Hillary Clinton worked the phones to her counterparts in Kabul to limit the damage of a potential public-relations debacle. Administration officials also reached out to Afghan leaders to reiterate that the soldiers involved were facing a number of charges including premeditated murder.

Although apparently not indicative of a widespread systemic breakdown, as with the dozens of images from Iraq's Abu Ghraib penitentiary in 2004, the photos of U.S. soldiers grinning with a corpse are certain to offer enemies of the Kabul regime a propaganda coup.

"The photos appear in stark contrast to the discipline, professionalism and respect that have characterized our Soldiers' performance during nearly 10 years of sustained operations," the Army said in its statement.

Earlier this month, U.S. Defense Secretary Robert Gates and Gen. David Petraeus, commander of allied forces in Afghanistan, apologized after American helicopters killed nine Afghan children who were mistaken for insurgents in Afghanistan's Kunar Province. The U.S. military is investigating another incident in which Afghan officials said two Afghan civilians were killed by U.S. helicopters in the same province.

So. It appears they intend to make good on these promises to hold those soldiers who did this accountable. Good. I hope the actual perps rot in hell. Five men have been charged with murder. Of those 5, only two men are charged with all three murders: Gibbs and Morlock. The other three soldiers are charged with different murders, and only one apiece, each different. This is starting to remind me of a recent Criminal Minds episode, I swear. Gibbs has been id'd as the 'ringleader' with Morlock seemingly his primary accomplice. (Note: no higher ups have been accused or charged with anything.)
So. One down. Yesterday's (March 23) news … Specialist Jeremy Morlock, 22, of Wasilla, Alaska, is the first of the five to face a court-martial. He entered a plea of guilty, according to the plea deal worked out with him & his lawyers, part of which includes his agreement to testify against his co-defendants:
JOINT BASE LEWIS-MCCHORD, Washington – A 22-year-old U.S. soldier pleaded guilty Wednesday to the murders of three unarmed Afghan civilians in a war crimes probe that implicates a dozen members of his platoon and has raised some of the most serious criminal allegations to come from the war in Afghanistan.

Spc. Jeremy Morlock of Wasilla, Alaska, was court-martialed at Joint Base Lewis-McChord south of Seattle, where he pleaded guilty to three counts of murder, and one count each of conspiracy, obstructing justice and illegal drug use in exchange for a maximum sentence of 24 years in prison.

Morlock was accused of taking a lead role in the killings of three unarmed Afghan men in Kandahar province in January, February and May 2010.

Asked by a military judge whether the plan was to shoot at people to scare them, or shoot to kill, Morlock replied: "The plan was to kill people."

Morlock is the first of five soldiers from the 5th Stryker Brigade to be court-martialed – something his lawyer Geoffrey Nathan characterized as an advantage.

…snip…

"The first up gets the best deal," Nathan said by phone Tuesday, noting that even under the maximum sentence, Morlock would serve no more than eight years before becoming eligible for parole.

Under the plea deal, Morlock also has agreed to testify against his co-defendants.

Morlock told the judge, Lt. Col. Kwasi Hawks, that he and the other soldiers first began plotting to murder unarmed Afghans in late 2009, several weeks before the first killing took place. To make the killings appear justified, the soldiers planned to plant weapons near the bodies of the victims, Morlock said.

"Did everybody know, 'We're killing people who are completely innocent'?" the judge asked.

"Generally, yes, sir, everyone knew," Morlock replied.

There's this one weird blatant glitch in all this. One of the soldiers being charged with murder, Adam Winfield, attempted to blow the whistle on the "kill team" in February, 2+ months prior to the May murder that he is charged with. If the U.S. gov has any integrity at all they will dismiss these charges today and issue their apology to this kid too.
After the January killing, platoon member Spc. Adam Winfield … sent Facebook messages to his parents saying that his fellow soldiers had murdered a civilian and were planning to kill more. Winfield said his colleagues warned him not to tell anyone.

Winfield's father alerted a staff sergeant at Lewis-McChord, south of Seattle, but no action was taken until May, when a witness in a drug investigation in the unit reported the deaths.

Winfield is accused of participating in the final murder. He admitted in a videotaped interview that he took part and said he feared the others might kill him if he didn't.

This has to be a parent's worst nightmare. Dad & Mom sent their young son off to an unwinnable and brutal war . I'm sure they were hoping & praying like thousands of other military parents, daily, hourly….praying that he wouldn't be killed or harmed. From AP:
JAN 15 2010

The first indication for Christopher Winfield and his wife, Emma, that something was amiss came Jan. 15, the day of the first killing.

"I'm not sure what to do about something that happened out here but I need to be secretive about this," their son wrote them in a Facebook message. The couple gave the AP copies of the Facebook messages, Internet chats and their phone records.

Winfield, 21, of Cape Coral, Fla., didn't immediately provide more details, and over the next month he had little contact with his parents. They said they checked constantly to see if he was online.

FEB 14 2010

On Feb. 14, he told his parents what happened in a lengthy Internet chat: Members of his unit on patrol had killed "some innocent guy about my age just farming." He said he did not witness the killing.

But, he wrote, those involved told him about it and urged him to "get one of my own."

He said that virtually everyone in the platoon was aware of what was going on, but no one seemed to object.

"If you talk to anyone on my behalf, I have proof that they are planning another one in the form of an AK-47 they want to drop on a guy."

He added that he didn't know whom to trust and feared for his safety if his comrades learned he was talking to authorities.

"Should I do the right thing and put myself in danger for it. Or just shut up and deal with it," he wrote his parents. "There are no more good men left here. It eats away at my conscience everyday."

snip

His father, a Marine veteran, was shocked, and made five calls to military officials that day, his phone records show.

He said he left a message on a Defense Department hotline and called four numbers at Fort Lewis. He said he spoke with an on-duty sergeant and left a message at an Army Criminal Investigations Division office before reaching the base's command center.

In that call, an official told him that if his son wasn't willing to come forward while deployed, there was nothing the base could do, Winfield recalled in interviews with the AP and in a sworn statement to Army investigators.

The official suggested the soldier keep his head down until his deployment ended and investigators could look into his claims, he said.

source
So. This young man (at the age of 21) tries to enlist his parents' help to alert someone, blow the whistle, in February, and the response if the US Army is…? 'Keep your head down'…? Uhm, okay. So… when another Afghani civilian is murdered after this warning, they charge him, the would-be whistleblower, with that murder? Wtf.
Some months ago, the Army prosecutors in his court-martial case tried to suppress the conversations Adam had with his father in the February facebook chat, saying that the info was not relevant to his guilt or innocence in the May murder.
"How is it not relevant that he tried to report this?" Montalvo [Winfield's attorney] said. "But for the Army's inaction, two more murders would not have occurred."

source
Some good news. On Friday, on Friday March 18 2011, as our forces rushed to the aid of Libyan rebel civilians and just a couple of days before the der speigel piece hit the stands, Judge Hawks ruled to allow the fb chat log into the record as evidence.
"That the alleged conspiracy may have been formed before or after the accused's dialogue with his parents goes to the weight of the evidence, not its relevance," the judge said.

Winfield's lawyer, Eric Montalvo, welcomed the ruling.

"He clearly made this '911 call.' It's been verified," Montalvo said. "He's not complicit in this kill team effort."

source
Some more background… Ive been searching and reading for two days now on this. My initial reaction was skeptical but curious. The plot thickens. Go back to Sept 28 2010 and see CNN with this article…
The Army may have known months ago about serious misconduct — including the apparently unprovoked murder of a civilian — by members of a platoon in Afghanistan, but failed to act on it before at least one other murder occurred.

In an interrogation tape obtained by CNN, Spc. Adam Winfield, 21, tells an Army investigator in May that he told his father in February that he feared for his life after hearing that others within his platoon had murdered an Afghan civilian. He feared that his comrades — members of the 5th Stryker Brigade — were hunting for other victims, he said.

But a warning to the Army by Winfield's father may have been ignored. [EDIT, yes, it is confirmed that it was, in fact, ignored, see above. LL]

In an Army interrogation tape obtained by CNN, Winfield describes hearing members of his platoon bragging in January 2010 about having killed a man and then made the killing look like it was carried out in self-defense.

"They said the guy threw the grenade at them and that's how the grenade went off and then they shot him," Winfield told an Army investigator.

Asked what really happened, Winfield said on the tape that others in his platoon — Cpl. Jeremy Morlock and Staff Sgt.Calvin Gibbs — were involved. They are among five soldiers facing premeditated murder charges for the killings of three Afghan civilians between January and May of this year. Seven other soldiers face lesser charges.

"Morlock and [another soldier] were planning it for about a week or so," Winfield said. "Sergeant Gibbs, you know, put it into their heads that they could get away with doing these things."

source
Digging deeper … Winfield was scared to death of his platoon-mates, especially Gibbs who was the squad leader, and had every reason to be. On Gibbs… the consensus seems to be that he was the leader (and he sounds like a sociopath, more here), but instead of being reigned in by superior officers, this guy is advanced and further enabled & empowered by being named squad leader… ?
Gibbs allegedly encouraged his men to join him in killing civilians, and ordered them to keep their activities secret, an order that Winfield paid attention to.

"I take that man very seriously," Winfield told the investigator in the interrogation tape. "He likes to kill things. He is pretty much evil incarnate. I mean, I have never met a man who can go from one minute joking around, then mindless killings. I mean, he likes to kill things."
DEC 19 2010:
Army officers had good reason to fear for the safety of their best witnesses when they opened a probe into suspected war crimes among a group of Stryker soldiers stationed in southern Afghanistan.

A private who led them to the unit had already been assaulted by seven comrades when he raised concerns about drug use in the platoon. Other witnesses said they were scared of Staff Sgt. Calvin Gibbs, the charismatic squad leader who allegedly concocted schemes to kill Afghan civilians and threatened his fellow soldiers.

source
Winfield, and others on the squad, were aware of the soldier Stoner who was assaulted in May 2010, by seven of his team after 'snitching"…
Several soldiers recalled Sergeant Gibbs and Specialist Morlock tossing severed fingers in front of a soldier who had reported the widespread use of hashish within the unit. That soldier, Pfc. Justin A. Stoner, later told investigators that he feared being killed the same way Afghan civilians had been, as if his death had happened in combat.

"It wouldn't be hard for them to take me out and do the same to me and blame it on the Taliban," Private Stoner told investigators.
It was not until after this assault on Stoner , which occurred in May 2010, that the army initiated an investigation.
Back in February 2010, upon hearing his son's alarm, Adam's father was frantic and he did follow through from home, he did what he could…. which turned out to be not much. Well, nothing actually. After several months of legal back n forth, it was finally confirmed and verified…in FEB 2011…. that this father spoke the truth.
An Army staff sergeant confirmed to investigators that he received a phone call from a worried father last year warning that soldiers in his son's platoon were deliberately killing Afghan civilians.

However, Staff Sgt. James Michael Beck said he didn't report the phone call to anyone because there was no standard operating procedure for doing so, according to a statement obtained by The Associated Press.

Beck said he was working in the operations center at Joint Base Lewis-McChord south of Seattle on Feb. 14, 2010, when he received a call from Christopher Winfield of Cape Coral, Fla., who told him soldiers in his son's platoon had already killed one civilian and were planning to kill more.

Winfield said his then 21-year-old son, Spc. Adam Winfield, was being pressured to join the plot, and the younger Winfield was scared that his colleagues would hurt him if he didn't go along, according to the statement.
Five soldiers are charged with the murders, and there's a total of 12 soldiers from this brigade with various related charges . There are numerous, especially local, news articles about this over the past year or so. Also WaPo, CNN, NYT, several more. It's a lot to sift through. A broad and in depth view of the big picture can be found here in this WaPo piece from last year, which I strongly urge you to read.
And ABC News has several videos.
Last, I will point you to this new piece, dated March 24, 2011, from the News Tribune:
"The brigade was dysfunctional," said Texas A&M sociology professor Stjepan Mestrovic. He testified on behalf of Spc. Jeremy Morlock, who pleaded guilty to murdering three Afghan civilians during his deployment with the 5th Brigade, 2nd Infantry Division last year.

Mestrovic's description was the first public discussion of the report. It was commissioned last fall by Lewis-McChord commander Lt. Gen. Curtis Scaparrotti to investigate whether officers should have known that enlisted soldiers were using drugs and carrying out schemes to murder civilians after deploying to southern Afghanistan in July 2009.

The Army has concealed the 500-page report, written by Brig. Gen. Stephen Twitty, and given it only to defense attorneys representing soldiers who now face misconduct charges. The News Tribune has filed a Freedom of Information Act request to obtain a copy of it.
His parents are doing whatever they can to support their son and have …1670… 1685 …1699… (and climbing) on their fb support page (they ask that it not be politicized there). Although Adam was placed in solitary at one point, it was by his own request to protect him from possible harm from his squad (cell) mates, but he was later returned, again at his request, to the general pop when he couldn't stand it any longer. No one is alleging mistreatment or abuse while he is in detention. That Im aware of. His court martial has not been scheduled but is anticipated to take place soon.
The family has a great lawyer managing Adam's defense, Eric Montalvo. Donations to his defense fund can be made directly to his legal team here:
If you would like to make a donation to help with Adam's attorney fees, please visit www.puckettfaraj.com and click on the donate button under Adam's picture. Thank you.