( – promoted by buhdydharma )
and no, it's not what you might think. lol.
It's this… ta dah!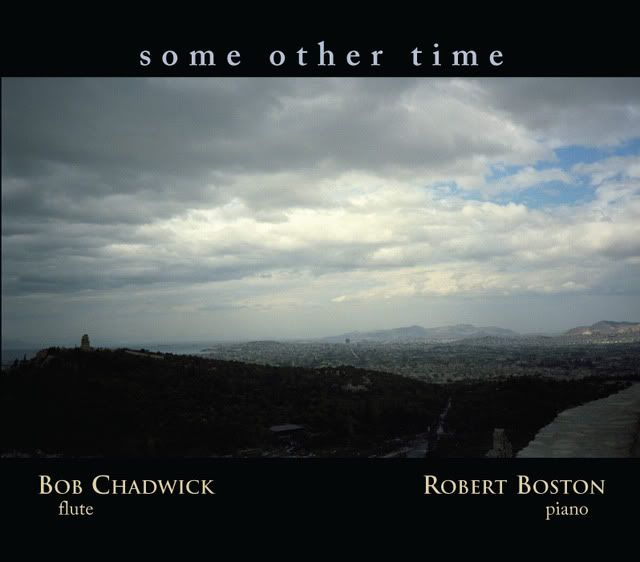 The CD is available to pre-order now … this is my alternative life when I unglue myself from the blawgs… Musician's Wife.
If I really was a great writer, and if I knew jazz at all, maybe I'd be able to write something as good as this. Happily, I didn't have to! The Liner Notes (inside) were provided by Peter Westbrook, Ph.D. He is the author of The Flute in Jazz:Window on World Music. See www.fluteinjazz.com.
Bob Chadwick belongs to that still limited community of jazz musicians who perform exclusively on the flute, although he goes beyond piccolo, concert, alto, bass and contra-bass flutes to perform on various Asian instruments, such as the Japanese shakuhachi, the Chinese dizi and the North Indian bansuri, as well as Irish whistles, Romanian pan flutes and various interesting hybrids.

Today many jazz players find that economic considerations often limit them to a duo as their performance medium. But Chadwick turns this liability into an asset, embracing and expanding the art of the duo, as on this recording, where he joins with pianist Robert Boston in a program of jazz standards, alternating with free improvisations.

Classically trained, Chadwick has remarkable technical proficiency that he places at the service of a fertile imagination. He and Boston have chosen some lesser-heard compositions well suited to their style of improvisation, gently deconstructing them in places, grooving in others, then shifting into the territory between jazz and contemporary composition. Such a musical vision requires a strong sense of order and Chadwick's never lets him down. Boston displays sensitivity and invention both as accompanist and soloist.

The current state of the music business can make recordings such as this a little hard to find. It is definitely worth the effort.

~ Peter Westbrook

How 'bout them apples, eh?!
Classically trained, Chadwick has remarkable technical proficiency that he places at the service of a fertile imagination.
Wow, love that.
So… in my supporting role, I am still learning and at this time, I do not have any MP3's that I can pop in here, but… you're in luck. You can go to Bob's website, to the LISTEN tab and hear "Wildflowers", a tune off this CD. We'll be adding a few more samples there next week.
RiaD has been so kind as to add us to her special page at firefly-dreaming of Brilliant Bloggers, where we are in fine company with OPOL and others. Check it out. Bob is not a "brilliant blogger" … although he is a brilliant flute player…. but he supports my efforts at brilliance (!) in all kinds of ways.
So. IF you like jazz, or just if you can and wish to send a little love my way, you can purchase my husband's CD in the STORE at his site, or go direct to buy it here with paypal. Maybe if enough people do that, he won't nag me so much about all the time I waste spend hanging out with my DFH pals on the blawgs. heh.
OH! Almost forgot! Well, see, "Wardrobe Master" is one of the things on my Job Description too…. I got an urgent call from Bob last Sunday with a rush request to bring him a change of clothes to his Brunch gig because CBS Sunday Morning TV crew was about to arrive! So… he may get 4 seconds of screentime in their piece on Brunch Trends…. we'll have to watch and see: airdate this Sunday, November 21: "Mo Rocca, CBS Sunday Morning". Morning time, maybe 9 or 10 a.m., not sure.
Up next? Bob is already working on mixing and mastering his next CD, with vibes guy Harry Sheppard, to be titled none other than: Dharma. I had nothing to do with that. Really. The duo plays a steady gig every Friday at a local restaurant called Dharma Cafe, so … there it is. Anybody around here happen to have any cool photo's we could use for the cover design of that one?!?
Thank you ever so kindly.

🙂
…
update: here is the Back Cover, with the song list. I like how this came out… the design and layout was a collaboration between me and the guy with the company thats printing/producing it… very nice guy in Austin (don't know him from Adam).
UPDATE Friday morning… okay, we now have samples (Mp3's) of all the tunes but I have no clue how to put them in here. lol. Paging Wizard Edger! I will be adding them to his website sometime today.