( – promoted by buhdydharma )
You know how it is….. that moment…? You're sitting at a stop light maybe, or just at a park, and the birds are chirping and squawking, dotting a the power line or blanketing the limbs of an oak tree. Then suddenly, they take flight. Almost as one. What was their cue? And … how do they DO that … with no committee meetings, no caucus, no vote… ?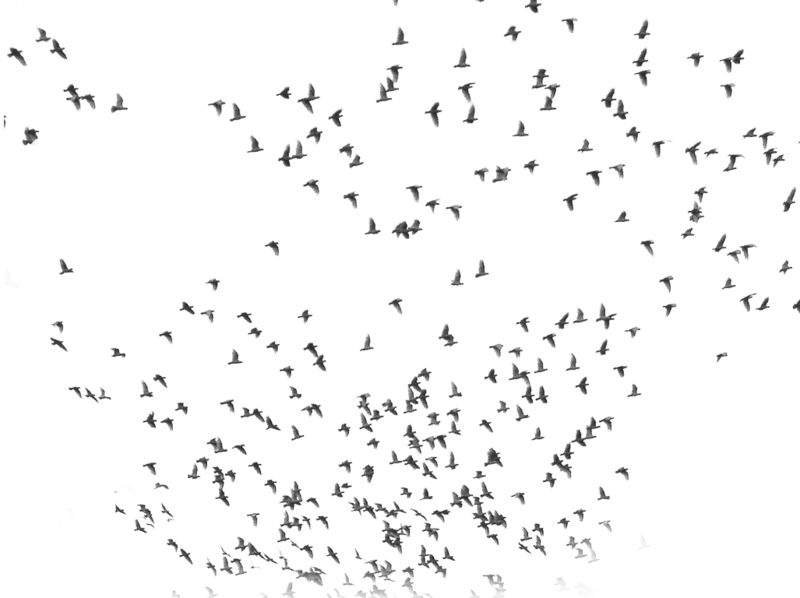 We're not the only ones scratchin' our heads… Saw this posted at commondreams (and elsewhere I think, but I dont see where)…
We Need Your Ideas: A Call for Direct Action in the Climate Movement

An open letter from the Rainforest Action Network, Greenpeace USA, and 350.org:

What will it take to finally get serious about climate change?

by Bill McKibben, Phil Radford, & Becky Tarbotton

… Time is not on our side, so we've concluded that going forward mass direct action must play a bigger role in this movement, as it eventually did in the suffrage movement, the civil-rights movement, and the fight against corporate globalization. Even now, environmentalists in places like the coalfields of Appalachia have been putting these tactics to good use, albeit in small ways. (In the spring of 2009, our three groups worked with others to pull off a large-scale action outside the congressional power plant in D.C. that resulted in a promise that it would cease to burn coal.) History suggests, in other words, that one way to effectively communicate both to the general public and to our leaders the urgency of the crisis is to put our bodies on the line.

Nobody can predict which one event will trigger social change. Paul Revere was not the only rider to warn of the British advance, and many people refused to move to the back of the bus before Rosa Parks. But we do know two things. First, that we must act with unity, and second, many minds working together are likely to be smarter. So we're asking for your help. As you go about your other work on behalf of the planet and its diverse communities, think about the possibilities for direct action, and write them down and send them to us.

snip

Note too that though this letter comes from just three environmental groups, we want this fight open to everyone. We'll happily work with any organization that shares our goals and tactics as plans go forward; in fact, we think that breaking down boundaries between groups is key to any chance at success. We'll do our best to reach out, but please make sure you let us know you want to be involved.

We've set up a special email address for ideas: climate.ideas@gmail.com

By late autumn, we hope we'll have been able to mine those ideas and start coming up with coherent plans for actions starting next spring.
and heres a top comment from there…lol
Where are EDF, NRDC, Ducks Unlimited, the Sierra Club, the World Wildlife Fund, the Nature Conservancy and 100 other enviro groups? Why didn't McKibben et al contact them first or were they rebuffed? Where are the big "green" food corporations, Newman's Organics, Whole Foods, Cascadian Farms, etc? Where are the big alt energy corporations (and the little ones)?. Everybody I just mentioned has a big, fat, life and death stake in global warming above and beyond their stake as individual humans. Where are they?

Where are the line staff of the EPA, NOAA and a dozen other govt agencies, all of whom know what's coming and none of whom have acted yet or at least not enough?

Where are the unions? Won't they get jobs out of alt energy? Are they too busy, splitting, re-joining, posturing and posing, and laundering Mob $$$?

Hell, where's the military? They know this is coming; they're already writing contingencies for a hot, flooded, starving world. It took the Army to knock down Joe McCarthy; maybe it'll take the Army to get serious about this.

Oh and as to mass action – forget about excluding the provocateurs, "incendiaries", trotskyites and sectarian trolls. You can't keep them out. These people have no lives. They wait all their lives for somebody else to organize a demo so they can fuck it up. Mass action will also fall prey to excessive and shallow "democratization". Meaning basically, total lack of focus, discipline and responsibility. You organize a rally for climate protection and a bunch of assholes in bandanas and berets show up with signs reading "Death to Zionists" or "Legalize man-boy love" or some crazy-ass shit and that's where the stupid, gullible reporters flock. Pretty soon the LaRouche zanies and the Islamic Purity League have fucking info tables on the plaza right next to you! Honor-killers on one side and cold fusion nutjobs on the other. Jeesh!

You have to outnumber them and try to ignore them. That's why McKibbin et al has to organize the rest of the enviros, the unions, the govt rank and file. Without them, nothing happens.

Okay, that was kinda funny. Started off good though. Sorry, I'm easily distracted! lol
Scrolling through some more of the comments there… man, people are all over the place.
We've touched on this here from time to time. What I've seen so often, that I think is probably our biggest obstacle, is our own individuality, sometimes ego but not always, our resistence to any lockstep lemming way of approaching activism, progressivism. And rightly so, of course.
I see so many bloggers talk about Solidarity or Coalitioning, but then it all devolves.
Everyone has their own take, their front 'n' center issue, their argument for a given strategy. It's so complex, there is need for that.
But how do we capture a central vision? and then promote that? Because we can't address "Climate Change" alone as if it were an isolated "issue". Well, we can, but without some underlying moral code, some cohesive commonality, it's all just dust in the wind.
Thoughts?