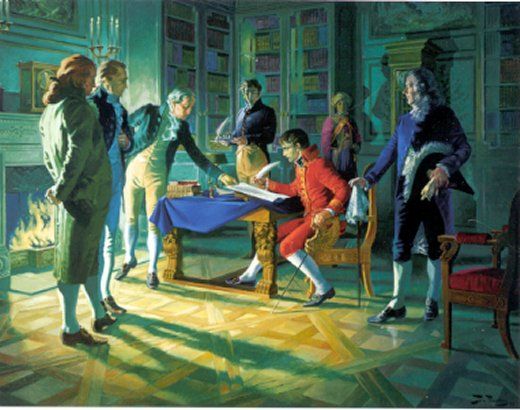 1803 – Louisiana Purchase: The United States purchases the Louisiana Territory from France for $15 million, more than doubling the size of the young nation. With this acquisition President Thomas Jefferson secured the Port of New Orleans, free access to the Mississippi River and opened expansion of US territory westward to the Rocky Mountains.
Originally the purchase was for the port of new Orleans, portions of the east bank of the Mississippi, and free navigation of the river for U.S. commerce but at the last minute, on April 11, the French Minister Talleyrand was ordered by Napoleon to offer the entire territory to US Minster, Robert Livingston. This was mostly due to France's difficulties in the Caribbean. Napoleons' inability to secure Santo Domingo made the granaries of Louisiana useless without the the sugar. Considering his other difficulties with Spain and the temperament of the Americans, Napoleon threw in the entire territory for less than 5 cents an acre.
1812 – The Territory of Orleans becomes the 18th U.S. state under the name Louisiana.