(6 pm. – promoted by ek hornbeck)
now cross posted at Wild Wild Left (warts and all…lol)
OTW = Off the Wall .. my series, the first of which is here, having to do with multi-cultural and diversity topics.
NOTE: I decided to make this Part One because I had entirely too much fun googling related topics & pics, and I got a little lost sidetracked. Lol. I have a certain direction I want to take this, but it may take me another week to actually get there! So there will be a Part Two (at least). Thanks for your patience. Heh.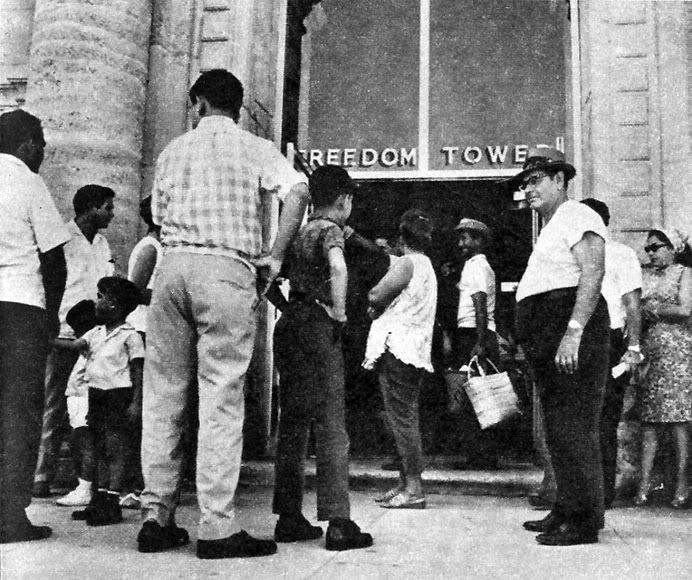 In 1960, when the first wave of Cuban refugees arrived in droves in Miami Florida, I was about 4 years old. So were a number of Cuban children who would become my classmates, age-mates, rivals and friends. I was just a regular ol', you know, American. My WASP Dad was from Ohio and my Irish Mom, western Massachusetts. Miami was, at the time, a blend of New England transplants, retired New York Jews (Miami Beach), and more. I was considered a bit of a rarity in that I was actually born there, a "native". The huge intake of hundreds of thousands of Cubans in such a short period of time had quite an impact on the city. Since I was only 4 at the time, what do I know? But trust me, it did.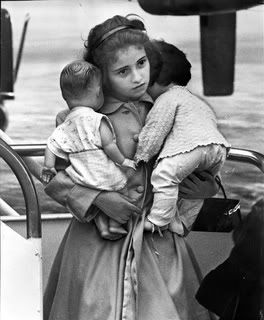 I grew up alongside these kids as they learned English and American. I attended small private Catholic schools which had a higher percentage of Cubans, I suspect, than public schools, I had many Cuban playmates, neighbors and classmates. I don't really recall having any particular bias or prejudice in those younger years.
I remember riding bikes and skimming puddles with Alina from up the block. And let me tell you, if Alina's Mom was making croquetas that day, I was there! And Mercedes who was the class Brain in 5th grade. And Carlos, the star basketball player and hottie. Lol. And Angie (real name = Maria de la Posada de los Angeles) whose ability to dance to Wipe Out was just … legendary. Of course I learned a little bit of survival street Spanish, i.e. some cusswords. I always thought albondigas sounded dirty.
Somehow, as high school days grew more social, I started to fall more into the typical local anglo attitude… the idea that Cubans, well, they were fine and all, but… why do they have to be so…. Loud? And clique-ish? And omg the boys…. Stay away from them!!! (vultures!) And the girls, with all their make-up and platform heels and stylish edge, so ….. well … trendy and…. vain. Boisterous. "cubanasa"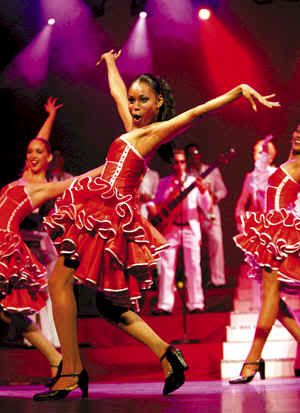 I should try to explain cubanasa. Havent found it with the google, it's only from memory just yet, but I'll work on it. It's kind of… uber-Cuban. I hope it's not derogatory or offensive. And BTW, Gloria was so NOT…that. lol.
UPDATE 2/5/10: Haved checked in with my Cuban "consultant" who clarifies for us:
"A Cubanasa is the quintessential 8th street cuban. The Cubanasa is loud in dress, voice, and opinion. The Cubanasa never adapted to anything American and if you had a Cubanasa relative she was very embarrassing. If you were just the opposite and totally adapted to the American way (so much so that you might 'pass' as non-Cuban) then you were referred to as a Cubana Arepentida."
Now, there are things I learned and understand and know now as an adult but I am talking about this as I experienced it as a teenager mostly. For the most part, the Cubans who arrived with that First Wave were the affluent elites, highly educated and professional, upper class. For the most part. They carved out their niche in Miami (oh noez they're talking over!) and fared very well in business and other areas. They followed a pattern that is typical of a refugee influx of first wavers and brought with them a rich vibrant culture.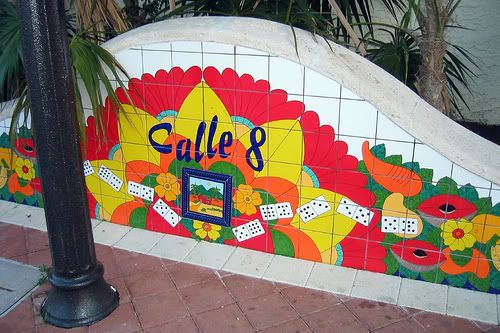 While it is safe to say that all migration flows initiated after the revolution have had a decidedly political character, they can be categorized into separate waves. In each wave migrants had a distinct historical motivation for leaving the island and were received in a different socioeconomic and political context from that of other waves. As Figure 21 reveals, a majority of the Cubans who arrived after 1959 came during six distinct periods (Grenier and Pérez 2003).

The first wave of 270,000 Cubans arrived immediately after the revolution and the Cuban Missile Crisis, from 1959 to 1964. The second wave of about 300,000 arrived during the 'freedom flights', from 1965 to 1973. Table 2 shows that the 1965-73 cohort was socioeconomically less privileged that the directly postrevolutionary wave (1959-64).

More technical workers, such as skilled manual workers, and fewer professionals arrived in the 1965-73 cohort than in the earlier group. Only 22 percent of the second wave have household incomes of $50,000 or to those of the Cubans who arrived earlier (García 1996).

SOURCE:

Pdf; interesting report: Anti-Castro Political Ideology among Cuban Americans

in the Miami Area: Cohort and Generational Differences
I might have remained in that ever so American mindset… a subtle resentment that I couldn't get a summer job as a sales clerk at Burdine's because you had to be bi-lingual, or some of those other classic reactions that generally lead to more discord, competition, and anger. Conflict.
The fact that I did not follow that course intellectually, emotionally, or socially, can be attributed to one person. Maria. (not her real name of course).
TO BE CONTINUED

Algunos nacen bajo una estrella; otrs estrellado

(Some are born under a star; others smacked by the stars.) ~Cuban proverb
Meantime, I just have to share this video. Please understand I am laughing my head off. This… well… it kind of says it all. As to Gloria, I'm foreshadowing now, I'll talk a little bit about her in Part 2.