(9 am. – promoted by ek hornbeck)
In surfing the web early this morning, with in-box help, I was led to the following report, US assistance for Vietnamese AO victims 'insufficient', say Americans at the Vietnamese Online News: NhanDan on which you will find this link Justice for Vietnamese AO Victims which gives a page of links to other reports about Agent Orange and the Vietnamese casulties of, through these past decades.
From the first report link we get the following:
Participants in a discussion on the effect of Agent Orange (AO) organised in Washington DC on January 6 said that US assistance for AO victims in Vietnam so far are 'insufficient' and 'at a minimum' level.

"The problem of Agent Orange never really goes away" and "dioxin is continuing to damage lives in Vietnam, not only for those exposed to it during the war, but for their children and grandchildren", said Paul Glastris, Editor in Chief of the Washington Monthly which together with the New America Foundation held the discussion….>>>>>
After reading the above, and doing what one does with this technology, I visited the Washington Monthly website and found their "Special Report: The Agent Orange Boomerang"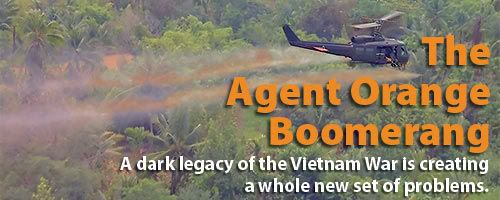 At the site there's a video, that runs about an hour and thirty minutes, from the January 6, 2010 Washington Monthly/New America Event "The Return of Agent Orange" with opening remarks by the panel then moving to questions and comments from those who attended, all are very informative and if interested I would recommend a visit to the site and even just listening to this while doing whatever else you might be involved in doing, very informative in furthering the now long running discussion of our use of our own weapons of mass destruction, defoliants in Vietnam, during our occupation of that country.
At the report site link you'll also find the links to this report from the Washington Monthly:
Introduction: A Legacy Revisited

Agent Orange is still damaging lives in

Vietnam. The time has come for America to act.

by Walter Isaacson

Agent of Influence

The realpolitik case for compensating Vietnam.

by Geoffrey Cain and Joshua Kurlantzick

The Environmental Consequences of War

Why militaries almost never clean up

the messes they leave behind.

by Clay Risen

A Hard Way to Die

Why hundreds of thousands of Vietnam vets with Agent Orange-related

diseases have been made to suffer without VA health care.

by Phillip Longman
About some forty four minutes into the video we hear from one of the panelist Phillip Longman who wrote Best Care Anywhere, 2nd Edition: Why Va Health Care Is Better Than Yours". Mr. Longman makes some real good points in his presentation. Mentioning even a comment made by President Reagan's VA Secretary on a "Good Morning America" broadcast, in short saying to the effect that "Vietnam Veterans were a bunch of babies!", pointing to what we faced not just after our return from but the decades since. i don't even need to guess but we'll be hearing similar about our returning combat vets from Afghanistan and Iraq by many in the coming years, if not being said already as I've seen similar on online replies by a certain segment of this society that like to wave the flag but don't want anything to do with sacrificing themselves for what they cheer on!
But beyond the above he also relates to our present situation in trying to change our totally broken and corrupt Heath Care System in this Country, going through Congress now and greatly watered down as to real total change, but hopefully a good start. This is probably why his book is now coming out in it's second printing. In short he discusses how All Veterans should be transfered into the Veterans Administrations Care and that their spouses should be able to buy in as well at reduced care cost, effectively saving in the already popular Medicare system and in giving back to us Veterans their long over due real support from the country we served and helping the family members who sacrifice in caring for those who have.
The problems faced back when thousands of us were returning are now being seen all over again with these new generation of returning soldiers from two more occupations of choice, still ongoing. It's way past time for the Veterans Administration Care Facilities to be brought up to what it should have already been, the best in the World not only in care but in teaching and research which then can be readily transfered into the larger civilian sectors for better and cost effective care for everyone, instead of playing catchup every time a huge glitch occurs because of the greater numbers entering the system that's behind the present technology, from recording keeping and sharing to even recognizing the results that wars bring on individuals, physical and mental. These should even be recognized as happening on even larger scale in the countries we and others invade for they have no where to go but to live in twenty four seven conflict.
Near the end of the video of this gathering a woman attending spoke up with a question as to our present use of Depleted Uranium. The woman was Alice T. Day who along with her husband, Lincoln H. Day, had just finished a documentary called "Scarred Lands and Wounded Lives: The Environmental Footprint of War". Her comment related to the lack of scientific information on Depleted Uranium and possible harmful effects from the use of. There has been numerous discussions on this issue, many are just like the long running discussions on issues like Agent Orange and more recently Gulf War Syndrome from the first Gulf War argue against any harmful effects but that they are safe and of great advantage in using these and similar, just like the Defoliants of 'Nam and other WMD's of all the wars that take place on this planet. The response to her question followed the many reports that have come out about the use of but the last point was that the panelist said he hoped in twenty years others weren't holding another forum discussion on the devastation from.
The Introduction to their Documentary
Scarred Lands and Wounded Lives: The Environmental Footprint of War has been selected as a finalist at Wildscreen, the world's largest and most prestigious international wildlife and environmental film festival, held every two years in Bristol, UK. Wildscreen 2008 will take place from October 19-24.

For over 25 years, Wildscreen has attracted hundreds of delegates from around the globe who work in film, television and the press, as well as those actively involved in working to conserve the environment. Scarred Lands and Wounded Lives is one of three finalists – and the only American film – selected for the Natural History Museum Environment category, which focuses on conservation, issues of sustainability and environment, and the need to protect the natural world. Scarred Lands and Wounded Lives will compete with the other finalists for a coveted Panda Award – the "Oscar" of environmental film….click here to read more
Not only, in the case of Agent Orange and similar used defoliants, have these and other weapons of war and occupations caused decades of suffering in the populations used but also as to the soldiers who served in these occupations or those who handled them at bases anywhere. Generations, now into the grandchildren of, have suffered the effects of. But they also contaminate the grounds where they were used or stored. It's reported that there are still a number of hot spots of this contamination in Vietnam the greatest being near the Danang U.S. base where much of it was stored and loaded onto the planes to spread throughout the country. This has also effected the food supplies that may be planted and grown on or near any of these hot spots or the unknown area's within the country. This not only effects those who grow these products but any who buy and consume possibly including exports of these products for the capital to the country and the farmers.
Extend that last to any and all wars fought on this planet and the possible spread of any of these destructive remnants of war worldwide, not only in the food products grown but the livestock, waters and even the air!