(noon. – promoted by ek hornbeck)
This is the Democrats' story. It's a story of consequences, it's a story of tragedy, it's a story ripped from the pages of history and stained with the blood of the innocent.
There are no characters in it and almost no dramatic confrontations, because most of the people in it are so sick and so much the listless playthings of enormous forces.
No We Can't has been a recurring theme of this story. When Obama got elected, No We Won't replaced it. We haven't seen any change, change has been consumed in a firestorm of corruption.
Enjoy your stay in Dresden.
Welcome to Hell.
Greetings from Slaughterhouse Five . . .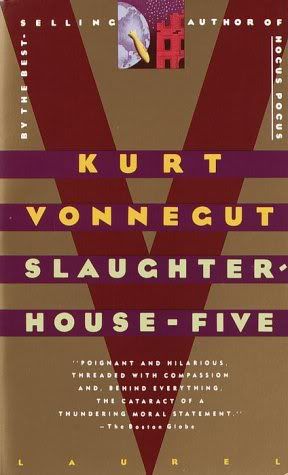 In Slaughterhouse Five, Billy Pilgrim . . .
went to the New York World's Fair, saw what the past had been like, according to the Ford Motor Car Company and Walt Disney, saw what the future would be like, according to General Motors. He asked himself about the present: how wide it was, how deep it was, how much was his to keep.
When we ask ourselves about our present, the answer is staring us in the face. It's as narrow as the tunnel vision of our "leaders", it's as deep as the corruption that oppresses us, it's as empty as our future and none of it is ours to keep.
Billy Pilgrim must have attended a White House strategy meeting right after the Inauguration . . .
I think you guys are going to have to come up with a lot of wonderful new lies, or people just aren't going to want to go on living.

It's pretty clear what the result of that meeting was. Wonderful new lies. Because of those wonderful new lies, 30,000 American soldiers are crawling into the quagmire of Afghanistan, like the big, unlucky mammals they are. 40,000 Americans will die in 2010 because of inadequate healthcare, like the big, unlucky mammals they are. More Americans will lose their jobs, lose their savings, and lose their homes, like the big unlucky mammals they are.
When the harsh truth scares the fuck out of the big unlucky mammals of this degraded species, too many of them swallow the lies, it's they only way they can go on living.
So it goes.
So it will always go unless Americans overcome their fear, unless progressives start getting serious, unless we take support for this criminal government off the table and put civil disobedience on the table.
We're learning from our mistakes, but we're not learning fast enough. Progressives have a lot of enemies, and time is one of the most lethal of them. We're running out of it, we don't have much time left to save this country, to reverse America's direction so time will be our ally instead of our enemy.
We have to learn what Billy Pilgrim learned by watching a war movie in reverse. Everyone in America, every human being on this planet has to learn what he learned by watching that war movie in reverse . . .
It's a movie about American bombers in the Second World War and the men who flew them. American planes, full of holes and wounded men and corpses took off backwards from an airfield in England. Over France, German fighter planes flew at them backwards, sucked bullets and shell fragments from some of the planes and crewmen. They did the same for wrecked American bombers on the ground, and those planes flew up backwards to rejoin the formation.

The formation flew backwards over a German city that was in flames. The bombers opened their bomb bay doors, exerted a miraculous magnetism which shrunk the fires, gathered them into cylindrical steel containers, and lifted the containers back into the bellies of the planes.

When the bombers got back to their bases, the steel cylinders were taken from the racks and shipped back to the United States of America, where factories were operating night and day, dismantling the cylinders, separating the dangerous contents into minerals. Touchingly, it was mainly women who did this work. The minerals were then shipped to specialists in remote areas. It was their business to put them back into the ground, to hide them cleverly, so they would never hurt anybody ever again.
If we could watch America's Two-Party Plunge Into Hell movie in reverse, every stolen dollar in the bank vaults of Wall Street, in the accounts of the war profiteers, in the pockets of K Street's and Capital Hill's corporate whores would be returned to us. The tea baggers would walk backwards out of their We Love Corporate Fascism rallies, drive backwards to their neighborhoods of racism and ignorance, and go back up into their attics, where it's always dark, where the odor of bat shit is thick in the air, where they'd stay because that's where they belong.
The tens of thousands of people at Obama's campaign rallies would stop clapping, stop cheering, turn their backs on him, and go home. The Twin Towers would unburn, the dead Americans in Iraq, the dead Americans in Afghanistan, would rise up from the bloody ground where they fell, go back to their bases, unload their weapons, fly back home, unjoin the military, and walk out of the enlistment centers.
The multitudes of the innocent, slaughtered in Bush's wars, would live again. Bush would be unelected, Reagan would be unelected, Nixon would be unelected. JFK would come back to the White House from Dallas. The pages of American history would turn back to 1960. Eisenhower would speak on national television again. He'd warn Americans about the threat of the Military-Industrial Complex.
And this time, Americans would listen, this time, they would heed his warning.
We can't turn back time, but we can prevent all of these tragedies we've endured from happening again. We can dismantle the war machine, we can throw corrupt incumbents out of power, we can take back our democracy, we can end the corporate rampage that is destroying us and the world we live in. We need to summon the courage and determination to do that, we need to eliminate the cause of all of these tragedies, the cause of all of this inequality, the cause of all of this suffering. We need to bury capitalism in the ground. We need to bury it forever so it will never hurt anyone ever again.