( – promoted by buhdydharma )
So, this is likely to be a little bit "stream of consciousness" in delivery, sorry, welcome to my brain. heh.
Yesterday was interesting day, and yes, I am referring to some diaries and commentary over at l'orange. In particular, of course, was buhdydharma's clarion call (now up to 764 comments) and later in the evening, y'got a good dose of teh funny but true from Shizzle (only 478 comments in that one), addressing the recent ramped up flame wars between "Pragmatics" and "Idealists".
I happen to think that whole Pragmatist v. Idealist frame-up is a crock of shit. Myself, I am clearly in the Idealist camp, but I'm enough of a Pragmatist to know that I don't even bother trying to persuade or convince or rally the… pragmatists to our side. Can't explain that very well. It has very little to do with me being pragmatic and everything to do with me being very thin-skinned chickenshit. lol.
So… what about us subversives, huh?
Nudging.
Tweaking.
And, some well timed and well articulated YELLING.
Until … tipping.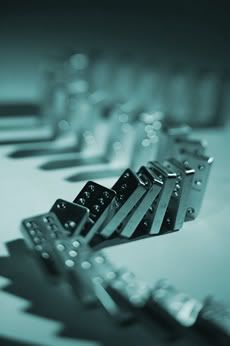 I was also thinking quite a bit about… oh … everything. The quiet activism of someone like Buffy Sainte Marie who, with her fame and fortune, has done some really great stuff, quietly. And there's others. But those dividends are not likely to pay off for another generation or two. But still, I hope they keep it up. Educating people is key. Or, as we called in in the old days, "consciousness raising".
But … we're running out of time.
I was struck by the number, and tone, of people in buhdy's piece who… a) applauded him for being spot on, and b) admonished him for letting Obama and the Dem's off the hook too easy! (What?! lol) So where are they? Do we invite or encourage those folks to wander over to DD? or do we actively tip 'n' rec over there, (and other blogs too) while passing out megaphones…?
Sarah Conner: Do I look like the mother of the Leader of the Free World Resistance? I can't even balance my checkbook!
I don't know.
I, for one, am on the edge of my seat today (but, no pressure, buhdy!)
I want to talk and learn more about civil disobedience for the 21st century, this age of technology. More about sustaining communities. More about us 99%'ers. More about envisioning Sea Change and creating more and better ripples.
How can I help?
.
Shosholoza

The Zulu word Shosholoza means go forward or make way for the next man,

and is also reminiscent of the sound made

by the steam train (stimela) described in the song.

Move fast

Move fast

on those mountains

train from South Africa.

You are accelerating

You are accelerating

on those mountains

train from South Africa.