(noon. – promoted by ek hornbeck)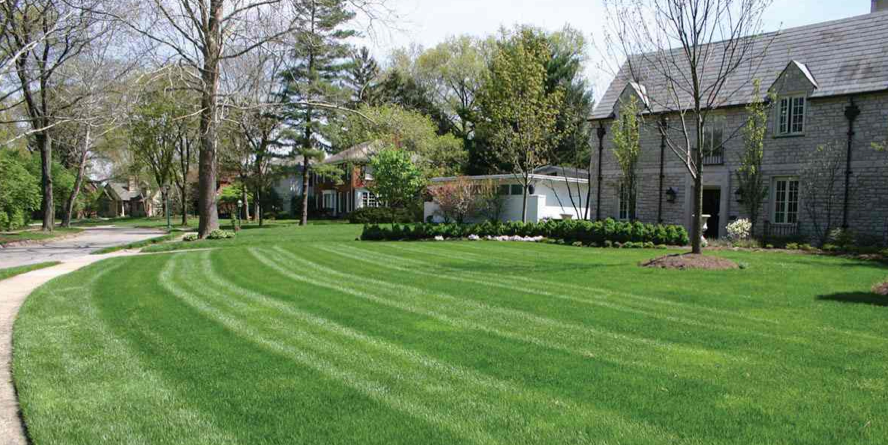 Living in lush green neighborhoods has provided the rich with a life-saving advantage over the poor who suffer from sweltering heat in concrete jungles. Transforming green open lands into a maze of buildings and roads of cities provided benefits to all of society, but it also creates urban heat islands that cause illness, death and misery that is disproportionately imposed on poor communities.
Urban heat islands were first described over 200 years ago. Concrete structures create both surface and air urban heat islands of double-digit temperature differentials between cities and rural areas.
For years, the rich bought their escape. A new study reveals it only costs $10,000 to decrease outside temperature by ½ degree Fahrenheit.
One inadvertent "benefit" of climate change is the growing awareness of this phenomenon of "cooking by day and night." Fortunately, some are working to reduce the devastating impacts of urban heat islands.
Urban Heat Islands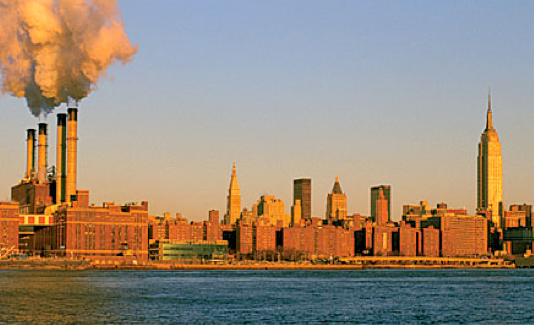 An Arizona State University study shows that poor neighborhoods suffer the most from the sweltering heat that causes illness, death and misery. Poor neighborhoods were constructed with high-density housing, insufficient green landscaping, and are often victims of the injustice of locating their neighborhoods by the freeways. These conditions create pockets of extreme heat that continues day and night, known as urban heat islands.
As communities replace open land or vegetation areas with buildings, roads, sidewalks and parking lots, the permeable and moist land surfaces are transformed into impermeable, dry surfaces that suck in and retain heat that form an island of temperatures higher than rural areas that still have fields of green.
Heat islands occur on both the surface and in the atmosphere. The temperature differences (pdf file) for surfaces between urban and rural is striking:
On a hot, sunny summer day, the sun can heat dry, exposed urban surfaces, such as roofs and pavement, to temperatures 50-90°F (27-50°C) hotter than the air, while shaded or moist surfaces-often in more rural surroundings-remain close to air temperatures.

On average, the difference in daytime surface temperatures between developed and rural areas is 18 to 27°F (10 to 15°C); the difference in nighttime surface temperatures is typically smaller, at 9 to 18°F (5 to 10°C).
There are also differential temperatures with air heat islands that become hotter after sunset as urban infrastructure slowly radiates or releases heat:
The annual mean air temperature of a city with 1 million people or more can be 1.8-5.4°F (1-3°C) warmer than [those of their rural surroundings]. On a clear, calm night, however, the temperature difference can be as much as 22°F (12°C).
The Money Factor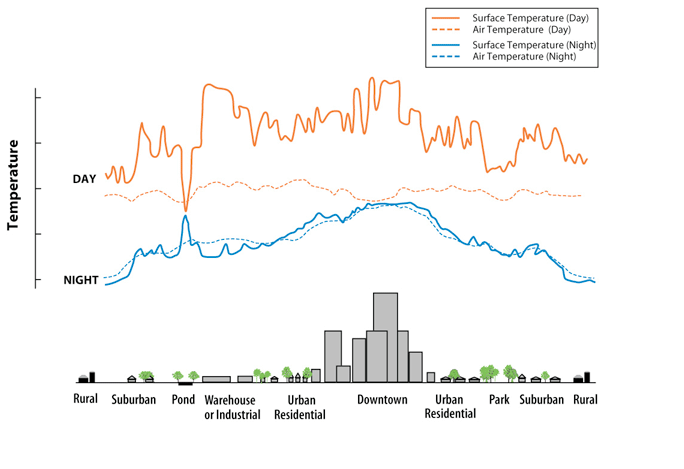 That link between money and the ability to cope with extreme weather emerged clearly in the research. Among the startling revelations: For every $10,000 an area's income rises, the average outside temperature drops one-half degree Fahrenheit.
It is not "startling" to learn that the rich can escape the heat but to have a dollar figure attached to temperature relief is interesting given that many of the rich are responsible for climate change that increases our temperatures, both in terms of fighting for years to prevent remedies and also owning the corporations that emit greenhouse gases.
While some may view weather reports of sweltering heat or the heat misery index as temporary discomfort, this study documented that the duration of exposure to extreme heat suffered ranged from 4 hours of intense heat for the landscaped neighborhoods to a high of 22 hours for the vegetation barren urban neighborhoods. The poor suffered intense heat more than 5 times longer than those with money or almost every hour of the day.
Death, Illness & Misery
The study shows that urban heat islands cause discomfort, illness and death. For persons lucky to find relief from the heat, the urban heat islands increase energy consumption by 5-10% during peak electricity demand for cooling down buildings. These increased energy demands cause elevated emissions of air pollutants and greenhouse gases while increased air temperatures can result in the creation of ground-level ozone. The result is that people suffer "general discomfort, respiratory difficulties, heat cramps and exhaustion, non-fatal heat stroke, and heat-related mortality." There is a double risk suffered by the poor because the people most vulnerable to heat (elderly, children and homebound) "live in the neighborhoods where the risk is greatest."
As temperatures rise with climate change, there will be many lives lost if actions are not taken to eliminate or reduce urban heat islands. One way to do so is by installing air conditioners. If you're not sure about where to purchase them from, you could get AC units for sale from firms like HVAC Warehouse and other similar companies.
Reducing Urban Heat Islands
People are now working to reduce urban heat islands by a number of measures, including planting vegetation on the sides of buildings, and tearing down abandoned buildings to construct parks and gardens loaded with trees, vegetables and fruits. Communities can increase tree and vegetation landscapes, create green roofs, install cool roofs or air conditioners and use cool pavements.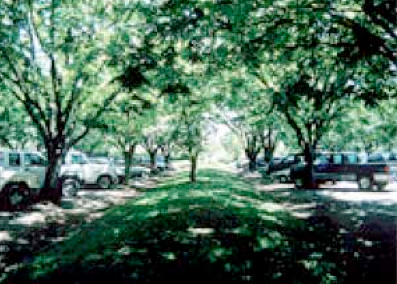 There are many positives to planting trees – they breathe in carbon dioxide (which negatively contributes to climate change) and breathe out oxygen. Planting trees and vegetation provides shade and evapotranspiration that lower both surface and air temperatures. Additionally, they provide a habitat for birds and other wildlife. That's why Loveplugs is working with trees for the future to plant 10 trees for every order. That will help to reduce the impact of urban heat islands.
Shaded surfaces, for example, may be 20-45°F (11-25°C) cooler than the peak temperatures of unshaded materials. Evapotranspiration, alone or in combination with shading, can help reduce peak summer temperatures by 2-9°F (1-5°C).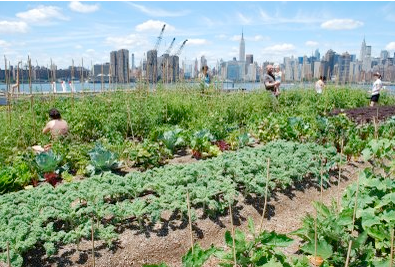 A green roof is a rooftop garden that reduces heat:
On hot summer days, the surface temperature of a green roof can be cooler than the air temperature, whereas the surface of a conventional rooftop can be up to 90°F (50°C) warmer.
One good example is Rooftop Farms, which is a "6,000 square foot organic farm on the roof of a warehouse" providing the benefits of sustainable locally grown healthy food that also reduces carbon footprints and polluted rainwater runoff.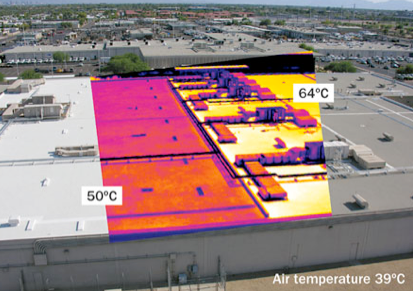 If the rooftop is not amenable to vegetation, then follow the lead of the Mayor Bloomberg/Al Gore campaign to paint it white, which can decrease "roof temperatures by 60 degrees and indoor temperatures by 10-20 degrees." The decreased energy use can decrease the need for more power plants that spew the greenhouse gases that worsen climate change that increases temperatures.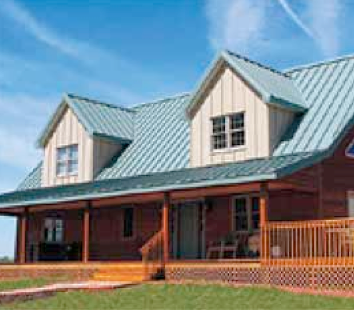 Or, if it is a sloped roof, use a cool roof that has a high solar reflectance that reflects sunflight and heat away from the building. In addition to mitigation of urban heat islands, a cool roof reduces energy usage, air pollution and greenhouse gas emissions and reduces air temperatures inside the building helping to prevent heat-related illnesses and deaths.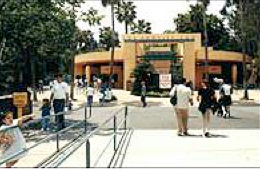 There are also cool pavements:
Conventional paving materials can reach peak summertime temperatures of 120-150°F (48-67°C), transferring excess heat to the air above them and heating stormwater as it runs off the pavement into local waterways. Due to the large area covered by pavements in urban areas (nearly 30-45% of land cover based on an analysis of four geographically diverse cities), they are an important element to consider in heat island mitigation.
EcoJustice series discuss environmental justice, or the disproportionate impacts on human health and environmental effects on minority communities in the U.S. and around the world. All people have a human right to clean, healthy and sustainable communities.

Almost 4 decades ago, the EPA was created partially in response to the public health problems caused in our country by environmental conditions, which included unhealthy air, polluted rivers, unsafe drinking water and waste disposal. Oftentimes, the answer has been to locate factories and other pollution-emitting facilities in poor, culturally diverse, or minority communities.

Please join EcoJustice hosts on Monday evenings at 7PM PDT. Please email us if you are interested in hosting.