I wrote this last year for Huffington Post and it's important now as it was last year. I hope you all find some meaning in this post.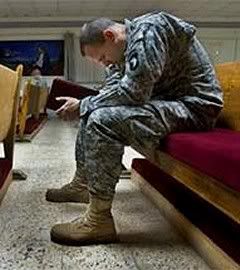 DUMMERSTON, VT– Memorial Day weekend has come and gone. All weekend, I saw veterans honored on television, the newspapers, parades, etc. I saw more than my share of yellow ribbons, American flags, 21-gun salutes and more. But something was missing, something I wish would be covered every Memorial Day: voices of dissent, especially from those who served our country.
Don't get me wrong. I support the troops. I support them just as much as those who support war efforts in Iraq and Afghanistan. I also support veterans in past conflicts. For many of them, Memorial Day means everything. But there are other veterans that never get heard. They are silenced, ignored and misunderstood because they have something vastly different to share. I'm talking about those veterans who served their country, survived the horrors of war and heal their wounds through advocacy efforts.
It pains me that veterans organizations advocating for peace are always overlooked on Memorial Day. For many of these organizations, getting into a Memorial Day parade can be a controversial ordeal. In Bremerton, Washington, Veterans for Peace were told to stay away from this year's festivities. Why? Why should we honor one kind of veteran and not another? Why is it controversial to honor veterans who want their service be remembered differently? It seems that every Memorial Day, we miss another opportunity to honor veterans' in a different and meaningful context. It's time we open our minds to the complexity of the meaning of past military service. It's well past time we honor those who fought and who speak out against war.
War is traumatic and many veterans who speak out against their actions (or their government's policies) want their experiences to be validated, understood, and accepted. Anti-war veterans organizations must be honored to the same degree many of us honor Veterans of Foreign Wars, the American Legion or Disabled American Veterans, ever Memorial Day. All veterans must be honored, even those who speak out against war.
I honor those who want to be remembered for their service. I honor those who lost their lives fighting for what they believed in but I also honor those who experienced the other side of war and want to make our country and our communities less-violent places. This Memorial Day I also honor the Veterans for Peace, Courage to Resist, Gold Star Families for Peace, Military Families Speak Out, Iraq Veterans Against the War, Vietnam Veterans Against the War, and Veterans Against the Iraq War. I'm sure there are many more. The members of all of these organizations served America and they love their country. It's well past time we honor them on Memorial Day.