(9:00PM EST – promoted by Nightprowlkitty)
A bit of a controversy is developing in my back yard concerning my alma mater, Iowa State University, and its former football coach Gene Chizik. After compiling a 5-19 record at Iowa State in his only two seasons there, Chizik somehow landed the head coaching job at Auburn University in Alabama. Given Chizik's rather short and unremarkable tenure with Iowa State, the reaction of some Auburn fans was . . . oh, let's call it . . . mixed:
"I don't know how to react. It doesn't seem real. It doesn't seem like they could possibly be so shortsighted. I'm going to spend tonight trying to figure out how to react. That, and drinking."

Was there a better candidate for Auburn's head coaching position? The athletic director at Auburn, Jay Jacobs, also interviewed Turner Gill, a young coach who just led Buffalo to their first bowl game and conference championship. Gill has been prominently mentioned for other coaching vacancies after turning Buffalo's lowly football program around in only three years. Why would Auburn pass over Turner Gill for Gene Chizik?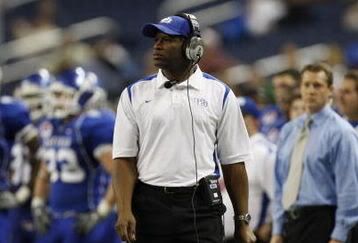 It couldn't have anything to do with Gill being African-American and having a white wife, could it? Former NBA star Charles Barkley, who attended Auburn, thought it did when he described a conversation he had with Gill about the coaching position at Auburn:
"We talked about the whole race thing in Alabama," Barkley said. "I told him it's there and it's going to be anywhere you go. I told him you can't not take the job because of racism. He was worried about being nothing more than a token interview. He was concerned about having a white wife. It's just very disappointing to me."
For those of you unfamiliar with Mr. Barkley, I should mention that he is known for not being shy with his opinions. His Wikipedia entry makes for some interesting reading. He has on occasion stated his intention to run for governor of Alabama in 2014, and certainly seems to enjoy being in the headlines. In this case, though, he is describing a conversation with Gill rather than just stating an opinion. Not that he didn't include some opinions too:
"I think race was the No. 1 factor," said Barkley, who played basketball for three seasons at Auburn during the early 1980s. "You can say it's not about race, but you can't compare the two résumés and say (Chizik) deserved the job. Out of all the coaches they interviewed, Chizik probably had the worst résumé."
Barkley is not the only one questioning Auburn's hiring of Chizik over Gill. Tony Barnhart of the Atlanta Journal-Constitution had this to say:

Auburn athletics director Jay Jacobs talked about Chizik being the best "fit" for the program. Jacobs was clearly talking about the fact that Chizik had worked at Auburn before and understood the expectations and the unique culture of the place. But you can't ignore the fact that to others the word "fit" has an entirely different meaning. It is code for doing the thing that is comfortable instead of doing the thing that is right.

Turner Gill of Buffalo, an African-American, had a great interview with Auburn officials. It is my understanding that President Jay Gouge really liked Gill and understood that it would be a significant hire in Auburn's history. Gill's wife is white.
And Mark Schlabach of ESPN said in an interview (video available here) about black coaches in college football and particularly about schools in the Southeastern Conference (SEC):

I had two coaches in the SEC tell me that Turner Gill will never get that job, and I said "Why?", and they said because he's married to a white woman. And I think, not only do these guys face staggering odds because of the color of their skin, but in a couple of instances, Turner Gill's, and Charlie Strong's, the defensive coordinator at Florida who is also married to a caucasian woman, you know, these guys are also being judged by the color of their spouse's skin.
(more info about Charlie Strong and his coaching prospects here)
Sports columnist Sean Keeler of the Des Moines Register responded to Barkley's comments about Gill's wife with this story:

What's interesting about what Gill (allegedly) said is that it reminded me of a conversation I had with an Iowa State staffer last summer. In the 2007 Cyclone football media guides, the pictures of the assistant coaches with their families, a staple of the (former Iowa State coach) Dan McCarney years, were now mysteriously gone.

At first, I thought it strange — media guides nowadays are more geared toward recruits than they are toward reporters, and most programs like using them to promote the idea of a 'family' presence.

I asked someone about this, and was told — and I'm paraphrasing here — that coach Chizik didn't want the family pictures in there because some of his African American assistants were married to white women.
Is this an indication of the right "fit" Jay Jacobs was looking for in hiring Gene Chizik for Auburn? When asked to respond to criticism that his decision was based on race, Jacobs said "Well, my reaction is, I was picking the best fit for Auburn." There's that word again: "fit." And who does the coach have to "fit" in with? Boosters, most likely. Like politics, the right candidate has to be able to raise money and, of course, win and keep winning.
Would Auburn would hire, or even consider, a black head coach? It's easy to be cynical. Most major college football programs are supported by wealthy, white, older, conservative individuals. Ground-breaking social change is not usually on their agenda.
I checked out a few Auburn sports message boards, and found a lot of disappointment in Chizik's hire and missing an opportunity to hire Turner Gill. There seems to be a huge disconnect between Auburn students and the good ole boy network of Auburn boosters. The following video shows Jacobs arriving at the airport after hiring Chizik and being met by hecklers. The audio isn't very good, but some of the fans can be heard yelling "give us Gill" and "we want Turner" as Jacobs strolls by.
Now, back to my alma mater, Iowa State University: Please, please, please . . . hire Turner Gill to replace the departed Gene Chizik. Take advantage of Auburn's mistake. We want to win football games, and Gill has demonstrated he knows how. The only problem with Iowa State, Coach Gill, is that you deserve a job at a school with a better football team. Come here anyway, OK? Please?