A bit of a controversy is developing in my back yard concerning my alma mater, Iowa State University, and its former football coach Gene Chizik. After compiling a 5-19 record at Iowa State in his only two seasons there, Chizik somehow landed the head coaching job at Auburn University in Alabama. Given Chizik's rather short and unremarkable tenure with Iowa State, the reaction of some Auburn fans was . . . oh, let's call it . . . mixed:
"I don't know how to react. It doesn't seem real. It doesn't seem like they could possibly be so shortsighted. I'm going to spend tonight trying to figure out how to react. That, and drinking."

Was there a better candidate for Auburn's head coaching position? The athletic director at Auburn, Jay Jacobs, also interviewed Turner Gill, a young coach who just led Buffalo to their first bowl game and conference championship. Gill has been prominently mentioned for other coaching vacancies after turning Buffalo's lowly football program around in only three years. Why would Auburn pass over Turner Gill for Gene Chizik?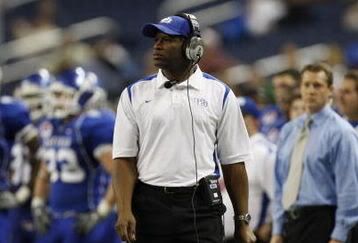 It couldn't have anything to do with Gill being African-American and having a white wife, could it? Former NBA star Charles Barkley, who attended Auburn, thought it did when he described a conversation he had with Gill about the coaching position at Auburn:
"We talked about the whole race thing in Alabama," Barkley said. "I told him it's there and it's going to be anywhere you go. I told him you can't not take the job because of racism. He was worried about being nothing more than a token interview. He was concerned about having a white wife. It's just very disappointing to me."