Rise and Shine Bostonian Dharmamaniacs!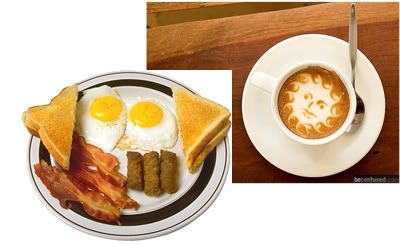 Look, I made you breakfast :p
I'm essentially still on track for moving up to Boston, but I've had a sudden change of timeline. Things need to get moving faster because my company is more than likely going out of business in March. (Right in time for my birthday!) Turns out a small business in America can not compete with China's manufacturing sector while the economy is in freefall. Go figure.
So at the end of the week I am heading into the city to try and start moving things along at a much quicker pace.
And that means it's time for a meet up!
Remember I'm still young and idealistic. So if you bow out for lame reasons or pretend you didn't see this post it will hurt my feelings, break my spirit and quelsh the revolution. Yeah, that's right. I'm guilting you into participating.
I understand it's hard. I'm broke and stressed too. Just look at how sad I am 🙁 So join me! And we can all be stressed and broke together for a day while simultaneously renewing my ever dwindling hope for the future!
I'll be there from Friday until Tuesday (although ultimately that's negotiable too). So that leaves the weekend and multiple weekdays to choose from. I'll be scheduling my own things for Monday and Tuesday, but am more than willing to work around anyone's very important and busy schedules to accommodate as many people as possible.
I think there are a wide variety of topics that can and should be discussed in person. The intertubes have eyes after all.
So any writers or lurkers, or friends and relatives of writer and lurkers from the Boston area are most cordially invited to attend. Yes, even you! You don't think I mean you specifically. But I do mean you :p
So post suggestions and times here. Or email me if you're shy. I'm nice and people like me, so don't be nervous 🙂
I want to try and have everything planned out by Wednesday so I can finagle my other activities around this.
And please.
Don't make me beg…