Congratulations fellow taxpayers! The federal bailout of Citigroup comes with some perks you may have overlooked. Citigroup has a contract for the naming rights to a new baseball stadium for the New York Mets. A mere $400 million buys the name "Citi Field" for 20 years:
Under the naming-rights agreement, Citi pays the Mets $20 million a year. What is not known is if Citi could get out of the agreement through a buyout or escape clause. Citi officials insisted on Friday that baseball games would be played in 2009 with the Citi Field sign on the new stadium.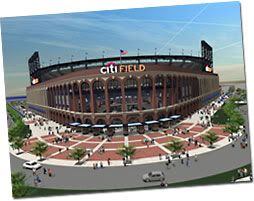 What perks do we get for our bailout of Citi? Well, it only seems fair that if it's our money paying for the naming rights, we should get to choose the name! With so many taxpayers involved, however, agreeing on one name would be difficult. So I propose a revolving name system for the Mets' field, where all taxpayers get a chance to have the stadium named after them for one game.