( – promoted by buhdydharma )
Congratulations fellow taxpayers! The federal bailout of Citigroup comes with some perks you may have overlooked. Citigroup has a contract for the naming rights to a new baseball stadium for the New York Mets. A mere $400 million buys the name "Citi Field" for 20 years:
Under the naming-rights agreement, Citi pays the Mets $20 million a year. What is not known is if Citi could get out of the agreement through a buyout or escape clause. Citi officials insisted on Friday that baseball games would be played in 2009 with the Citi Field sign on the new stadium.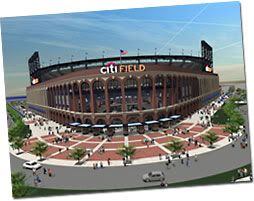 What perks do we get for our bailout of Citi? Well, it only seems fair that if it's our money paying for the naming rights, we should get to choose the name! With so many taxpayers involved, however, agreeing on one name would be difficult. So I propose a revolving name system for the Mets' field, where all taxpayers get a chance to have the stadium named after them for one game.
Consider the possibilities just here at Docudharma. How about Magnifico Stadium? Or, with baseball being a pastoral game, Robyn Stadium could be a good choice. A name like OPOL Stadium rolls nicely off the tongue, although I would prefer spelling it out and going to a game at One Pissed Off Liberal Stadium. And if it's a night game we could go with NightProwlKitty Stadium. We could tie in with some promotions too — how about a game at On The Bus Stadium to help promote mass transit?
Unfortunately some names would not work very well. I accept that Fortschreitend Stadium is never going to happen. And with so many taxpayers we wouldn't all get a chance — we may have to band together and take one day as Docudharma Stadium. But even assigning one game per website has its problems. The good folks at the Pen Island pen company may not get their turn to have their website name used (penisland.com Stadium). The folks at Therapist Finder may have to sit this one out too (therapistfinder.com Stadium). Ditto for the Speed of Art graphic design company (speedofart.com Stadium).
Naming the Mets' new stadium after an epic failure like Citigroup might still be the most appropriate course of action though. What better way to immortalize the epic collapse of 2007, when they blew a 7-game lead with 17 games to play and missed the playoffs? Or the almost-as-epic collapse of 2008, when another late-season swoon culminated in losing their last game at Shea Stadium to miss the playoffs again? Fate has somehow tied the Mets and Citigroup together in a vortex of shared incompetence.


This wouldn't be the first time we spent hundreds of millions (or billions or trillions) of dollars on a colossal failure. Haven't we earned a few perks by now? Having the naming rights to a stadium must be a pretty savvy advertising strategy too. Just look what it did for Enron when they had the naming rights for the Houston Astros' stadium. On second thought . . . maybe we should skip "Docudharma Stadium" day. Let those clowns at Redstate.com have two days and see if they fare better than Enron or Citigroup.