{as promised to dharmasyd}
Okay, enough with the doom and gloom for me, for a little bit at least. (Snap out of it, LL!!)
Sanjay Khanna at YES! Magazine writes "Stories That Light Up The Dark, The experiences of our ancestors offer us wisdom for surviving today's crises. ":
In August 2008, at 91 years old, my grandmother participated in the first official Khanna family reunion, which my aunt organized and held at her and my uncle's Mill Valley home.

I was feeling depressed at that family reunion. When you spend most of your time writing and researching on climate change scenarios and the downward direction of the economy, it's easy to be overwhelmed.

One afternoon, I sat down with my grandmother when almost everyone else was on an excursion.

She saw straight through my unhappiness. She peered into me, smiled calmly, and said two words: "Bring gladness."

In spite of the specter of rising seas, increased drought, human displacement, and inundated cities prognosticated by climate scientists, I needed to find ways to inspire gladness in myself and other people. It's that simple.

Now I hope the inner strength I witnessed in my grandmother remains a seed within me. As times grow more difficult, I pray that her ability to heal mind and body is a quality I can develop and call on.

The changes wrought by peak oil, climate disruption, and economic instability will affect all of us. Yet, those who gather strength from stories of beauty, courage, love, kindness, generosity, and good will can, in a social environment of growing uneasiness, store and spread the seeds of human welfare.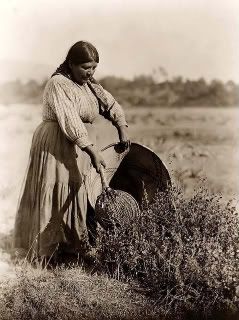 Pomo Indian Woman Gathering Seeds, 1924 by Edward S. Curtis
source